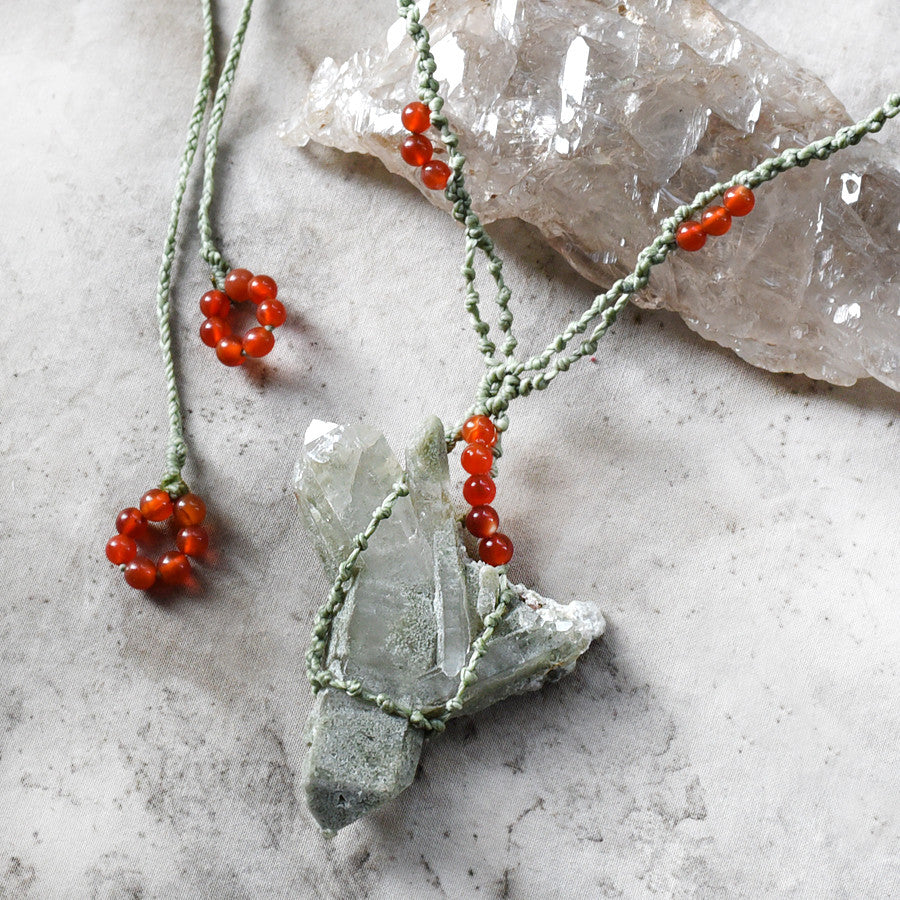 'Healer's Anchor' ~ crystal amulet with Chlorite Quartz point cluster and Carnelian
DESCRIPTION
Crystal healing amulet with natural, un-drilled Chlorite Quartz cluster. The necklace is knotted in minimal style with pale green micro-macrame cord and highlighted small Carnelian crystals.
The length of the necklace is adjustable from very short down to solar plexus level. The Chlorite Quartz measures 5.5 cm (2.2") at its tallest and is approx. 3 cm (1.2") wide at its middle.
There are no metals in this necklace so would be particularly suitable for those with metal sensitivities, energy workers and those who simply prefer not to wear metal.
You'll receive this crystal healing necklace in one of my fabric draw-string pouches, great for the safe-keeping of the necklace. Gift-wrapped at no extra charge.
CRYSTAL PROPERTIES
CHLORITE QUARTZ
Known as 'Quartz of Compassion', this is a purifier crystal. Chlorite is cleansing to the aura, chakras, and energy meridians. Elevates one's vibration higher than that of illness. Can help one visualise and create a more positive future, financially, emotionally, physically. Helps to resolve issues of the heart and remove blockages and resistance so one may acknowledge, forgive, release, and move forward. Great in space clearing, to ward off chaotic, negative energy.
CARNELIAN
Known as a stone of motivation and courage. Stimulates creativity and increases one's sense of self-worth. Balancing for body's energy levels, restoring vitality and motivation. Said to attract prosperity, new resources and good luck. A success stone that helps you follow through with plans. Stone of action that aids in overcoming procrastination. Helps in gaining more understanding of one's inner self. Stimulating to the Sacral Chakra, which, when in balance, allows one to enjoy life, feel its joys and pleasures, be flexible and 'go with the flow'.
Recently Viewed