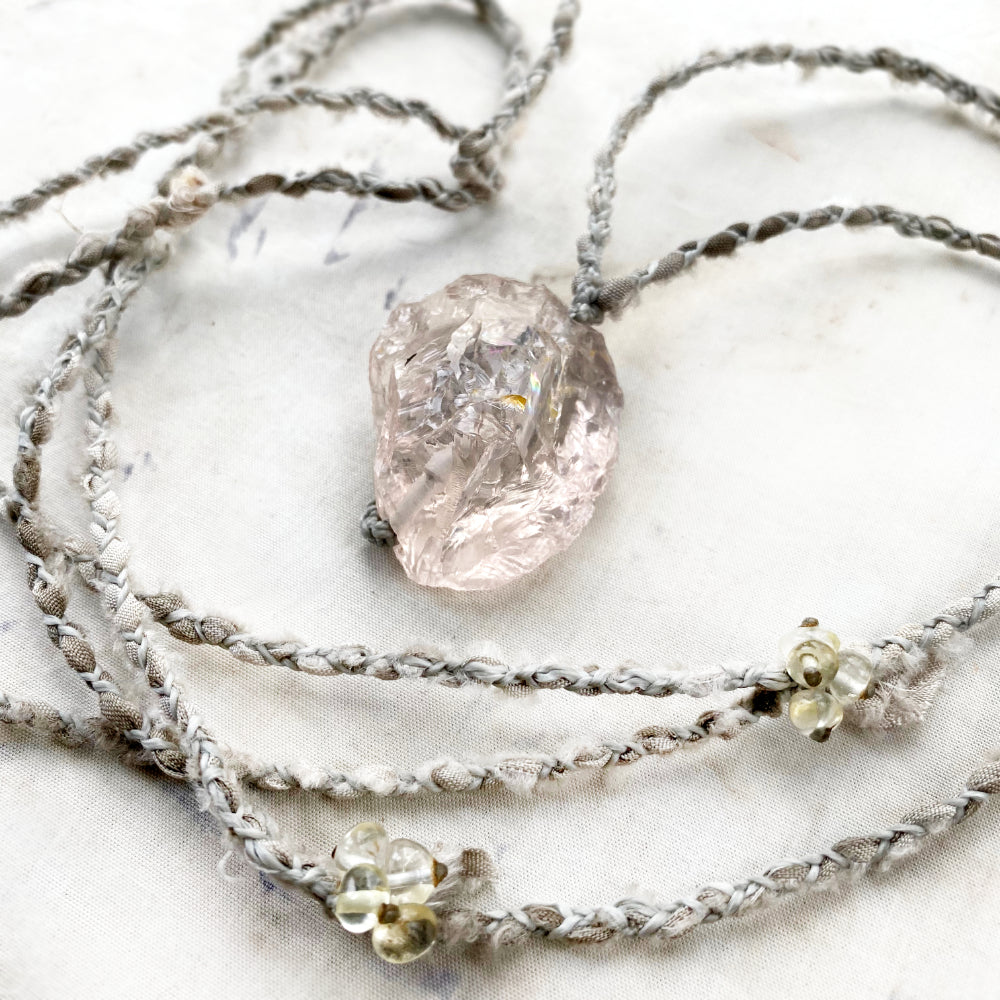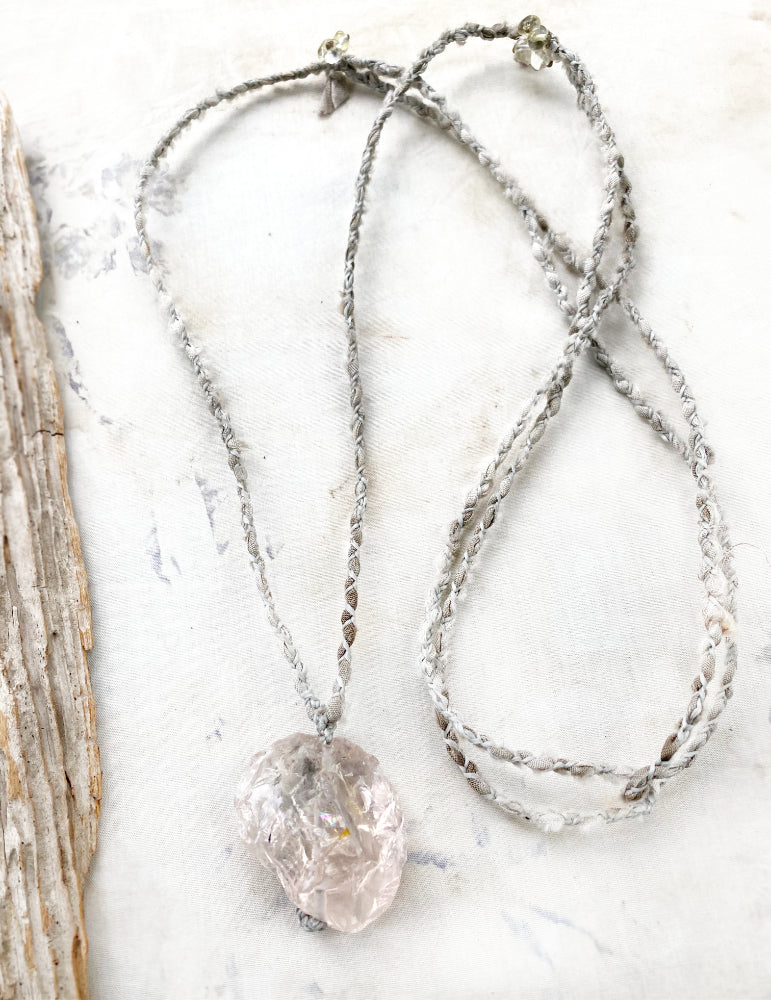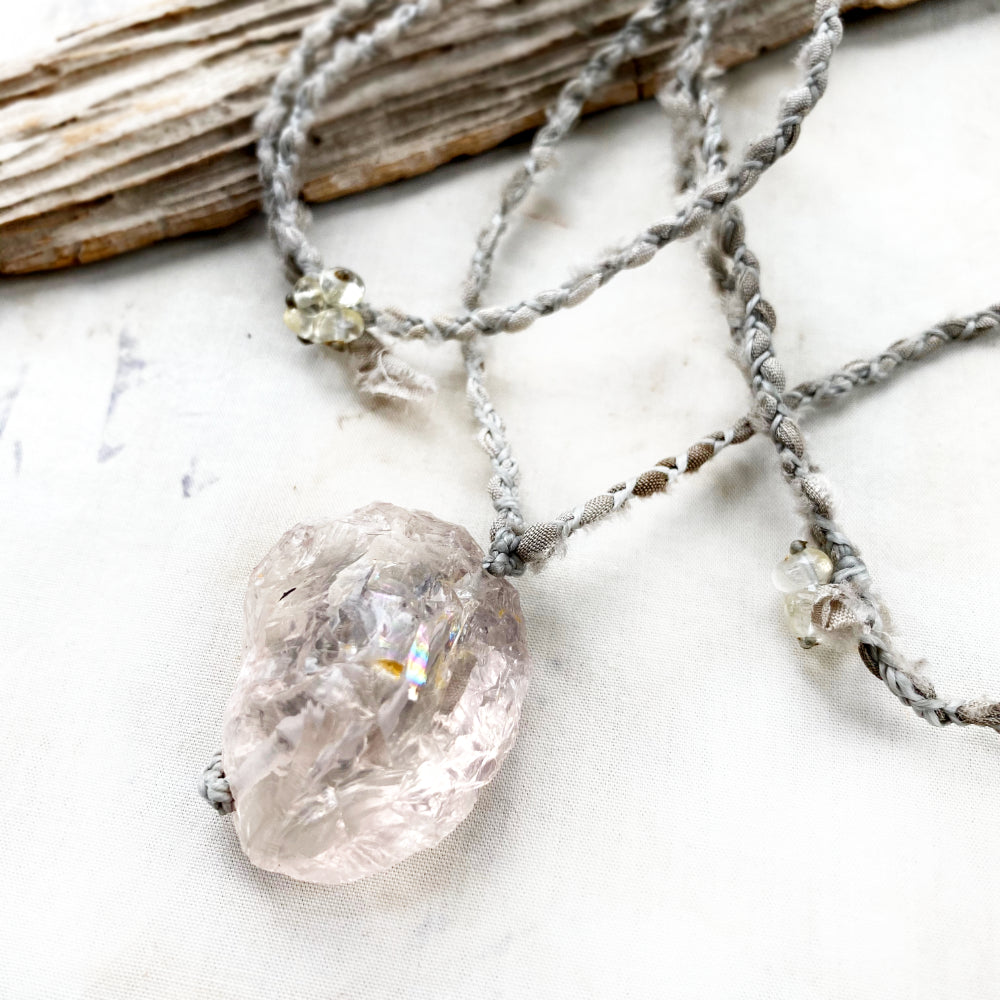 'Heart Blossom' ~ crystal healing amulet with Ice Rose Quartz
DESCRIPTION
Crystal healing talisman with a single rough cut Ice Rose Quartz crystal. Within the crystal, a lovely rainbow is visible, making this a 'Wounded Healer' crystal. The necklace braid combines recycled sari silk which I've (botanically eco-dyed with local windfallen plants) with light grey micro-macrame cord, allowing the pendant crystal to take centre stage.  The tiny accent crystal florets on both sides of the braids are Citrine. This subtle necklace would also be perfect in combination with other talismanic necklaces for a bohemian individual look.
This necklace set length so can be easily just slipped over the head for easy wearing. The all-around length of the necklace braid is 82 cm (32") The Ice Rose Quartz is just over 3.5 cm (1.4") tall and its width is approx. 3 cm (1.2").
There are no metals in this necklace so would be particularly suitable for those with metal sensitivities, energy workers and those who simply prefer not to wear metal.
You'll receive this crystal healing necklace in one of Spirit Carrier's fabric draw-string pouches, great for the safe-keeping of the necklace. Gift-wrapped at no extra charge.

Read here how to take care of your crystal jewellery.
CRYSTAL PROPERTIES
ROSE QUARTZ
Powerful love stone, love that is all-encompassing and unconditional. Awakens one's heart to its own innate love, compassion and acceptance. Vibrates its loving energy to all chakras, offering gentle healing. Soothing and calming. Dissolves anger and resentment. Good for raising one's self-esteem and feelings of self-worth. Balances emotions and is said to support all types of healing. Guides one's life path towards a sense of personal fulfilment and contentment.
CITRINE
Affects a powerful alignment with the higher self. Balances the emotions and helps in uplifting one's mood to be more sunny and cheerful. Brings clarity of thought, and attracts abundance and prosperity through joy. Powerful transformer in healing work. Increases self-confidence and optimism, cleanses the surrounding energies and promotes creative thinking. Releases, dissipates and transforms denser energies on all levels, mental, emotional and physical. Works to release limitations and blockages particularly around the sacral / solar plexus area.
Recently Viewed