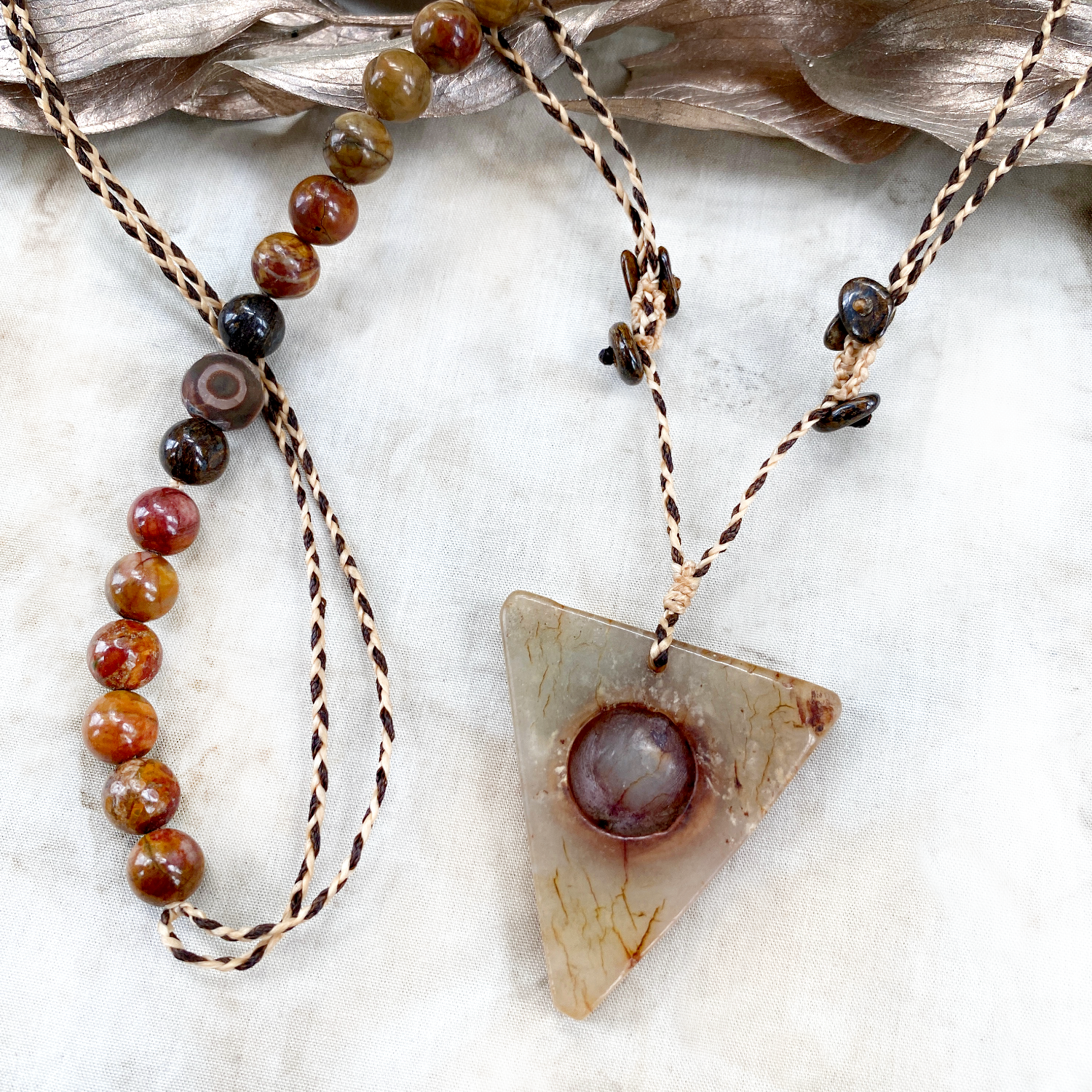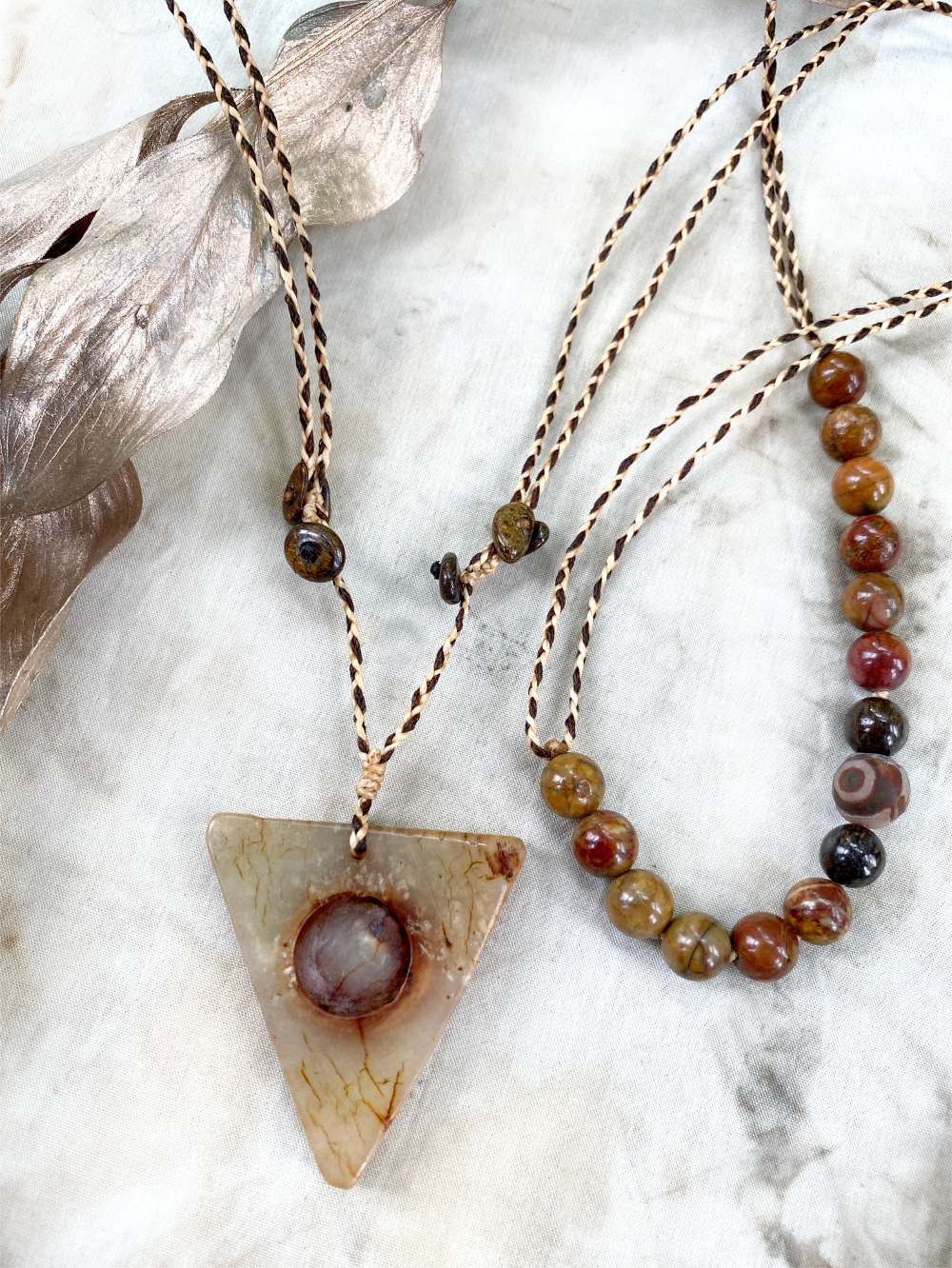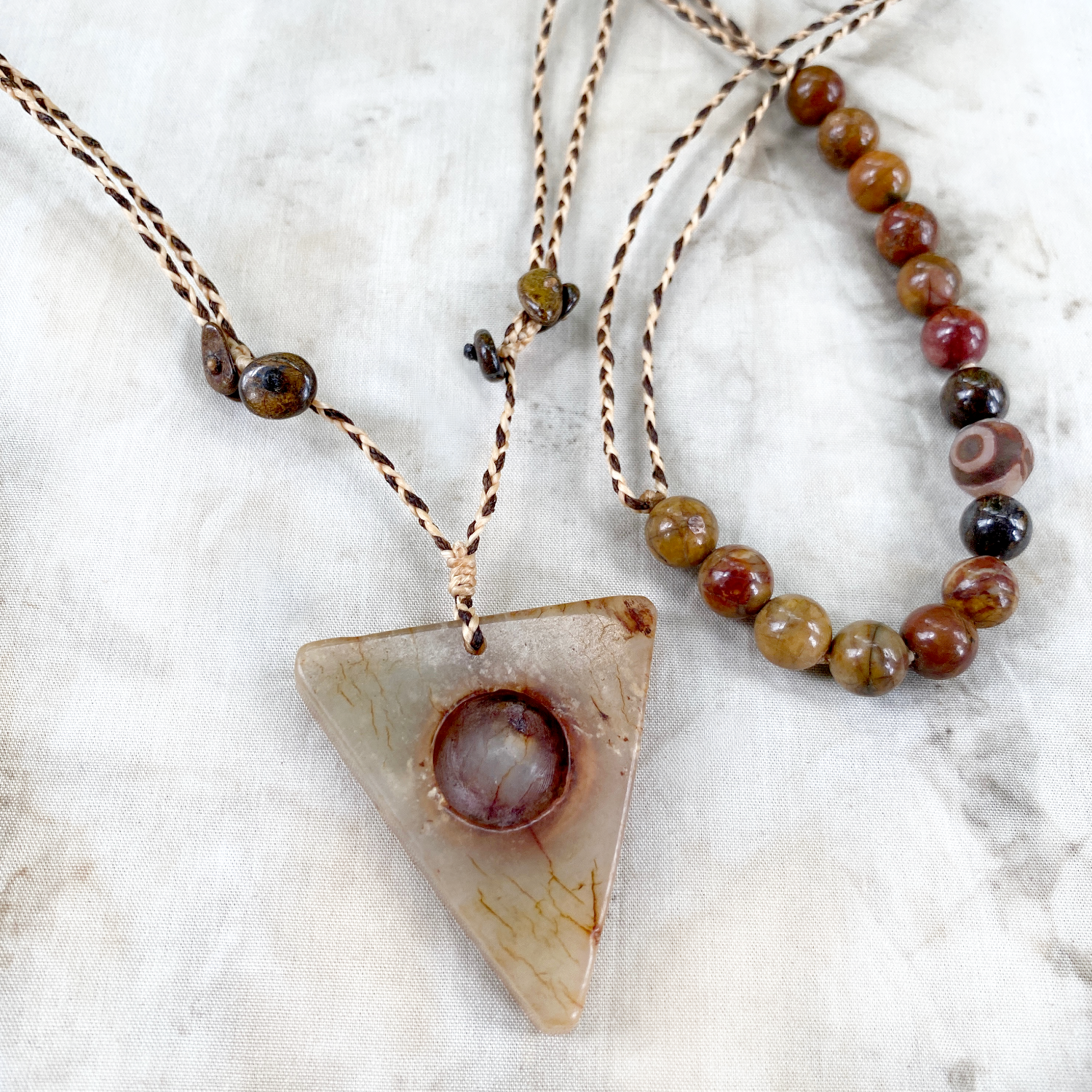 'Inner Flow' crystal healing amulet
DESCRIPTION
Crystal healing talisman with a triangular slice of Jade in tones of pale greenish yellow and reddish brown. There is a circular, moving disk in the middle of the triangle - a tactile touch stone for centering and focusing your energy when needed.
The necklace is braided with a combination of dark brown and pale peach tone micro-macrame cords and includes small Bronzite details. The top part of the necklace is beaded with Picasso Jasper crystals with a Dzi Agate in the middle - this strand connects the braids on both sides and settles behind the neck when worn.
The necklace is set length and slips easily over the head. The all-around measurement is 82 cm (32"). The Jade is just over 4 cm (1.6") tall and 4 cm (1.6") wide at its top edge.
You'll receive this crystal healing talisman in one of Spirit Carrier's handmade fabric draw-string pouches - great for the safe-keeping of the necklace. Gift-wrapped at no extra charge.

Read here how to take care of your crystal jewellery.
CRYSTAL PROPERTIES
JADE
Known throughout history as the stone of happiness, prosperity and good luck. Said to bless everything it touches. For the Chinese, Jade is a stone of "long life & peaceful passing". Helps in advancing the human consciousness to higher levels. Strongly protective stone, strengthening the auric field, fostering balance and peace.  Has a restorative energy, stimulates ideas and relinquishes self-imposed limitations. Promotes healthy self-confidence and strength of character.
PICASSO JASPER (also known as Cherry Creek Jasper)
A joyful, harmonious stone, said to effect transformations in the area of relationships, attracting like-minded people and loyal friends. Offers stability and balance in times of change. Releases blocks from the way of one's creativity. Encourages to celebrate life!
BRONZITE
Encourages loving, non-judgemental mindset. Helps in gaining certainty about one's decisions and the right course of action. Bronzite is said to bring harmony into discordant situations, protective when the wearer might feel a lack of control. Instils a feeling of calmness when having "many irons in the fire". A stone of focused action. Grounds you into the knowing that "All Is Well".
AGATE
The oldest good luck amulet. In ancient times Persian magicians were, according to legend, diverting storms with the powers of Agate. Considered a protective stone (especially for travel), said to shield its keeper against dangers. Increases inner stability, enhances personal courage and fosters self-confidence. Grounding and soothing. Balancing stone for one's energy system to experience oneness instead of duality.
Recently Viewed