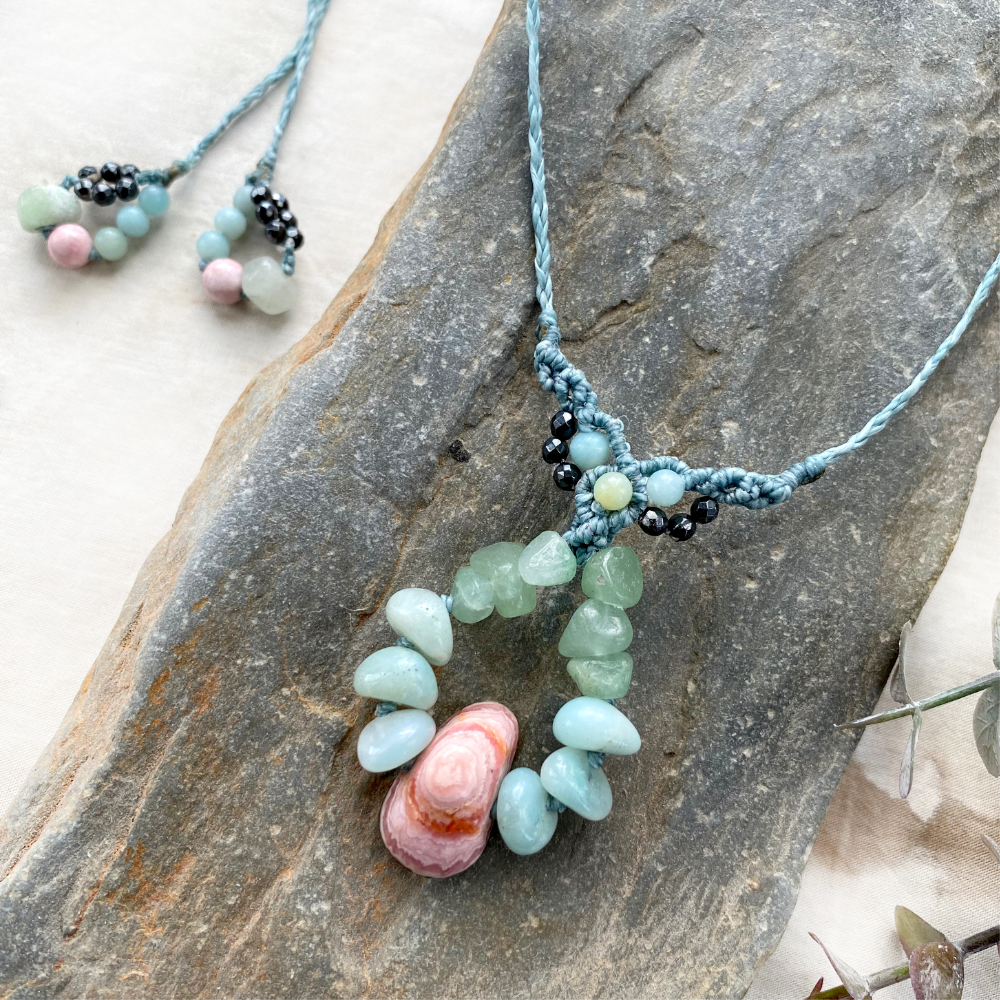 Heart Healer crystal healing amulet
DESCRIPTION
Crystal healing necklace combining the energies of Rhodochrosite, Amazonite, Aventurine and Hematite. This circular crystal amulet is knotted and braided with sky blue micro-macrame cord, which is strong and durable, yet soft and comfortable to wear. Easy daily wear with a lovely combination of heart healing crystal energies.
The length of the necklace is adjustable from very short down to solar plexus level. The total length of the crystal loop (from top edge down to the base of the Rhodochrosite) is just under 4 cm (1.6") tall. 
You'll receive this crystal healing necklace in one of Spirit Carrier's fabric draw-string pouches, great for the safe-keeping of the necklace. Gift-wrapped at no extra charge.

Read here how to take care of your crystal jewellery.
CRYSTAL PROPERTIES
RHODOCHROSITE
A stone of deep emotional healing. Comforting and positive, strengthening feelings of self-love, self-worth and self-forgiveness. Supportive heart-healer stone for those who are grieving or might feel stuck in the process. Repairs damages to one's subtle energy bodies. Helps in recovering lost talents you might have given up on due to past hurts, in order to discover your true purpose in this life.
AMAZONITE
A stone of self-respect, confidence and grace. Soothes the spirit and calms the soul. Alleviates feelings of loneliness. Assists in connecting with one's intuition, enhancing creativity and self-expression. Empowers to move beyond fear, easing particularly fears relating to other people - fear of judgement, fear of confrontation. Helps with living in alignment with your truth, supporting matters of communication. Good luck stone for competitions, business and financial affairs.
GREEN AVENTURINE (also referred to as Adventurine)
Known as 'Stone of Opportunity', considered to be the luckiest of all crystals, especially in manifesting prosperity. The energy of this stone is thought to boost one's chances in every situation. Releases old habits, disadvantageous patterns and disappointments, increasing one's optimism and confidence. Enhances motivation, perseverance and creativity. Helps in embracing change, even with a sense of humour. Also a comforting and harmonious heart healer.
HEMATITE
Creates a strong sense of self and enhances the creative flow. Relieves stress. Revitalises, enhancing personal magnetism and optimism. Helps in releasing self-imposed limitations to find your own unique gifts. A stone of balance and equilibrium. Grounds when feeling scattered, allows one to maintain a natural alertness while remaining calm.
Recently Viewed