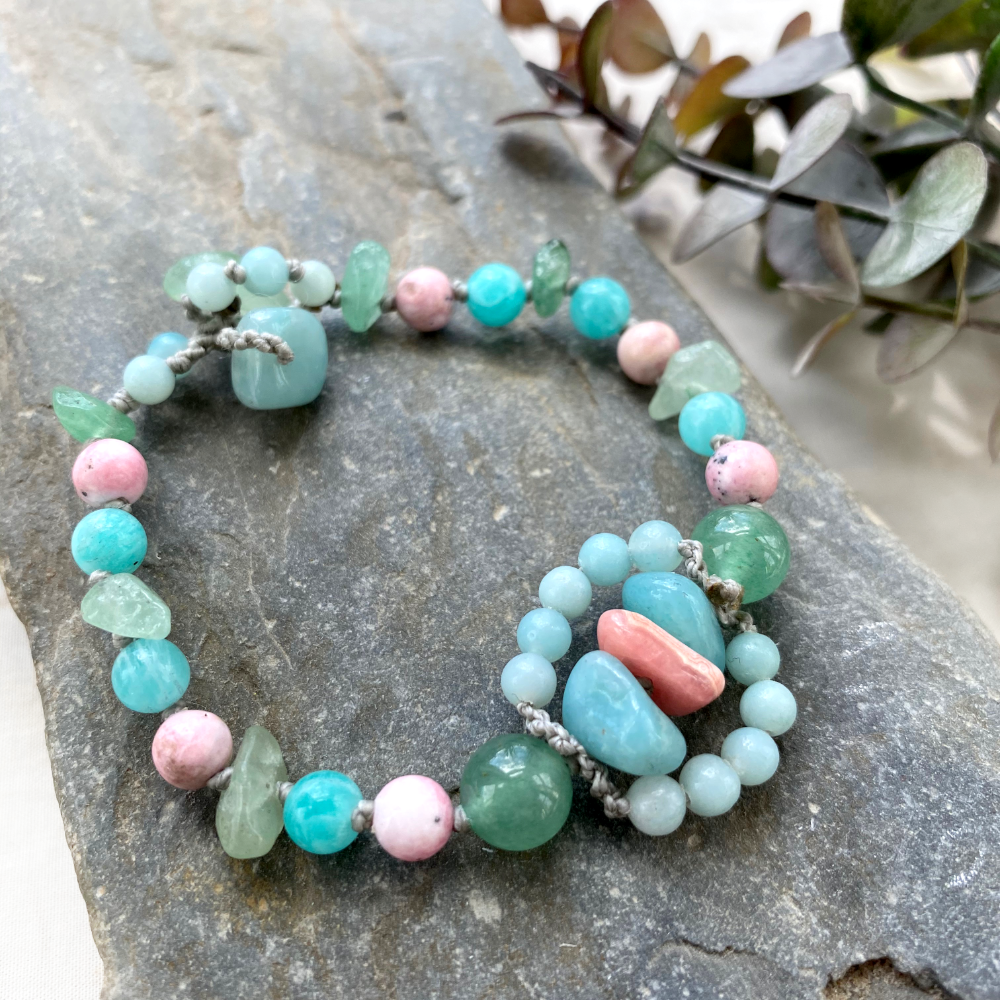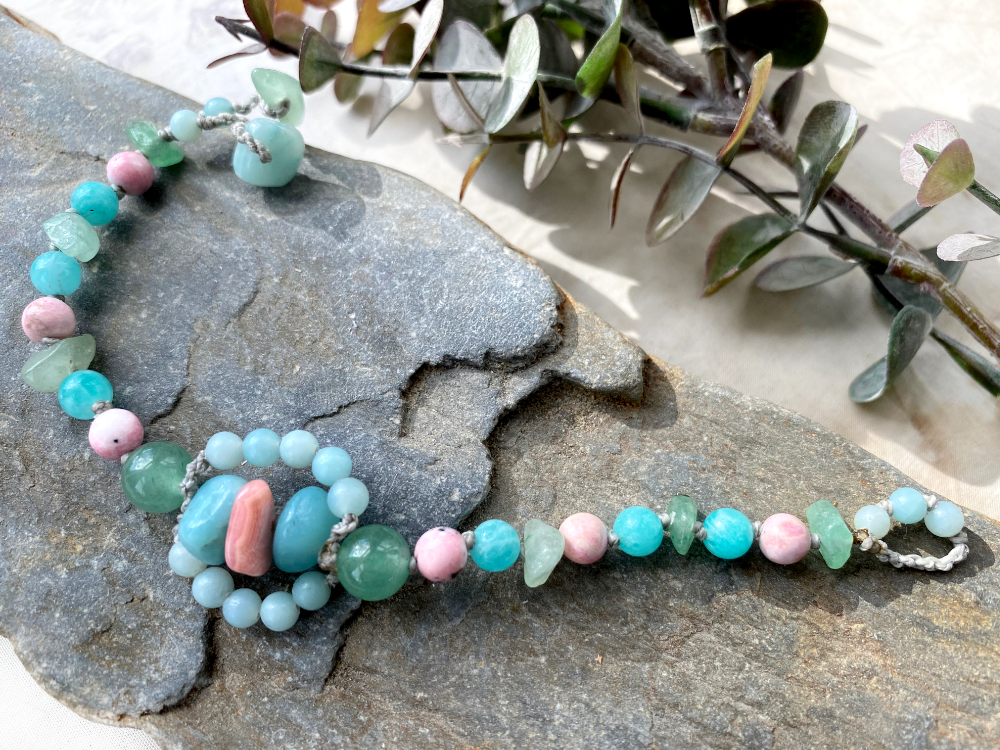 Heart Healer crystal healing bracelet ~ for up to 6.5" wrist size
DESCRIPTION
Beaded crystal healing bracelet with a line of Amazonite, Rhodochrosite and Aventurine. The bracelet is knotted with grey micro-macrame cord. The two closure toggle stones are Amazonite and Aventurine - you can slip both through the knotted loop to secure the bracelet close. The flower-like focal centre in the bracelet consists of mainly Amazonite, with a Rhodochrosite in the middle.
Although the bracelet length is 17.5 cm (7") the diameter of the stones make this a good fit for a up to 6.5" wrist circumference. The round beads across the bracelet have a diameter of 0.6 mm (0.2").
There are no metals in this bracelet so would be particularly suitable for those with metal sensitivities / metal allergy, energy workers and those who simply prefer not to wear metal jewellery.
You'll receive this crystal healing bracelet in one of my fabric draw-string pouches, great for the safe-keeping of the bracelet. Gift-wrapped at no extra charge.

Read here how to take care of your crystal jewellery.
CRYSTAL PROPERTIES
RHODOCHROSITE
A stone of deep emotional healing. Comforting and positive, strengthening feelings of self-love, self-worth and self-forgiveness. Supportive heart-healer stone for those who are grieving or might feel stuck in the process. Repairs damages to one's subtle energy bodies. Helps in recovering lost talents you might have given up on due to past hurts, in order to discover your true purpose in this life.
AMAZONITE
A stone of self-respect, confidence and grace. Soothes the spirit and calms the soul. Alleviates feelings of loneliness. Assists in connecting with one's intuition, enhancing creativity and self-expression. Empowers to move beyond fear, easing particularly fears relating to other people - fear of judgement, fear of confrontation. Helps with living in alignment with your truth, supporting matters of communication. Good luck stone for competitions, business and financial affairs.
GREEN AVENTURINE (also referred to as Adventurine)
Known as 'Stone of Opportunity', considered to be the luckiest of all crystals, especially in manifesting prosperity. The energy of this stone is thought to boost one's chances in every situation. Releases old habits, disadvantageous patterns and disappointments, increasing one's optimism and confidence. Enhances motivation, perseverance and creativity. Helps in embracing change, even with a sense of humour. Also a comforting and harmonious heart healer.
Recently Viewed