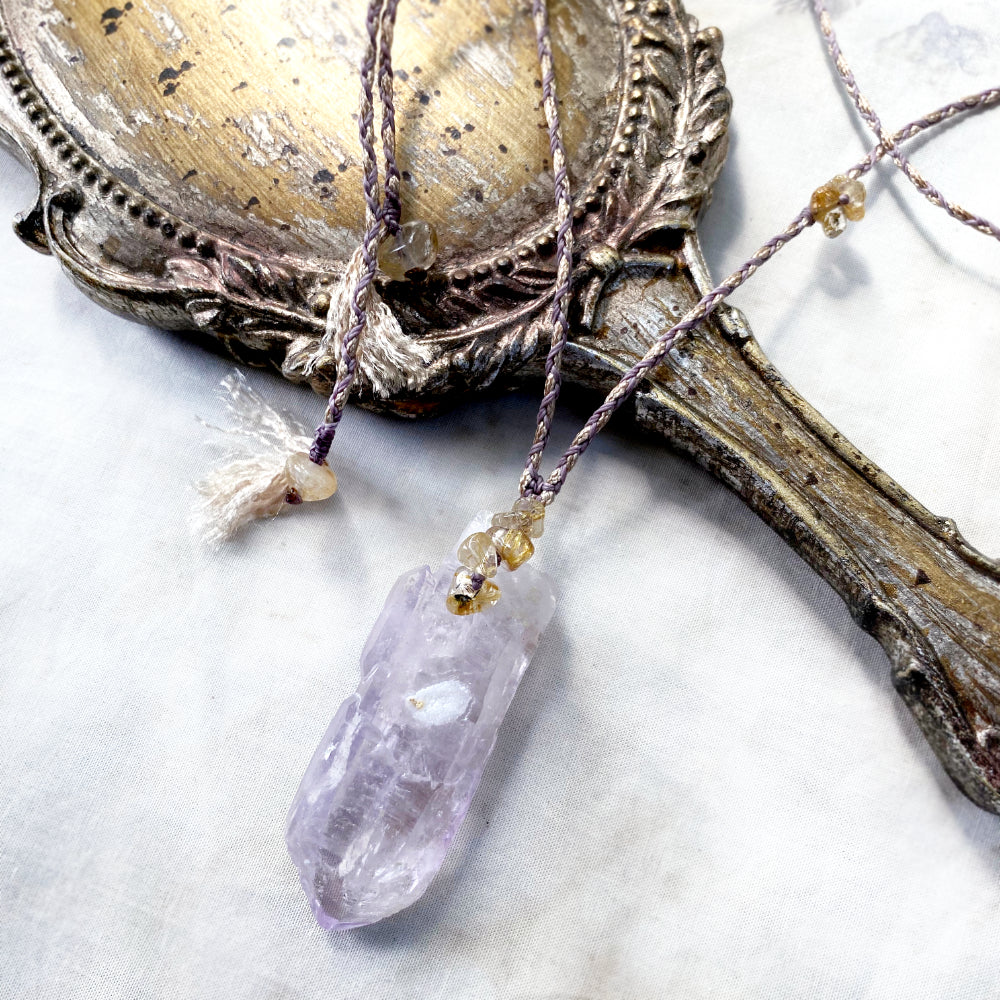 'Heart Light' crystal healing amulet with Vera Cruz Amethyst in satin braid
DESCRIPTION
Embodying a flow of healing Solstice light, this Vera Cruz Amethyst crystal amulet is specifically created to support heart-centered seekers on their spiritual path and to encourage the integration of higher consciousness into daily pursuits.

The necklace is braided with pale golden tone satin and light purple micro-macrame cord. The accent crystals are Gold Rutile Quartz.
This Vera Cruz Amethyst is approx. 5 cm (2") tall and 2 cm (0.8") wide. The length of the necklace braid can be adjusted through a knotted channel according to your preference, from as short as you wish down to solar plexus level.
There are no metals in this necklace so would be particularly suitable for those with metal sensitivities / metal allergy, energy workers and those who simply prefer not to wear metal jewellery.
You'll receive this crystal healing necklace in one of Spirit Carrier's handmade fabric draw-string pouches - great for the safe-keeping of the necklace. Gift-wrapped at no extra charge.

Read here how to take care of your crystal jewellery.
CRYSTAL PROPERTIES
VERA CRUZ AMETHYST
High frequency stone, with deep energetic purifying aspects. Particularly useful when wanting to find a new approach or to transform an aspect of life. Inspires great accomplishments, offering rejuvenation and renewal.
GOLD RUTILE QUARTZ
A master assistant in self-discovery, a companion in finding one's inner truth, purpose and destiny. Joyful and energising. Thought to offer protection against psychic attacks and helps in opening up to one's Divine strength. Assists in activating one's creativity and manifesting dreams into reality.
Recently Viewed