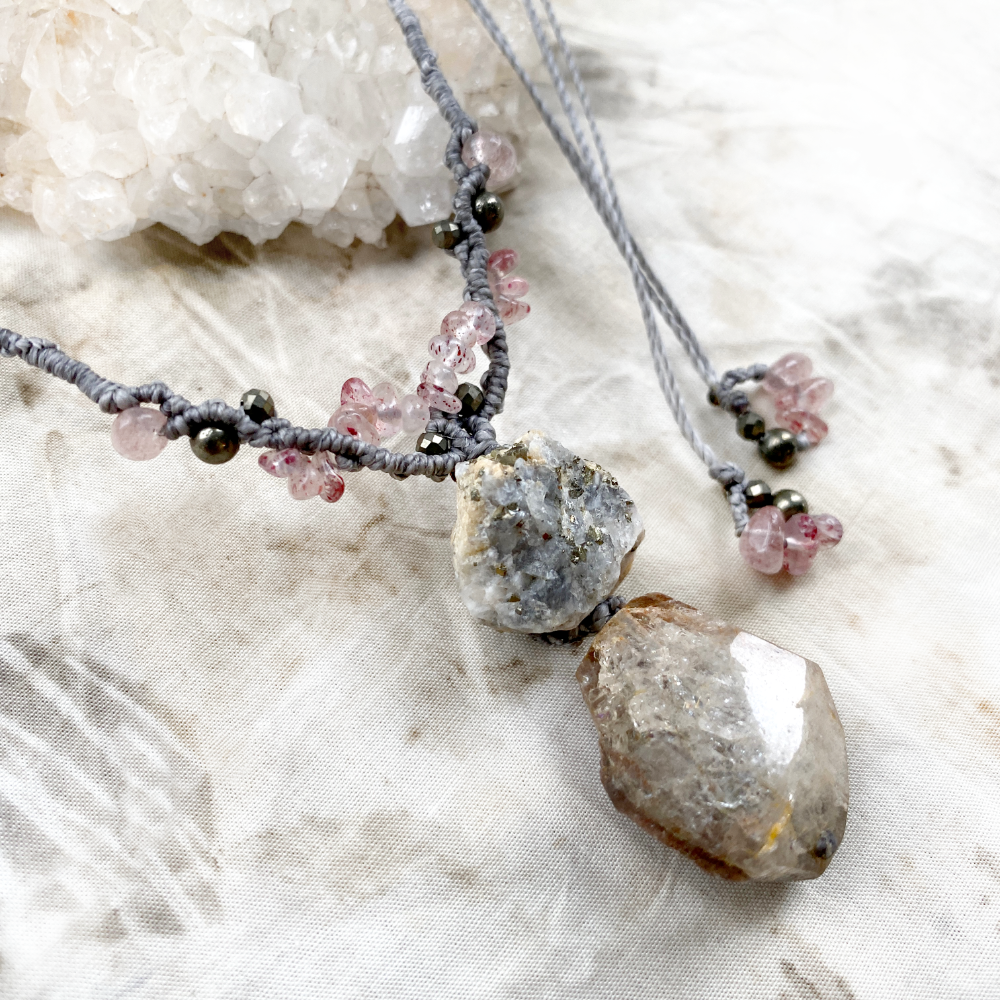 'Heart Whisper' crystal healing amulet
DESCRIPTION
Crystal healing necklace combining the energies of Marcasite and Lodolite, further supported by Pyrite and Lepidochrosite in Quartz. This crystal healing amulet is knotted and braided with grey micro-macrame cord, which is strong and durable, yet soft and comfortable to wear. There is a balance of softness and strength in the energy of this amulet, promoting the purity of connection between what you sense within your heart and the intuition flowing to you through your crown and soul star chakras.
The length of the necklace is adjustable from very short down to solar plexus level. The total length of the crystal pendant (from top edge of the Marcasite down to the base of the Lodolite) is just under 5 cm (2.") tall.
You'll receive this crystal healing necklace in one of Spirit Carrier's fabric draw-string pouches, great for the safe-keeping of the necklace. Gift-wrapped at no extra charge.

Read here how to take care of your crystal jewellery.
CRYSTAL PROPERTIES
MARCASITE
Resonates with the Soul Star chakra, even if being strongly grounding at the same time. Offers strong psychic protection and strengthens courage. Brings clarity of thinking, increasing will-power. Said to promote creativity and attract wealth. If you long for new spark in life, Marcasite helps ignite it. A stone of action, confidence and vitality.
LODOLITE (aka Shaman Dream Stone, Garden Quartz)
Associated with the crown chakra, enhances one's sensitivity to invisible energies, helps in manifesting one's desires, brings harmony to one's aura, emanates strong yet gentle healing energies. Harmonises the higher vibrational energies of the aura and the light body. Gazing into this stone is said to bring about a cosmic shift of consciousness.
LEPIDOCHROSITE IN QUARTZ
Stimulates intuitive spiritual awareness, at the same time gently grounding to Earth energy. Raises consciousness, and can be used for focusing intent during energy healing sessions. Calming and soothing, aids in releasing fears and aligning one with Divine will. A stone of 'allowing' and trusting the flow of life.
PYRITE
Taps into your innate abilities, bringing confidence and perseverance to aim for your goals. A shielding stone that helps you see the truth in the motives of others. Increases vitality and enhances your assertive qualities. Helpful in turning melancholy into feeling empowered and more light-hearted. Helps in letting go thoughts of misfortune and worry, thus making it an excellent stone for manifesting abundance. Symbolises the warmth and presence of sun, attracting also abundance of love, friendship and success. Also excellent stone against electromagnetic fog.
Recently Viewed