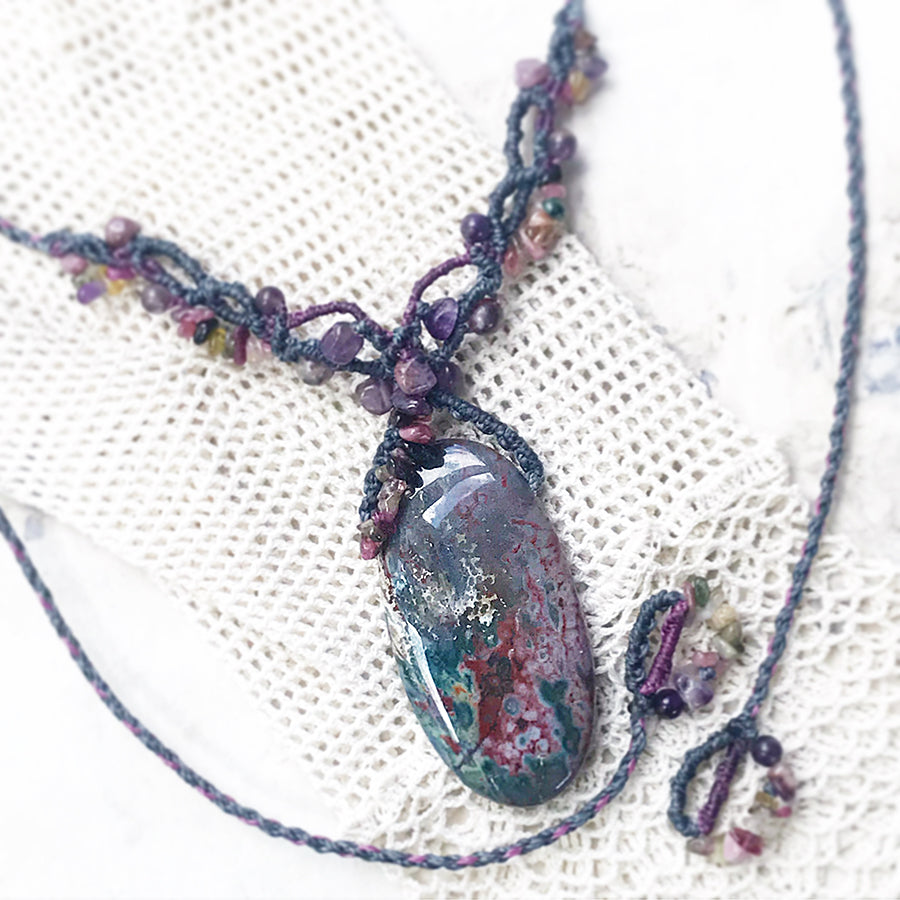 Heliotrope crystal healing amulet
DESCRIPTION
This ethereal looking crystal amulet features an oval shaped smooth Heliotrope, with beautiful natural patterning - like an abstract painting in muted, subtle colours.
The necklace is knotted with petrol blue micro-macrame cord, strong and durable but soft and comfortable to wear. The intricate knotting is highlighted with small Amethysts as well as several Tourmaline crystals in many luscious shades. 
The length of the necklace is adjustable from very short down to solar plexus level. The Heliotrope is just over 5 cm (2") tall and approx. 2.5 cm (1") wide at its middle.
There are no metals in this necklace so would be particularly suitable for those with metal sensitivities / metal allergy, energy workers and those who simply prefer not to wear metal jewellery.
You'll receive this crystal healing necklace in one of my fabric draw-string pouches, great for the safe-keeping of the necklace. Gift-wrapped at no extra charge.
Read here how to take care of your crystal jewellery.
CRYSTAL PROPERTIES
HELIOTROPE (aka Bloodstone)
Centering and grounding stone, lessening anxiety, confusion and stress. Stone of courage and determination that brings emotional renewal. Also good for attracting prosperity and success. Increases mental clarity and boosts motivation. Said to wash away sorrows. According to legends, protects its wearer from deception and secures victory over one's adversaries. Invigorating stone that increases endurance and wards off exhaustion. Dispelling negative patterns, helps one to live fully in the present.
TOURMALINE
Stone of abundance, protection and healing. Aids understanding oneself and others. Soothing and supportive. Reduces fears and promotes self-confidence. Removes energetic blockages, balancing the male/female energy within the body.
AMETHYST
Instils inner peace, promotes self-discovery and aids in relaxation. Associated with the crown chakra, known as a "stone of balance" and positive transformation. Thought to increase spiritual awareness and psychic abilities, initiating higher knowing and greater understanding. Helps in assimilating new ideas and manifesting thoughts into action. Symbolises a connection to the Divine. A well-known support stone for those wanting to break old patterns to create a new, harmonious life.
Recently Viewed