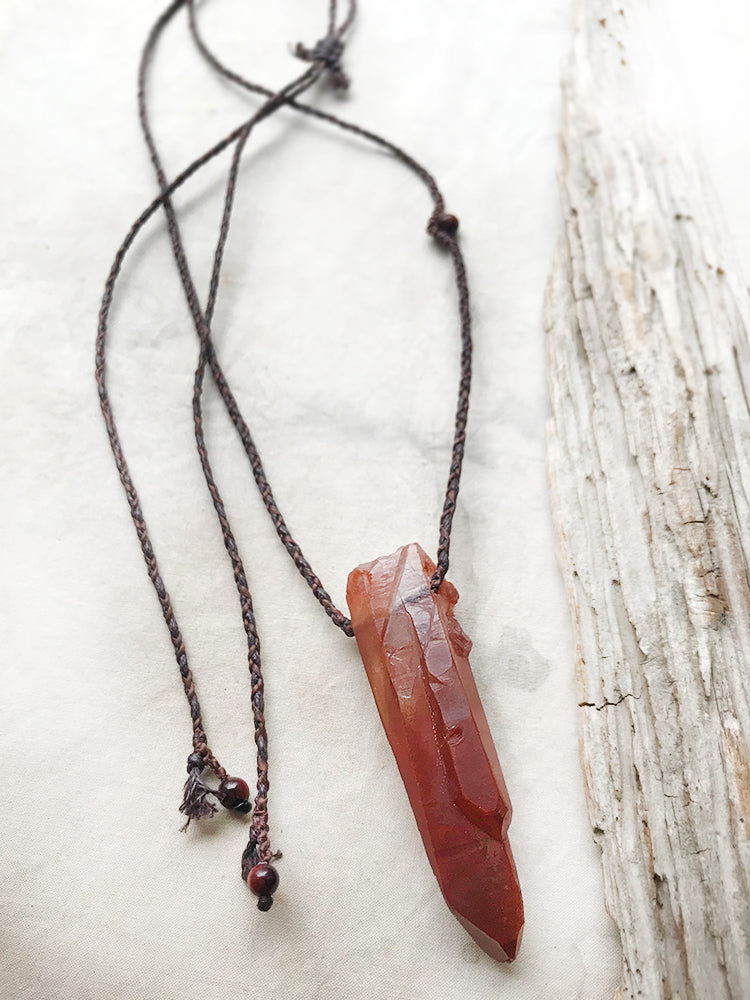 Hematoid Quartz crystal healing amulet
DESCRIPTION
Crystal healing amulet with a raw Hematite included Quartz. This deep rusty red point has a formation called 'trigger crystal', meaning it has a smaller point growing along the side of the larger point which refers to its function as a 'trigger' in activating and amplifying the energy of the larger crystal point. The necklace is minimally braided with brown cotton cord and dark reddish brown micro-macrame cord. There's also a small red Tiger Eye bead adorning one side of the necklace braid, and the same also decorating the ends of the adjustable necklace cords.
The length of the necklace is adjustable from very short down to solar plexus level. The Hematoid Quartz point is just over 5.5 cm (2.2") tall and 1.5 cm (0.6") at its widest.
There are no metals in this necklace so would be particularly suitable for those with metal sensitivities, energy workers and those who simply prefer not to wear metal.
You'll receive this crystal healing necklace in one of my fabric drawstring pouches, great for the safe-keeping of the necklace. Gift-wrapped at no extra charge.

Read here how to take care of your crystal jewellery.
CRYSTAL PROPERTIES
HEMATOID QUARTZ (Hematite included Quartz)
Supports self-esteem, self-confidence, courage and will power. Grounding and balancing energy, easing fears and worries. Highly protective, helps in maintaining your auric shield. Grounds higher spiritual energy into the body, enabling you better manifest your dreams into reality.
RED TIGER EYE
Helps to find motivation and to feel inspired in all aspects of life. Instils harmony into situations and brings confidence to deal with any task or person graciously from a place of your inner wisdom. Encourages you to tap into all the skills that allow you to prosper and flourish. Promotes self-care. Stone of integrity, helping you to be your own champion.
Recently Viewed