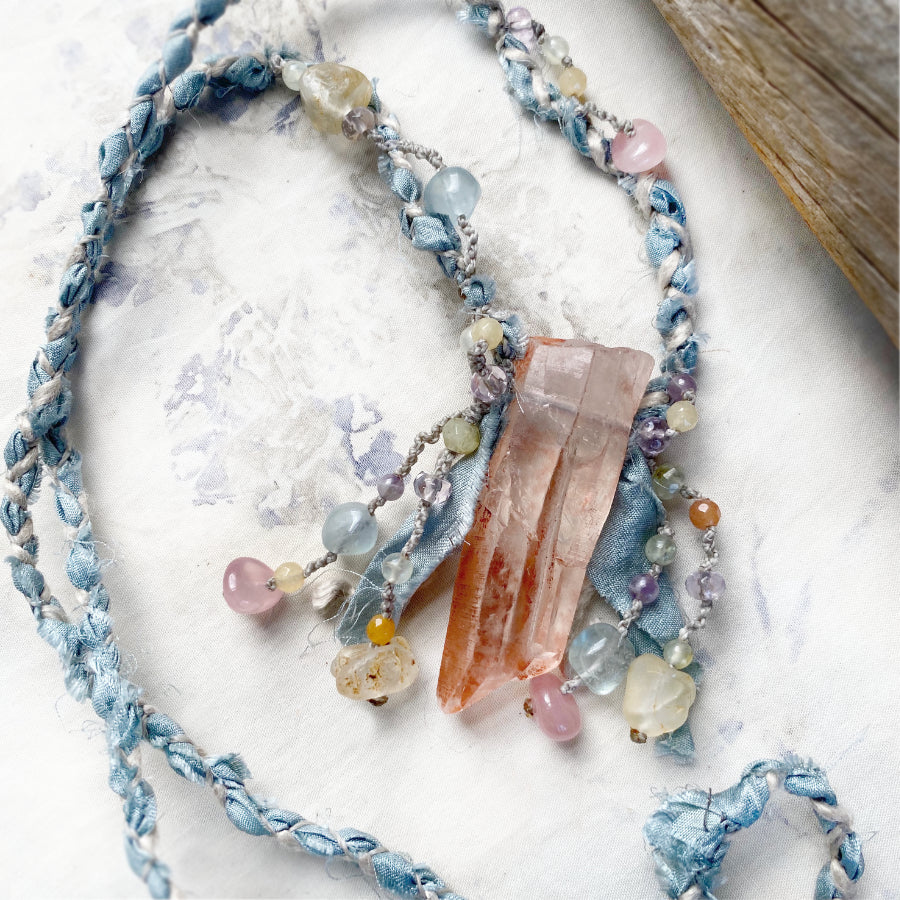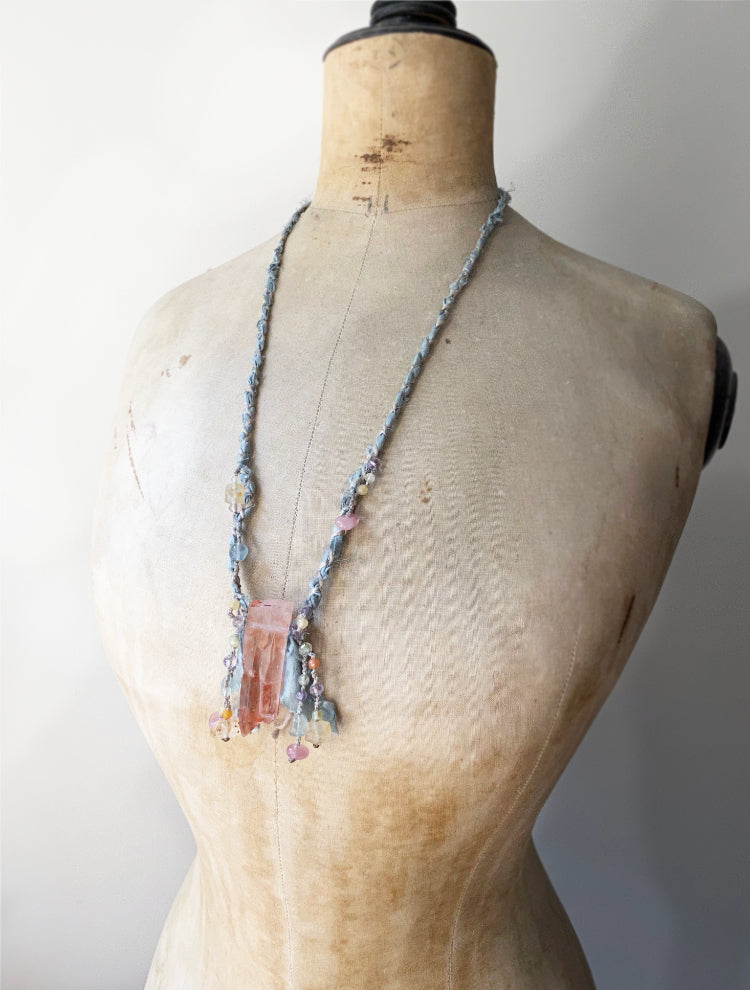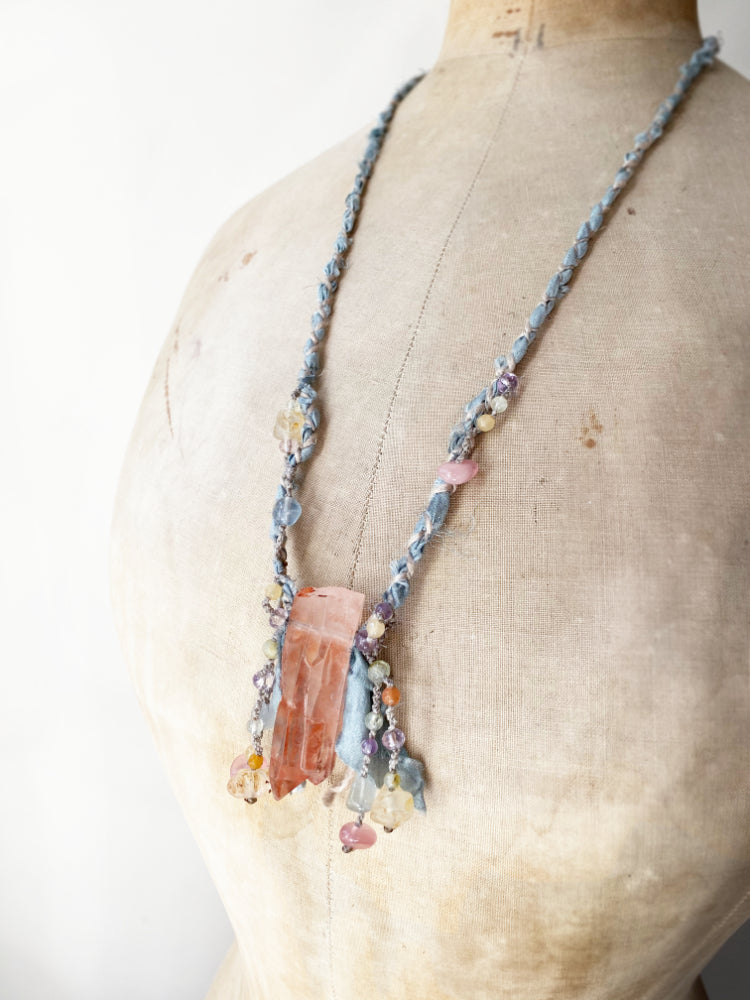 Hematoid Quartz twin-point crystal healing talisman
DESCRIPTION
Raw twin-point Hematoid Quartz, highlighted with colourful strands of crystals on both sides: blue Fluorite, dark pink Madagascan Rose Quartz, Citrine and yellow Topaz. The necklace braid is soft pastel blue silk combined with light grey micro-macrame cord. This colours of this summery necklace are as soft as the braid feels to wear. Easy to just slip over the head without a need for any closing clasp.
The necklace braid is set length, with an all around measurement of approx. 77 cm (27.5"). The Hematoid Quartz twin-point is approx. 5.5 cm (2.2") tall and approx. 2 cm (0.8") wide.
You'll receive this crystal healing necklace in one of my handmade fabric draw-string pouches - great for the safe-keeping of the necklace. Gift-wrapped at no extra charge.

Read here how to take care of your crystal jewellery.
CRYSTAL PROPERTIES
HEMATOID QUARTZ (Hematite included Quartz)
Supports self-esteem, self-confidence, courage and will power. Grounding and balancing energy, easing fears and worries. Highly protective, helps in maintaining your auric shield. Grounds higher spiritual energy into the body, enabling you better manifest your dreams into reality.

TANTRIC TWIN: Tantric twin crystals are highly personal, tuning into their keeper's energy. They allow one to see beyond the limitations of time and space. They work in harmonising human relationships on all levels, deepening the bond between those who are already close. Embodying the energetic twin essence, these crystals are also said to help in allowing one to find one's soul mate.
ROSE QUARTZ
Powerful love stone, love that is all-encompassing and unconditional. Awakens one's heart to its own innate love, compassion and acceptance. Vibrates its loving energy to all chakras, offering gentle healing. Soothing and calming. Dissolves anger and resentment. Good for raising one's self-esteem and feelings of self-worth. Balances emotions and is said to support all types of healing. Guides one's life path towards a sense of personal fulfilment and contentment.
BLUE FLUORITE
Attuned to the Third Eye chakra, enhancing intuitive visions and their accuracy. Promotes calm, rational thinking, directing one's activities toward an intended purpose. Fosters clear communication skills, inspiring honesty and sense of justice. Heals soul fragmentation through life times and aids cellular memory healing.

YELLOW CALCITE
Associated with self-confidence, inner strength and hope. Effective in helping to clear away old outworn energy patterns and increasing personal motivation and drive. Helps in releasing self-doubt. Assists in learning new things quickly, increasing memory.
TOPAZ
Stone of success and good fortune. Aligns and recharges body's meridians. With the strong magnification energy of Topaz, you may reach your heart's goals and desired manifestations faster. Increases energy and vitality. Increases cosmic awareness by activating the crown and the soul star chakras. In ancient legends, Topaz was said to make its wearer invisible if needed at times of emergency.
AMETHYST
Instils inner peace, promotes self-discovery and aids in relaxation. Associated with the crown chakra, known as a "stone of balance" and positive transformation. Thought to increase spiritual awareness and psychic abilities, initiating higher knowing and greater understanding. Helps in assimilating new ideas and manifesting thoughts into action. Symbolises a connection to the Divine. A well-known support stone for those wanting to break old patterns to create a new, harmonious life.
PREHNITE
Protective on all levels, strengthening one's life force. Fosters a sense of trust in the Universe and helps you protect your boundaries so it's easier to say "no" when needed. Stimulates inner knowing of oneself and guides in fulfilling one's potential. Helps to let go of unpleasant memories. Enhances spiritual "knowing". Revitalising and said to bring inner peace. Also said to be "a healer's healer".
Recently Viewed