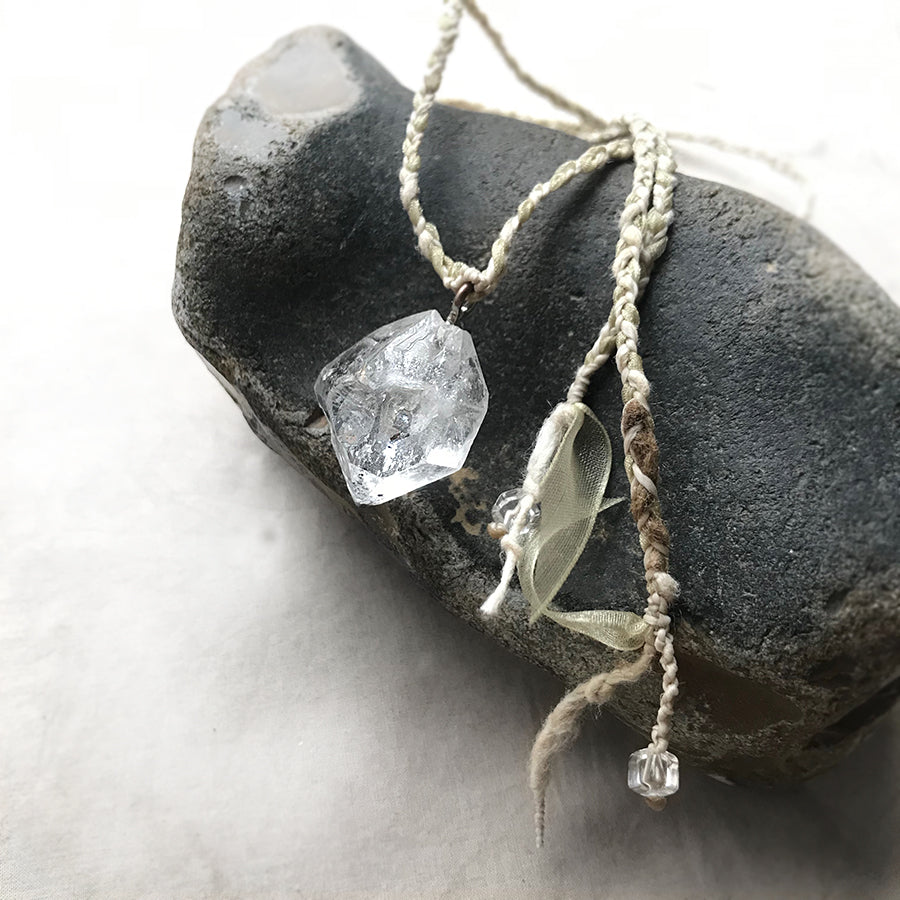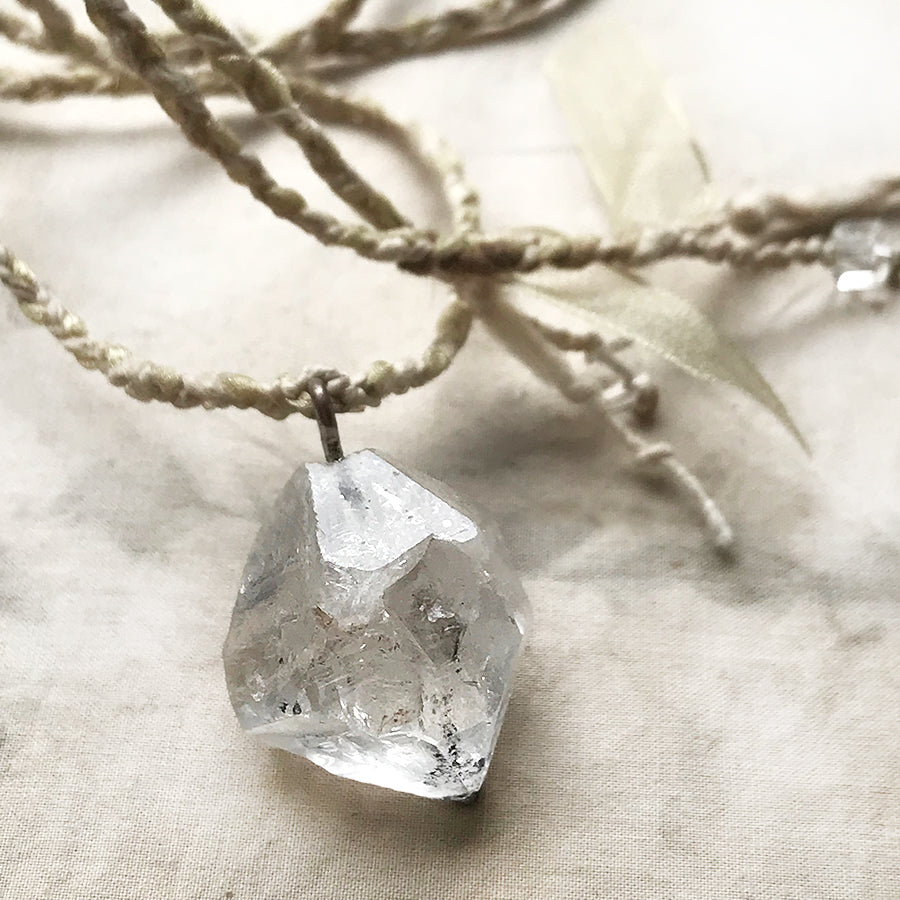 Herkimer Diamond crystal healing amulet
DESCRIPTION
Small Herkimer Diamond in minimally braided necklace. This beautiful high vibe crystal is for the most part clear, with some small inclusions within, as well as a 'Key' formation, a geometric indentation that is said to help you discover hidden aspects of your being.

The necklace is braided with a combination of peace silk yarn ('peace silk' is a name of silk made by ethical process where no silk worms were harmed), golden sheen organza and natural white micro-macrame cord. The ends of the necklace braids are accented with small cube-shaped Quartz crystals.
This Herkimer Diamond is approx. 2.5 cm (1") tall. The long braid ends are left open so you can tie the amulet to hang at a higher or lower level according to your preference. The length of the necklace braids is approx. 38 cm (15") each.
Please note if you are sensitive to metals:
Unlike other Spirit Carrier necklaces, this one contains a small metal hook that attaches the Herkimer Diamond to the necklace braid. This is an unobtrusive attachment that does not encircle the crystal in metal nor encapsulate the end of it thus still allowing the crystal to 'breathe' and freely radiate to all directions.
You'll receive this crystal healing necklace in one of my handmade fabric draw-string pouches - great for the safe-keeping of the necklace. Gift-wrapped at no extra charge.

Read here how to take care of your crystal jewellery.
CRYSTAL PROPERTIES
HERKIMER DIAMOND
Stone of attunement and expansion. Purifying one's energy field and clearing access to one's natural abilities. Excellent aid for gaining higher vision, perception and insights about all areas of one's life and direction. Beneficial to be used with affirmations. Assists in developing clairvoyance and telepathic skills. Greatly amplifies the energy of other crystals in its vicinity.
CLEAR QUARTZ
The universal master crystal that has a harmonising effect on all levels of being. Programmable by intention, so can be used for versatile purposes. Quartz can clear, enhance, amplify, transmute, balance, focus and transmit energy. Raises one's energetic vibration. Brings clarity and filters out distractions. A deep soul cleanser, attuning its keeper to their higher self. Each Quartz crystal is unique with its own character and teachings it offers, all are known as "Stones of Power" and "Master Healers".
Recently Viewed