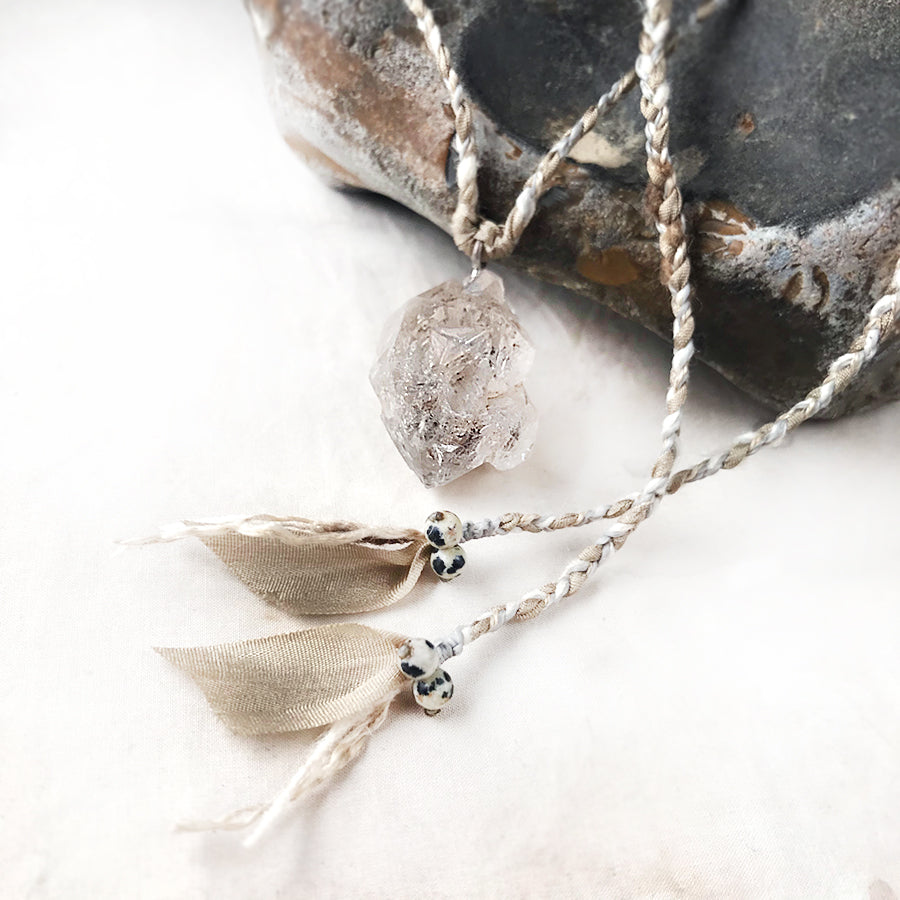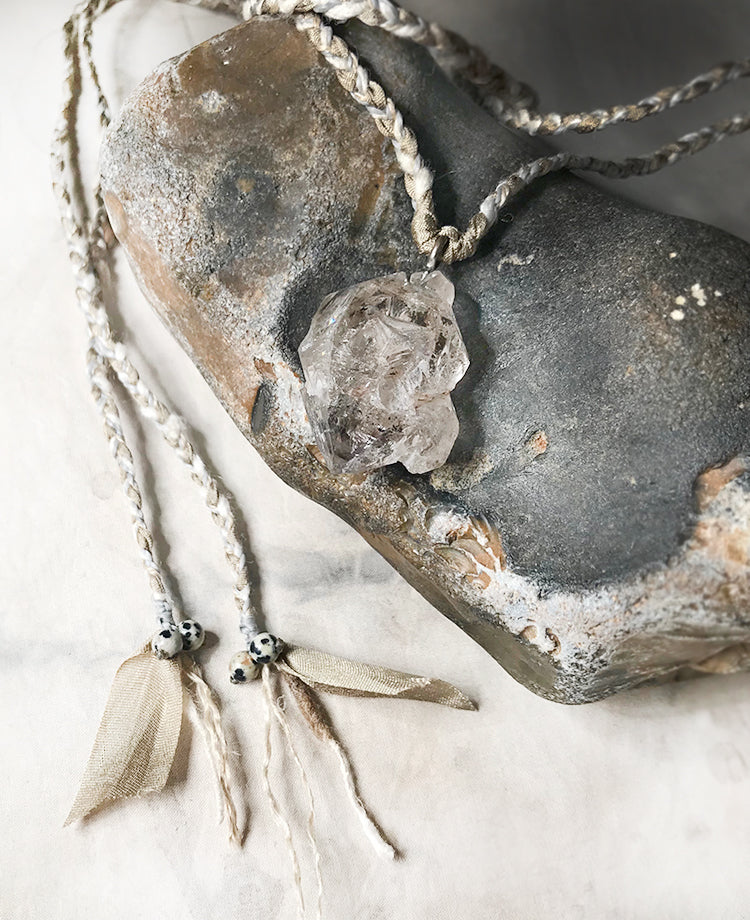 Herkimer Diamond crystal healing amulet
DESCRIPTION
Small Herkimer Diamond in minimally braided necklace. This beautiful high vibe crystal has very elestial texture, including some small inclusions within, as well as a 'Key' formation, a geometric indentation that is said to help you discover hidden aspects of your being.

The necklace is braided with a combination of peace silk yarn ('peace silk' is a name of silk made by ethical process where no silk worms were harmed), beige embroidery silk ribbon and natural white micro-macrame cord. The ends of the necklace braids are accented with small Dalmatian Jasper crystals.
This Herkimer Diamond is approx. 3 cm (1.2") tall. The long braid ends are left open so you can tie the amulet to hang at a higher or lower level according to your preference. The length of the necklace braids is approx. 52 cm (20.5") each.
Please note if you are sensitive to metals:
Unlike other Spirit Carrier necklaces, this one contains a small metal hook that attaches the Herkimer Diamond to the necklace braid. This is an unobtrusive attachment that does not encircle the crystal in metal nor encapsulate the end of it thus still allowing the crystal to 'breathe' and freely radiate to all directions.
You'll receive this crystal healing necklace in one of my handmade fabric draw-string pouches - great for the safe-keeping of the necklace. Gift-wrapped at no extra charge.

Read here how to take care of your crystal jewellery.
CRYSTAL PROPERTIES
HERKIMER DIAMOND
Stone of attunement and expansion. Purifying one's energy field and clearing access to one's natural abilities. Excellent aid for gaining higher vision, perception and insights about all areas of one's life and direction. Beneficial to be used with affirmations. Assists in developing clairvoyance and telepathic skills. Greatly amplifies the energy of other crystals in its vicinity.
DALMATIAN JASPER
Helps in removing barriers that prevent you from moving forward in life, and to discover your true purpose of being in the world. Brings joy and playfulness into one's life. The black spots in this stone are Black Tourmaline, which adds to this stone's protective qualities.
Recently Viewed