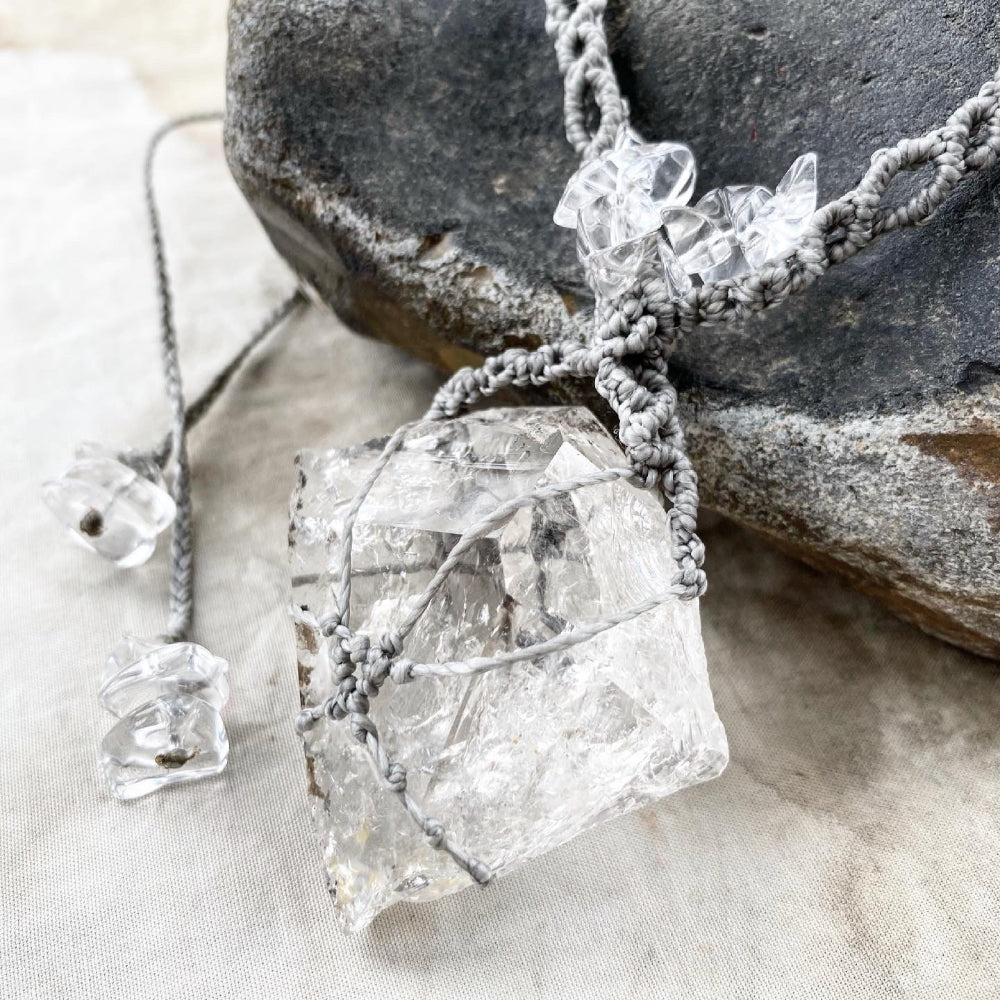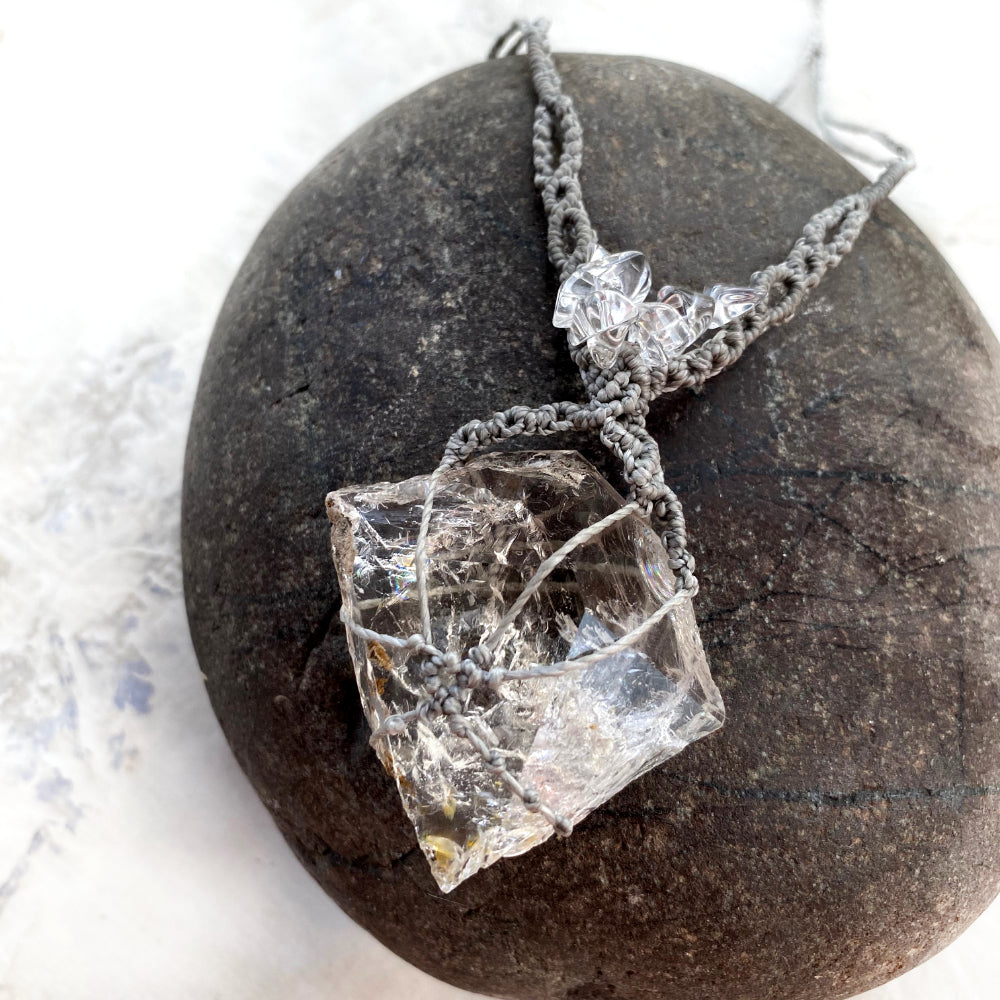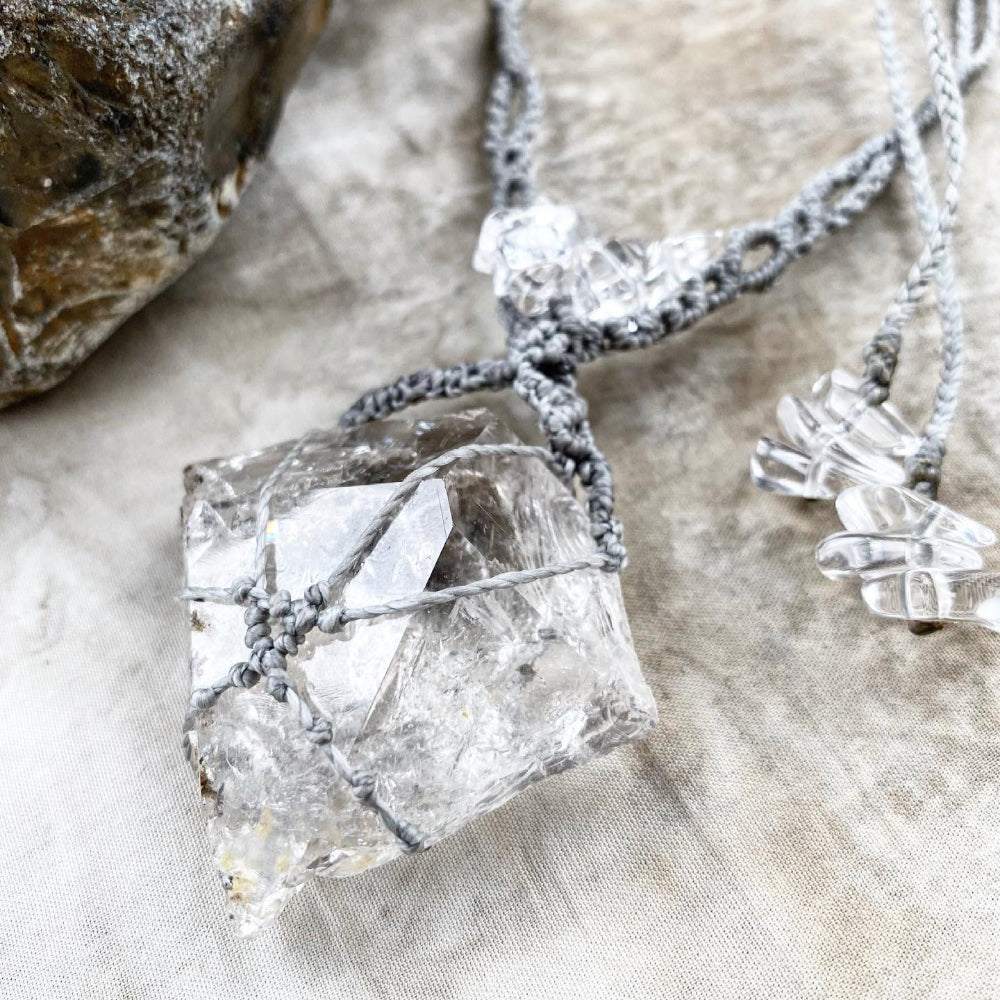 Herkimer Diamond crystal healing amulet
DESCRIPTION
This glorious Herkimer Diamond is fairly large and naturally shows its 'diamond' outline when netted wearable like this. For most part, this high vibe crystal is clear, with a few small inclusions, as well as a beautiful rainbow within - thus making this one also a 'Wounded Healer' crystal. An embodiment of Clear Light, there is a purity and autonomy to this crystal spirit, an energy that will surely become a life-long companion.

The necklace is braided with light grey micro-macrame cord, adding only a few clear Quartz crystal accents, to give the Herkimer Diamond centre stage.
Do note that this Herkimer Diamond isn't small - its tallest as well at its widest measurement is 5 cm (2"). The necklace braid is adjustable by sliding the braids through a knotted channel so you can wear the diamond at your desired level. 

There are no metals in this necklace so would be particularly suitable for those with metal sensitivities, energy workers and those who simply prefer not to wear metal.

You'll receive this crystal healing necklace in one of Spirit Carrier's handmade fabric draw-string pouches - great for the safe-keeping of the necklace. Gift-wrapped at no extra charge.

Read here how to take care of your crystal jewellery.
CRYSTAL PROPERTIES
HERKIMER DIAMOND
Stone of attunement and expansion. Purifying one's energy field and clearing access to one's natural abilities. Excellent aid for gaining higher vision, perception and insights about all areas of one's life and direction. Beneficial to be used with affirmations. Assists in developing clairvoyance and telepathic skills. Greatly amplifies the energy of other crystals in its vicinity.
CLEAR QUARTZ
The universal master crystal that has a harmonising effect on all levels of being. Programmable by intention, so can be used for versatile purposes. Quartz can clear, enhance, amplify, transmute, balance, focus and transmit energy. Raises one's energetic vibration. Brings clarity and filters out distractions. A deep soul cleanser, attuning its keeper to their higher self. Each Quartz crystal is unique with its own character and teachings it offers, all are known as "Stones of Power" and "Master Healers".
Recently Viewed