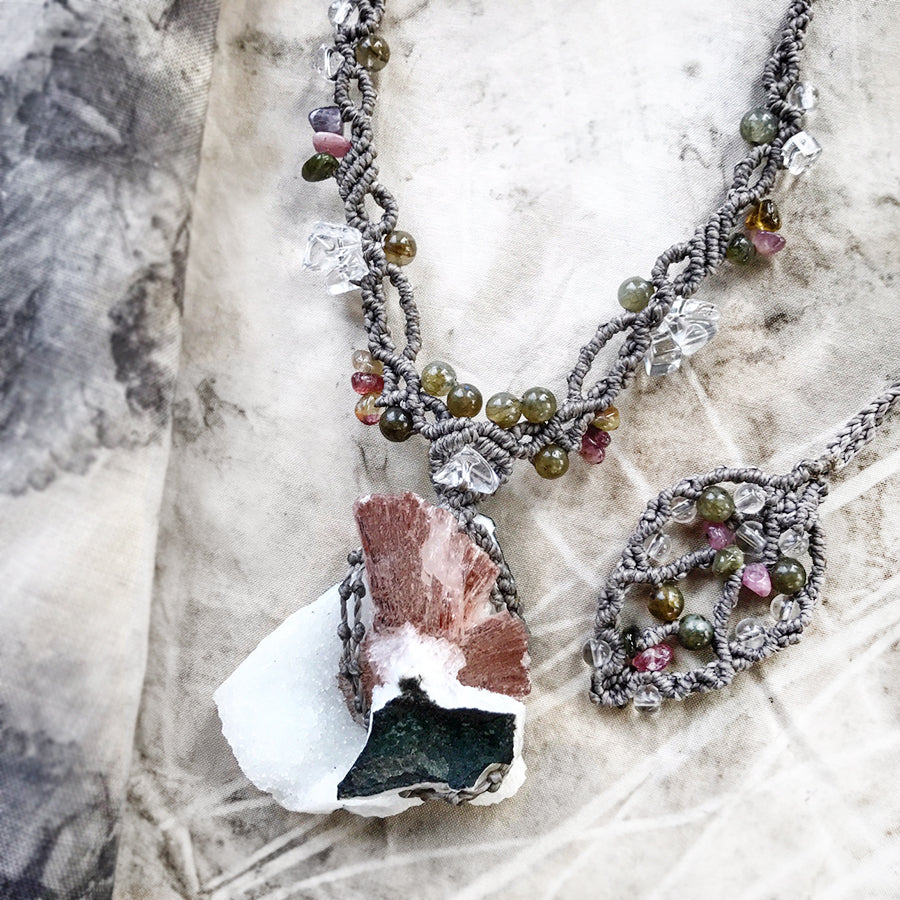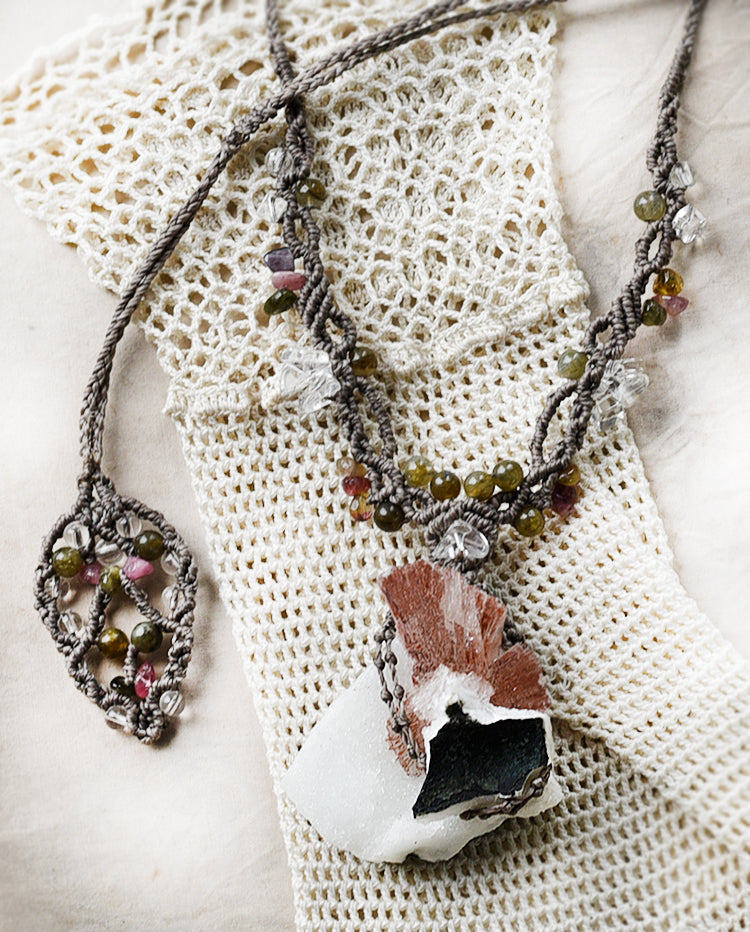 Heulandite crystal healing amulet
DESCRIPTION
Crystal healing necklace with a uniquely sculptural, raw and un-drilled mineral specimen of red Heulandite on Quartz. Luxurious and unusual, this necklace is intricately knotted with grey micro-macrame cord and highlighted with Labradorite, Tourmaline and further smaller clear Quartz crystals. The necklace braids join into a leaf-shaped decorative piece that will hang down the back when the necklace is worn - especially beautiful with an open-back dress.
The necklace length is adjustable from as short as you wish down to just above the solar plexus level. The Heulandite on Quartz cluster measures approx. 4.5 cm (1.8") tall and also 4.5 cm (1.8") at its widest.
There are no metals in this necklace so would be particularly suitable for those with metal sensitivities / metal allergy, energy workers and those who simply prefer not to wear metal.
You'll receive this crystal healing necklace in one of my handmade fabric draw-string pouches - great for the safe-keeping of the necklace. Gift-wrapped at no extra charge.

Read here how to take care of your crystal jewellery.
CRYSTAL PROPERTIES
HEULANDITE
Stone of spiritual self healing. Excellent for restoring balance. May connect you to ancient civilisations of Lemuria and Atlantis if there is anything karmic to heal for you so you're released to fulfil your soul path freely. Opens up Divine guidance and is likely to accelerate psychic visions. Good for moving on, developing new gifts and finding exciting possibilities. Removes constraints, alleviates fears and helps you feel calm and centered.
LABRADORITE
One of the most powerful, versatile crystal tools for healing. Creates an auric shield and strengthens your innate energy and life force, preventing energy leakages. Enhances intuitive abilities and assists in spiritual transformation. Helps the wearer align with their highest destiny and discover their inner worth. Strengthens willpower and brings in new ideas. Often referred to as the 'Stone of Destiny', believed to help you to find your true path in life, and as 'Temple of the Stars', anchoring higher dimensional light into your being.
TOURMALINE
Stone of abundance, protection and healing. Aids understanding oneself and others. Soothing and supportive. Reduces fears and promotes self-confidence. Removes energetic blockages, balancing the male/female energy within the body.
CLEAR QUARTZ
The universal master crystal that has a harmonising effect on all levels of being. Programmable by intention, so can be used for versatile purposes. Quartz can clear, enhance, amplify, transmute, balance, focus and transmit energy. Raises one's energetic vibration. Brings clarity and filters out distractions. A deep soul cleanser, attuning its keeper to their higher self. Each Quartz crystal is unique with its own character and teachings it offers, all are known as "Stones of Power" and "Master Healers".
Recently Viewed