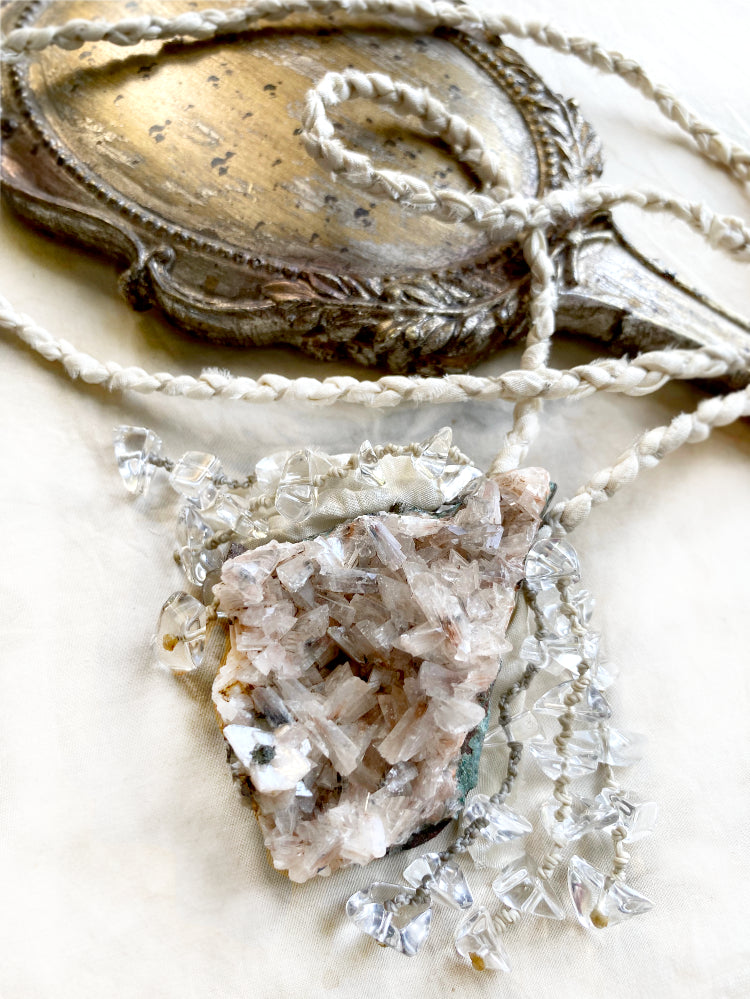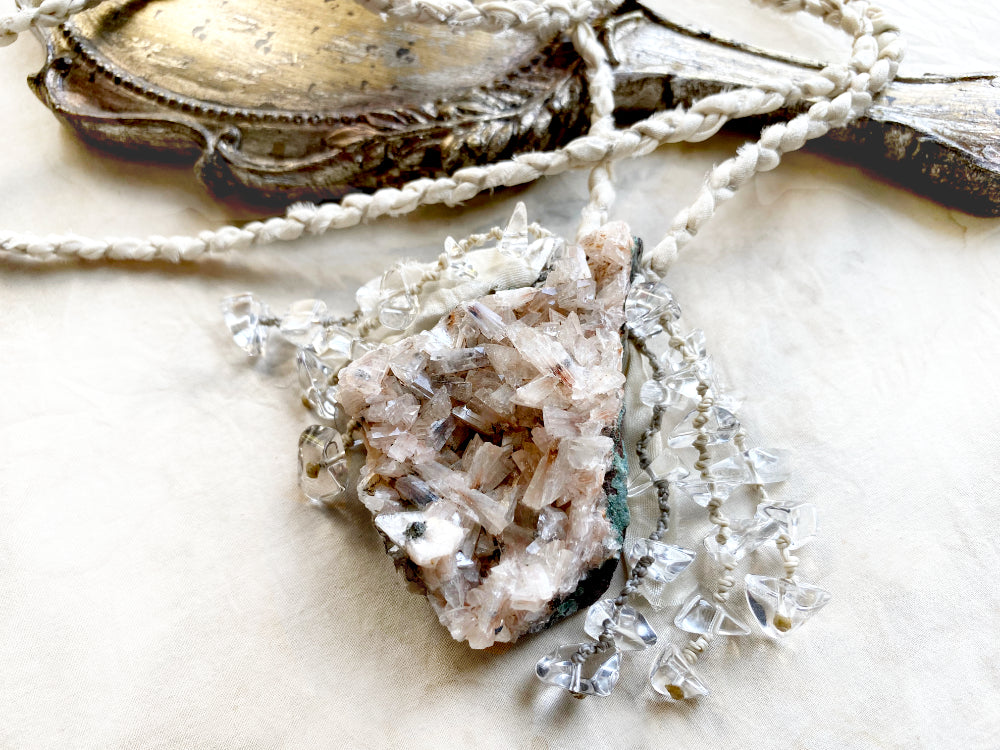 Heulandite crystal healing talisman
DESCRIPTION
Stone talisman with large, raw Heuladite, surrounded by strands of extremely clear Quartz acting as an energy amplifier to further emphasises the Heulandite's frequency. This organically triangular Heulandite shows a subtle pale hint of pink and its roughness is contrasted with the soft silk necklace braid: creamy white unbleached recycled sari silk that feels wonderfully gentle against the skin. Light grey mirco-macrame cord is woven in the necklace braid for added strength.
The necklace braid is set length, and slips over the head without the need for a clasp. It has an all around measurement of approx. 82 cm (32"). The Heulandite is large at approx. 6.5 cm (2.6") tall, 5 cm (2") at its widest and 2.5 cm (1") at its thickest. Although subtle in colour, this necklace is quite an eye-catcher due to its unusual shape and texture, but would also work well in "layering" together with other crystal amulets worn at shorter length.
There are no metals used in this necklace so would be particularly suitable for those with sensitivities to metals.
You'll receive this crystal healing necklace in one of Spirit Carrier's handmade fabric draw-string pouches - great for the safe-keeping of the necklace. Gift-wrapped at no extra charge.

Read here how to take care of your crystal jewellery.
CRYSTAL PROPERTIES
HEULANDITE
Stone of spiritual self-healing. Excellent for restoring balance. May connect you to ancient civilisations of Lemuria and Atlantis if there is anything karmic to heal for you so you're released to fulfil your soul path freely. Opens up Divine guidance and is likely to accelerate psychic visions. Good for moving on, developing new gifts and finding exciting possibilities. Removes constraints, alleviates fears and helps you feel calm and centered.
CLEAR QUARTZ
The universal master crystal that has a harmonising effect on all levels of being. Programmable by intention, so can be used for versatile purposes. Quartz can clear, enhance, amplify, transmute, balance, focus and transmit energy. Raises one's energetic vibration. Brings clarity and filters out distractions. A deep soul cleanser, attuning its keeper to their higher self. Each Quartz crystal is unique with its own character and teachings it offers, all are known as "Stones of Power" and "Master Healers".
Recently Viewed