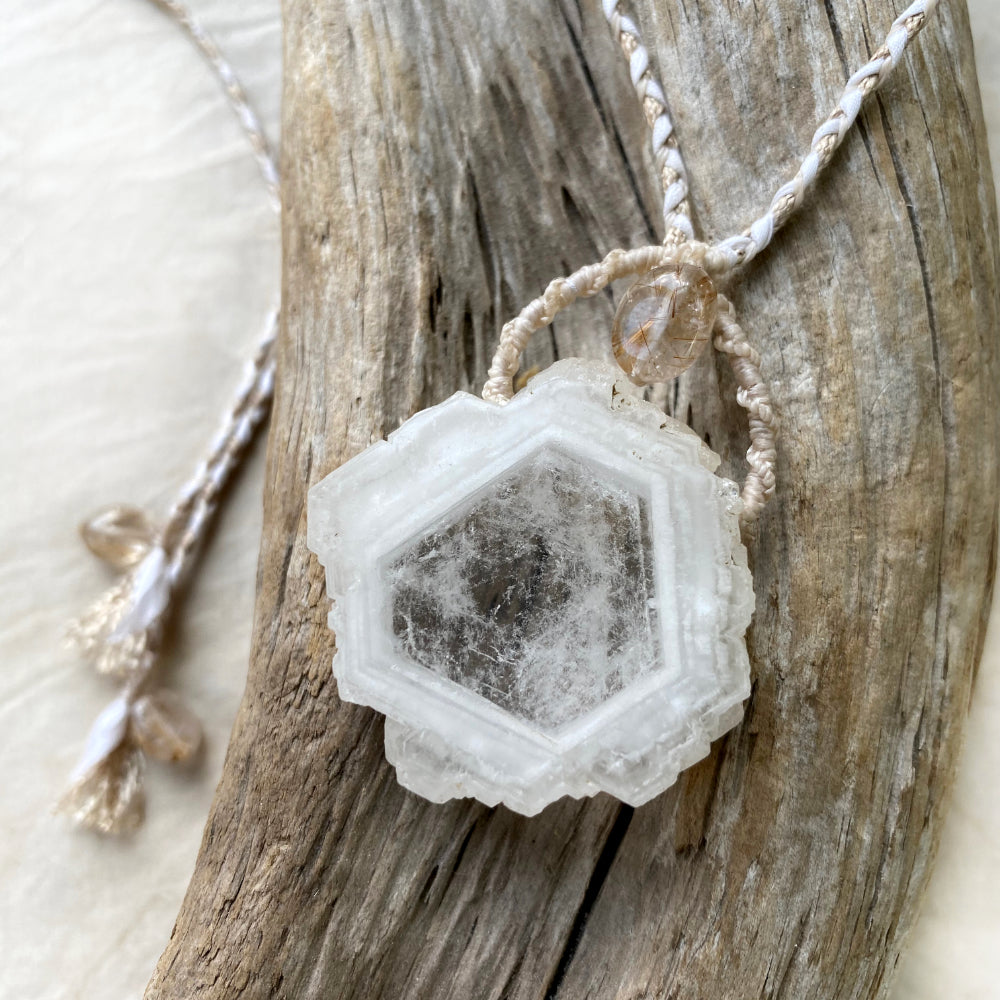 Hexagonal Quartz crystal healing amulet
DESCRIPTION
Crystal healing talisman with a polished slice of Hegaxonal Quartz crystal, still showing its rough, organic outline. The naturally formed hexagon shape within this slice of Quartz carries the energy of sacred geometry. Hexagon being the strongest known shape, you can explore the wisdom of this crystal through meditations and vision quests. The minimal necklace braid combines beige satin cord with white embroidery ribbon and light beige micro-macrame cord, allowing the pendant crystal to take centre stage. The tiny accent crystal above the Hexagon Quartz and at the ends of the braids are Copper Rutile Quartz. This subtle necklace would also be perfect in combination with other talismanic necklaces for a bohemian individual look.
The necklace has a knotted channel through which you can pull the braided cords so you can have the pendant hang at your desired level. The Hexagon Quartz has a width and height of approx. 3.5 cm (1.4").
There are no metals in this necklace so would be particularly suitable for those with metal sensitivities, energy workers and those who simply prefer not to wear metal.
You'll receive this crystal healing necklace in one of Spirit Carrier's fabric draw-string pouches, great for the safe-keeping of the necklace. Gift-wrapped at no extra charge.

Read here how to take care of your crystal jewellery.
CRYSTAL PROPERTIES
HEXAGONAL QUARTZ
Unusual portal crystal into inner clarity and higher knowing. Powerful support for all-encompassing healing and harmony. Quartz with the inherent growth pattern of hexagon emanates universal coherence, the energy is unifying, bringing all the element's of one's life into balanced alignment. Instils resilience, emotional strength and centered courage that can be used for taking beneficial action towards one's goals. Excellent also for inducing an ideal meditative state and filter out distractions.
COPPER RUTILE QUARTZ
Ignites inspiration and activates creativity. Amplifies intentions and abilities, thus perfect for manifesting desired outcomes. Fosters self-reliance, opens up new directions and supports aspirations dear to your heart. Energising, vitalising and highly purifying. Reminds you of the power of the Sun. Attracts the help you need on your life path.
Recently Viewed