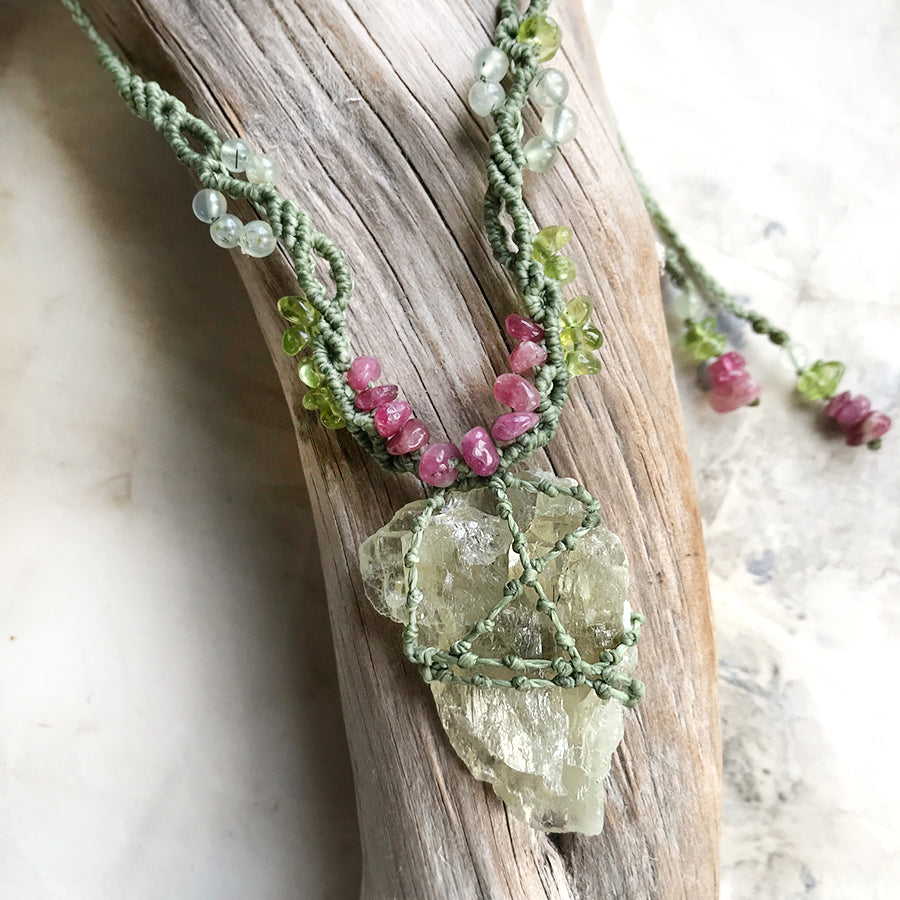 Hiddenite crystal healing amulet
DESCRIPTION
Crystal healing amulet with raw, un-drilled Hiddenite crystal. The necklace is intricately knotted with light green micro-macrame cord, highlighted with small Rubellite, Peridot and Prehnite crystals. Also the ends of the adjustable necklace cord are adorned with matching crystals.
The length of the necklace is adjustable from very short down to just above heart level. The Hiddenite is just over 4 cm (1.6") tall and approx. 3 cm (1.2") at its widest.
There are no metals in this necklace so would be particularly suitable for those with metal sensitivities / metal allergy, energy workers and those who simply prefer not to wear metal jewellery.
You'll receive this crystal healing necklace in one of my fabric draw-string pouches, great for the safe-keeping of the necklace. Gift-wrapped at no extra charge.

Read here how to take care of your crystal jewellery.
CRYSTAL PROPERTIES
HIDDENITE
Stone of unconditional, divine love. Brings teachings of joy, spontaneity, compassion and gratitude. Helps in extending your loving acceptance to the deepest parts of your own being so you become aware of your own value in the universe. Assists in improving personal relationships, and is also an excellent stone for manifestation, helping the Solar Plexus and the Heart chakra work in unison.
PERIDOT
Upbeat and comforting, Peridot reduces stress and amplifies intuitive awareness. Soothes hurt feelings, supporting renewal and personal growth. Brings in-depth heart based awareness, extending from healing to understanding and offering protection against negative emotions. Known also as the stone of prosperity and happiness.
RUBELLITE (aka Pink Tourmaline)
Considered a rare, valuable crystal, Rubellite (pink Tourmaline) stimulates the heart chakra and life-force energy. A stone of quiet authority, instilling peaceful vibes in the midst of disputes. Harmonises one's feminine energies and has a nurturing energy. Helps in overcoming fears of lack and supports those who might not feel like belonging in this world to find joy of life.
PREHNITE
Protective on all levels, strengthening one's life force. Fosters a sense of trust in the Universe and helps you protect your boundaries so it's easier to say "no" when needed. Stimulates inner knowing of oneself and guides in fulfilling one's potential. Helps to let go of unpleasant memories. Enhances spiritual "knowing". Revitalising and said to bring inner peace. Also said to be "a healer's healer".
Recently Viewed