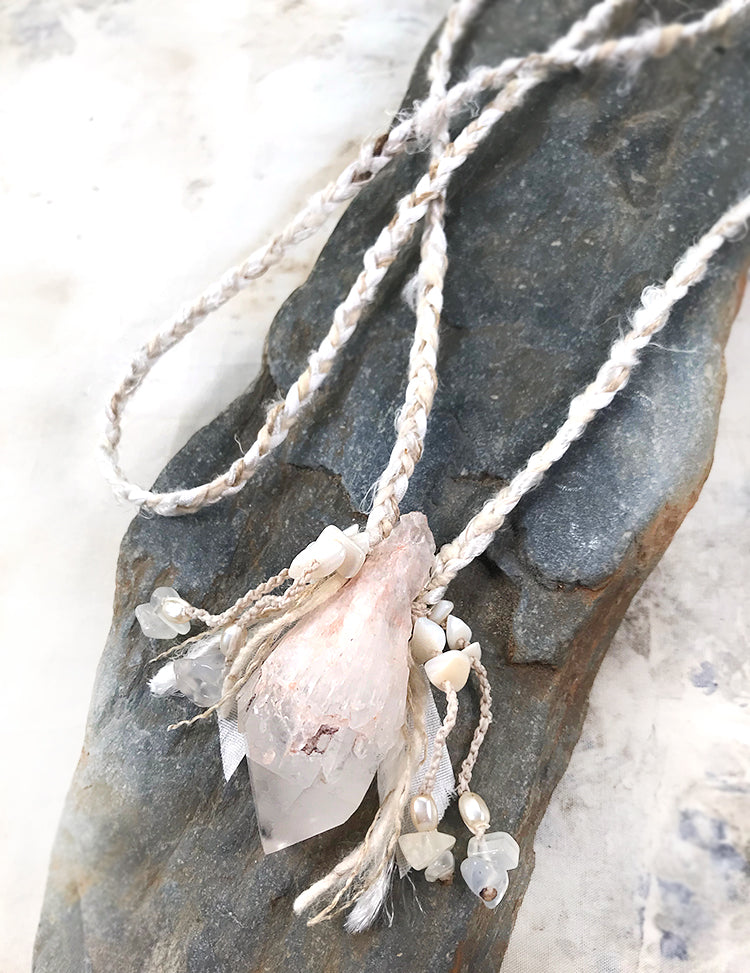 Hollandite Star Quartz crystal healing amulet
DESCRIPTION
Crystal healing necklace combining the energy of Hollandite Star Quartz with Moonstone and Mother of Pearl. The necklace is minimally braided with a combination of soft 'peace silk' yarn, white embroidery silk ribbon and cream tone micro-macrame cord. The necklace is very soft to wear and without a clasp, so it's easy to just "sling on and go".
The necklace braid is set length, allowing the Hollandite Star Quartz to hang down approx. 38 cm (15") measured from the back of the neck to the top edge of the crystal point. The all-around length of the necklace braid is 76 cm (30"). The Hollandite Star Quartz is just over 5.5 cm (2.2") tall and approx. 2 cm (0.8") wide at the middle.
There are no metals in this necklace so would be particularly suitable for those with metal sensitivities or metal allergy, energy workers and those who simply prefer not to wear metal.
You'll receive this crystal healing necklace in one of my fabric draw-string pouches, great for the safe-keeping of the necklace. Gift-wrapped at no extra charge.

Read here how to take care of your crystal jewellery.
CRYSTAL PROPERTIES
HOLLANDITE STAR QUARTZ
Increases the amount of high frequency light in the body. Helps in achieving a better understanding of what you came to do in your life. Stimulates fortunate coincidences and synchronicity in one's life. Protects its keeper's dreams for the future, helping the spirit to find its rightful path to its destiny.
MOONSTONE
Useful for feeling balanced or when changing aspects in one's life. Symbolises 'new beginnings'. Brings calmness through awareness. Provides the energy to sustain you through stages of growth. A highly intuitive stone allowing self expression and creativity to flow. Provides protection while travelling. A bringer of good fortune. Stone of feminine wisdom, inner growth and strength. Calming and soothing stone, enhancing intuition and inspiration. White moonstone is stimulating for psychic perception, vision and dream work.
MOTHER OF PEARL
Associated with peace, beauty, compassion and love. Instills feelings of harmony and balance. Stimulates intuition and encourages the use of imagination. Said to be a perfect gift for those who have been tossed and turned by life, to be a reminder that one's inner beauty will always shine through.
Recently Viewed