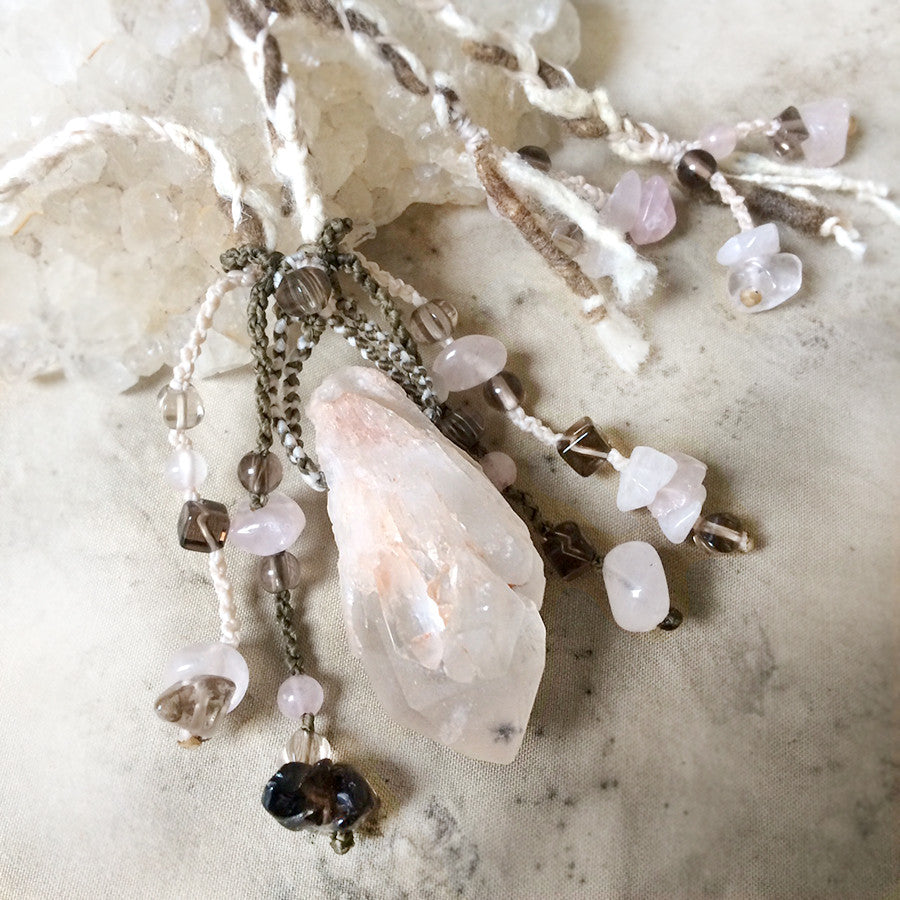 Hollandite Star Quartz crystal healing talisman
DESCRIPTION
Crystal healing necklace combining the energy of Hollandite Star Quartz with Rose Quartz and Smokey Quartz. The necklace is minimally braided with soft 'peace silk' yarn and cream tone micro-macrame cord. The Hollandite Star Quartz attached to the silk braid with dark brownish green knotting and has crystal strands of Rose Quartz and Smokey Quartz hanging on both sides.
The long braid ends are left open so you can tie the stone cluster to hang at any desired level. The Hollandite Star Quartz is just over 4 cm (1.6") tall and 1.5 cm (0.6") wide at the middle.
There are no metals in this necklace so would be particularly suitable for those with metal sensitivities or metal allergy, energy workers and those who simply prefer not to wear metal.
You'll receive this crystal healing necklace in one of my fabric draw-string pouches, great for the safe-keeping of the necklace. Gift-wrapped at no extra charge.
Read here about how to take care of your natural crystal jewellery.
CRYSTAL PROPERTIES
HOLLANDITE STAR QUARTZ
Increases the amount of high frequency light in the body. Helps in achieving a better understanding of what you came to do in your life. Stimulates fortunate coincidences and synchronicity in one's life. Protects its keeper's dreams for the future, helping the spirit to find its rightful path to its destiny.
SMOKEY QUARTZ
A grounding and calming stone that elevates moods and dissipates negative emotions. "A Stone of Serenity", it is comforting and protective for one's aura. Smokey Quartz is thought to assist in creative endeavours and also in setting personal boundaries. Offers protection against electromagnetic rays. A good healing stone for improving general feeling of well-being. Relieves anxiety and worry, wards off confusion. Shielding crystal to create a calm, safe environment.
ROSE QUARTZ
Powerful love stone, love that is all-encompassing and unconditional. Awakens one's heart to its own innate love, compassion and acceptance. Vibrates its loving energy to all chakras, offering gentle healing. Soothing and calming. Dissolves anger and resentment. Good for raising one's self-esteem and feelings of self-worth. Balances emotions and is said to support all types of healing. Guide's one's life path towards a sense of personal fulfilment and contentment.
Recently Viewed