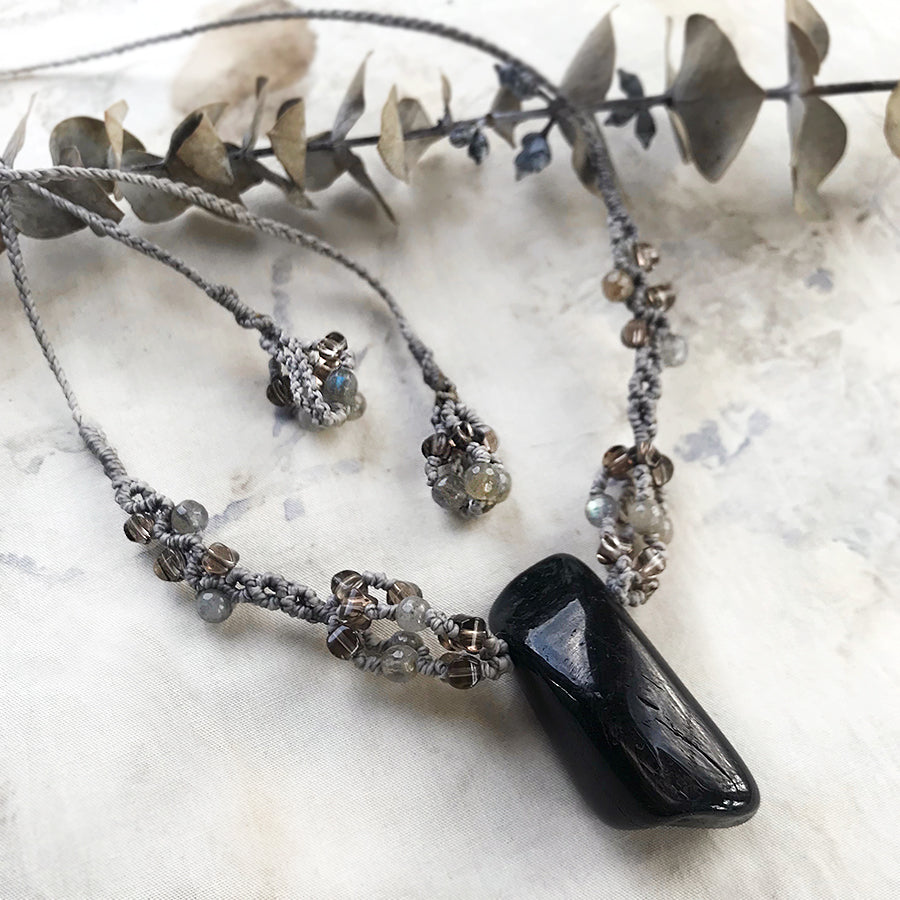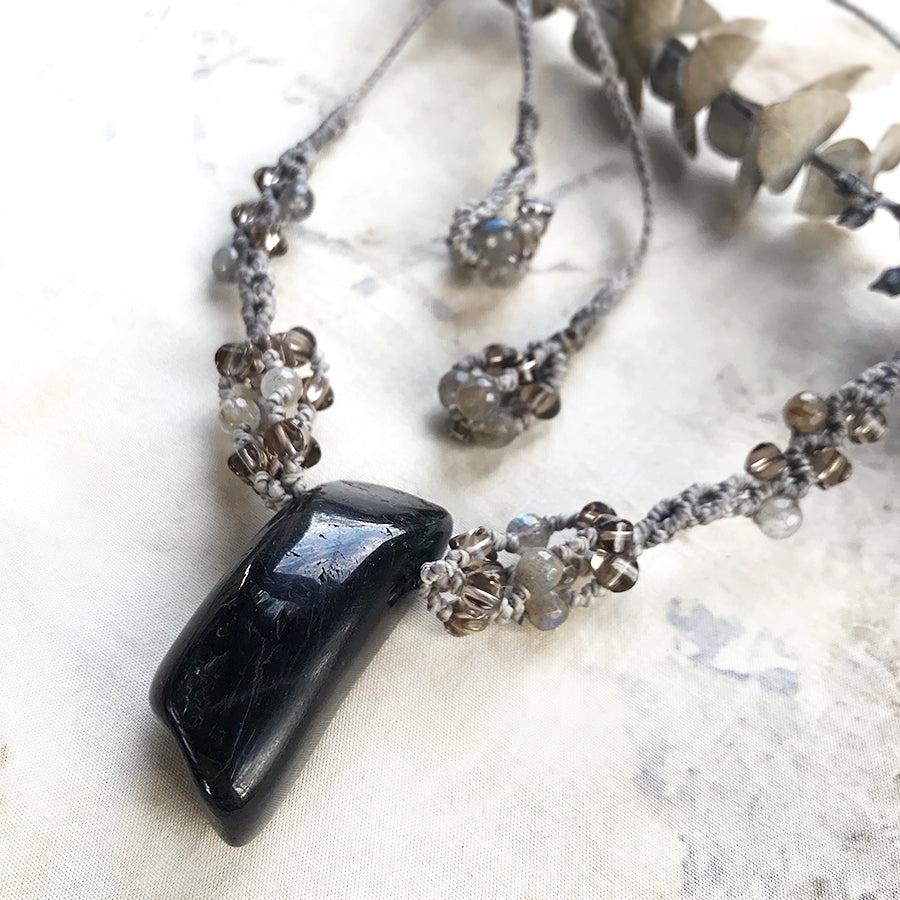 Hypersthene crystal healing amulet
DESCRIPTION
Crystal healing amulet with smooth, shimmery Hypersthene with an organically flowing shape. The necklace is knotted with light grey micro-macrame cord, strong and durable but soft and comfortable to wear. The intricate knotting is highlighted with Labradorite and Smokey Quartz crystals. The style of this necklace is subtle and sophisticated and would be equally suited worn with a little black dress or to add sparkle to a more casual outfit.
The length of the necklace is adjustable from very short down to heart level. The Hypersthene is just over 4 cm (1.6") tall and just over 1.5 cm (0.6") at its widest.
You'll receive this crystal healing necklace in one of my fabric draw-string pouches, great for the safe-keeping of the necklace. Gift-wrapped at no extra charge.*

Read here how to take care of your crystal jewellery.
CRYSTAL PROPERTIES
HYPERSTHENE (aka Eulite)
A solution stone that helps in discerning what is true, leading to increased ease in all kinds of problem-solving from a place of inner knowing. Strengthens one's sense of self-respect and self-esteem and helps one to relax in social situations. Drives away irritability and judgemental thinking, offering a feeling of rest and calm. Increases one's psychic abilities and assists in spotting increased opportunities.
LABRADORITE
One of the most powerful, versatile crystal tools for healing. Creates an auric shield and strengthens your innate energy and life force, preventing energy leakages. Enhances intuitive abilities and assists in spiritual transformation. Helps the wearer align with their highest destiny and discover their inner worth. Strengthens willpower and brings in new ideas. Often referred to as the 'Stone of Destiny', believed to help you to find your true path in life, and as 'Temple of the Stars', anchoring higher dimensional light into your being.
SMOKEY QUARTZ
A grounding and calming stone that elevates moods and dissipates negative emotions. "A Stone of Serenity", it is comforting and protective for one's aura. Smokey Quartz is thought to assist in creative endeavours and also in setting personal boundaries. Offers protection against electromagnetic rays. A good healing stone for improving general feeling of well-being. Relieves anxiety and worry, wards off confusion. Shielding crystal to create a calm, safe environment.
Recently Viewed