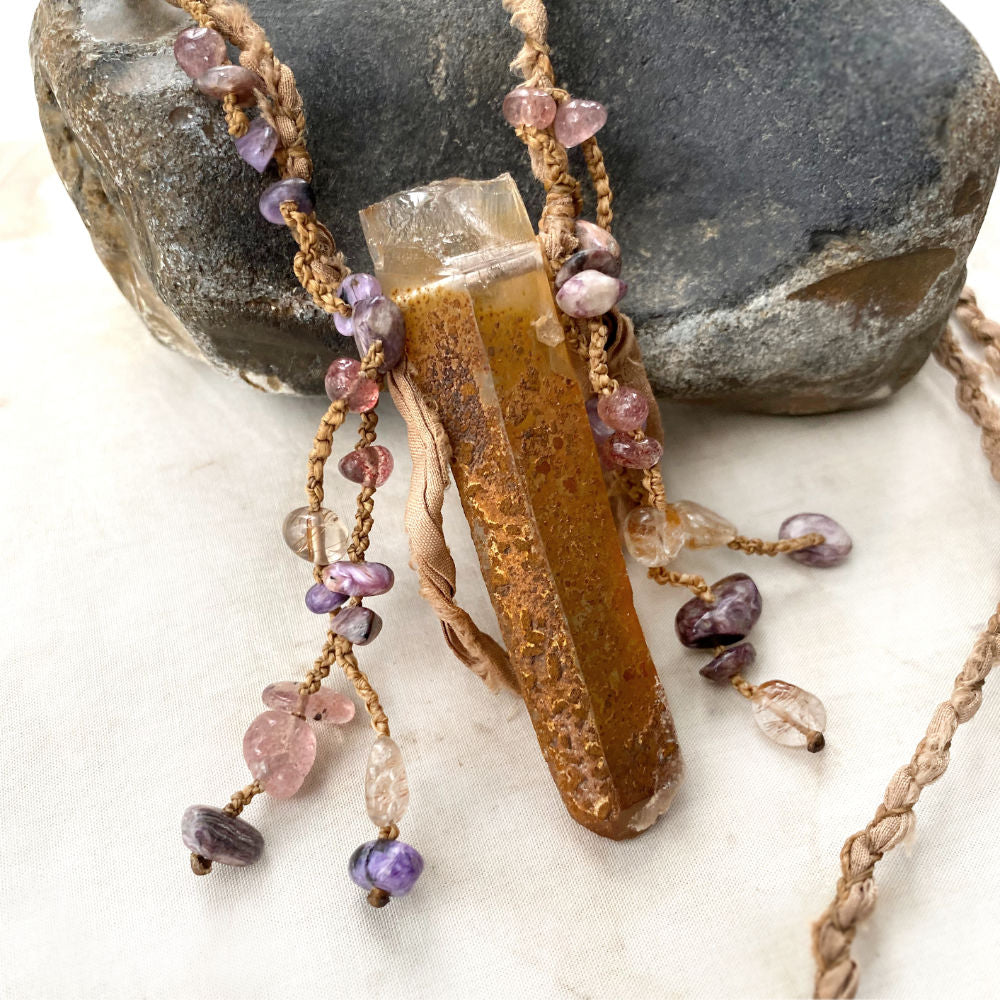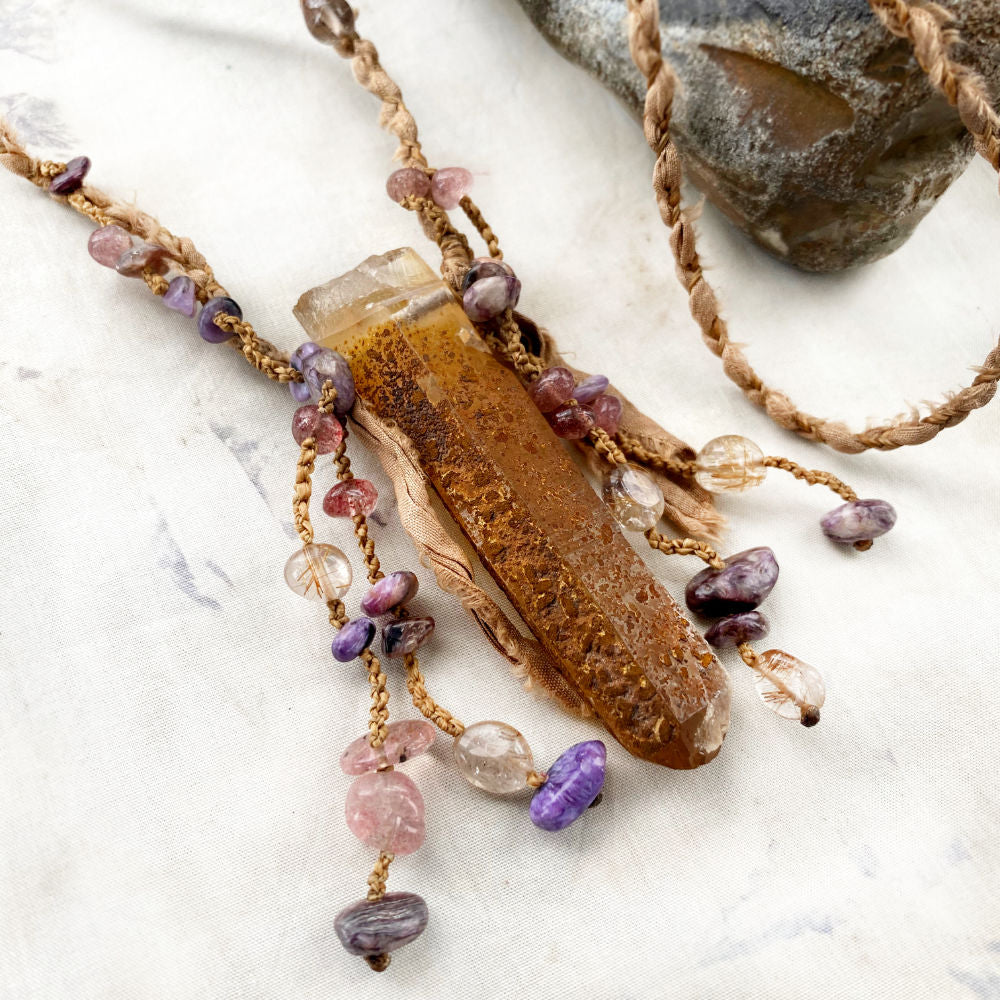 'Flame of Knowing' ~ iron-coated raw Quartz crystal healing talisman
DESCRIPTION
Fiery, transformative energy with this stunning iron-coated raw Quartz point, highlighted with knotted dangling strands of luxurious Copper Rutile Quartz, Charoite and Lepidochrosite in Quartz on both sides. The crystal detailing also reaches the lower part of the necklace braids, near the main crystal. The necklace braid is botanically eco-dyed silk (colour drawn from local plants) combined with golden brown micro-macrame cord. This thick, soft necklace braid has a very wabisabi feel to it and it's easy to wear by just slipping over the head without a need for any closing clasp.
The necklace braid is set length, with an all around measurement of approx. 74 cm (29"). The iron-coated Quartz point is quite long at approx. 7.5 cm (3") tall.
You'll receive this crystal healing necklace in one of my handmade fabric draw-string pouches - great for the safe-keeping of the necklace. Gift-wrapped at no extra charge.

Read here how to take care of your crystal jewellery.
CRYSTAL PROPERTIES
QUARTZ
The universal master crystal that has a harmonising effect on all levels of being. Programmable by intention, so can be used for versatile purposes. Quartz can clear, enhance, amplify, transmute, balance, focus and transmit energy. Raises one's energetic vibration. Brings clarity and filters out distractions. A deep soul cleanser, attuning its keeper to their higher self. Each Quartz crystal is unique with its own character and teachings it offers, all are known as "Stones of Power" and "Master Healers". 
LEPIDOCHROSITE IN QUARTZ
Stimulates intuitive spiritual awareness, at the same time gently grounding to Earth energy. Raises consciousness, and can be used for focusing intent during energy healing sessions. Calming and soothing, aids in releasing fears and aligning one with Divine will. A stone of 'allowing' and trusting the flow of life.
CHAROITE
Stone of insight and transformation. Teaches you to live in the moment, releasing fears. Symbol of endurance, giving courage to start over when needed. Aligns heart and intellect, eases worries and promotes a more relaxed attitude. Useful for alternative therapists: grounds high-frequency vibrations and assists in discerning energy patterns.
COPPER RUTILE QUARTZ
Ignites inspiration and activates creativity. Amplifies intentions and abilities, thus perfect for manifesting desired outcomes. Fosters self-reliance, opens up new directions and supports aspirations dear to your heart. Energising, vitalising and highly purifying. Reminds you of the power of the Sun. Attracts the help you need on your life path.
Recently Viewed