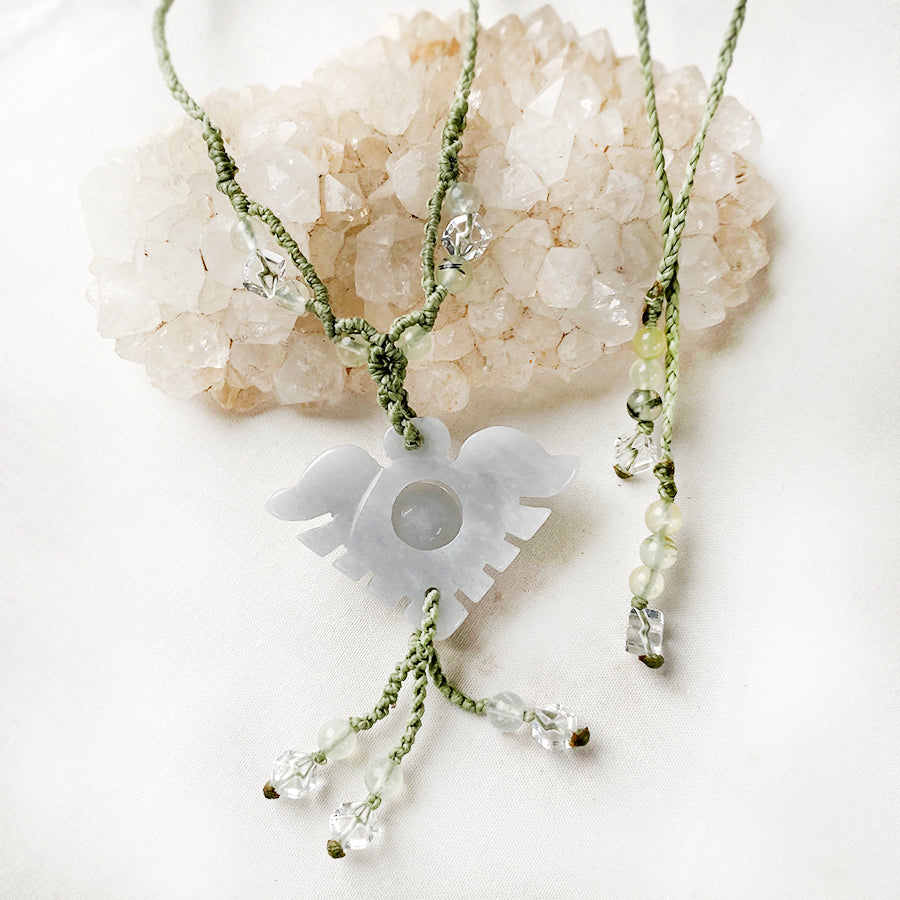 Jade crystal healing amulet
DESCRIPTION
Crystal healing necklace with a carved Jade pendant stone. The stone is in the stylised shape of a bird spreading its wings, with its 'heart' centre incorporating a small moving disk within - a lovely touchstone to centre yourself with when needed. The necklace is minimally knotted with light green micro-macrame cord. The knotting is highlighted with Prehnite and clear Quartz crystals, including three knotted crystal strands forming a 'tassel' that hangs from the base of the Jade bird. This is quite a small and light in weight necklace to wear.
The necklace length is adjustable from as short as you wish down to just above the solar plexus level. The Jade bird measures just under 2.5 cm (1") tall and approx. 4 cm (1.6") at its widest. The small tassel strands are just over 2.5 cm (1") long.
There are no metals in this necklace so would be particularly suitable for those with metal sensitivities / metal allergy, energy workers and those who simply prefer not to wear metal.
You'll receive this crystal healing necklace in one of my handmade fabric draw-string pouches - great for the safe-keeping of the necklace. Gift-wrapped at no extra charge.

Read here how to take care of your crystal jewellery.
CRYSTAL PROPERTIES
JADE
Known throughout history as the stone of balance, peace and prosperity. Helps in advancing the human consciousness to higher levels. Strongly protective stone, strengthening the auric field. Has a restorative energy, stimulates ideas and relinquishes self-imposed limitations. Promotes healthy self-confidence and strength of character. 
PREHNITE
Protective on all levels, strengthening one's life force. Fosters a sense of trust in the Universe and helps you protect your boundaries so it's easier to say "no" when needed. Stimulates inner knowing of oneself and guides in fulfilling one's potential. Helps to let go of unpleasant memories. Enhances spiritual "knowing". Revitalising and said to bring inner peace. Also said to be "a healer's healer".
CLEAR QUARTZ
The universal master crystal that has a harmonising effect on all levels of being. Programmable by intention, so can be used for versatile purposes. Quartz can clear, enhance, amplify, transmute, balance, focus and transmit energy. Raises one's energetic vibration. Brings clarity and filters out distractions. A deep soul cleanser, attuning its keeper to their higher self. Each Quartz crystal is unique with its own character and teachings it offers, all are known as "Stones of Power" and "Master Healers".
Recently Viewed