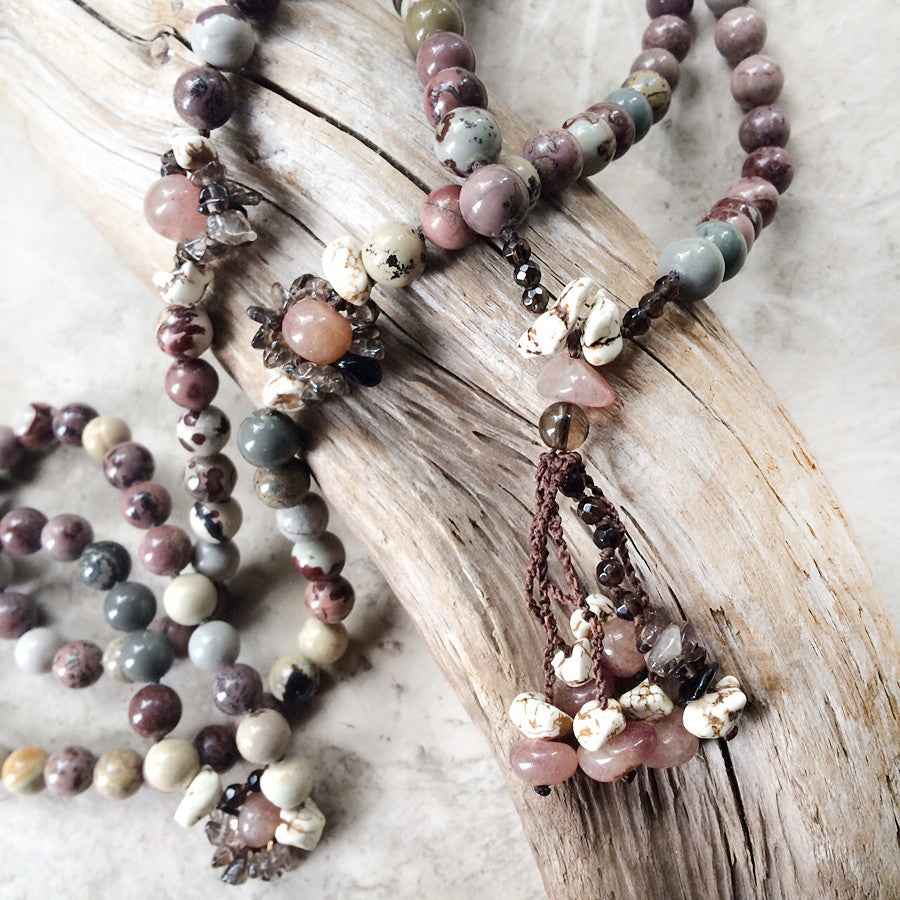 Jasper mala with Muscovite, Magnesite & Smokey Quartz
DESCRIPTION
One of a kind, contemporary 108 bead meditation mala with variegated Jasper counter beads with beautiful map-like patterns and colours in brown and grey. The three dividers are a combination of Muscovite, Magnesite and Smokey Quartz. The guru bead and 'tassel' also consists of Muscovite, Magnesite and Smokey Quartz
Each counter bead is meticulously knotted by hand - one by one, for durability and ease of handling - using dark brown micro-macrame cord.
All around length of mala: 128 cm (50")
Counter bead diameter: 1 cm (0.4") 
The width of the divider combination: approx. 3 cm (1.2") 
Length of guru bead combination: 7 cm (2.75")
This mala comes in one of my handmade soft brown leather pouches for safe-keeping (and gift-wrapped for no extra charge). If you would rather have a fabric pouch, please let me know at the time of purchase.
Read more about Spirit Carrier mala beads
CRYSTAL PROPERTIES
JASPER
Gently supportive stones, bringing tranquility and comfort. Stabilises one's energy field, helps one to feel balanced. Nurturing stone that promotes happiness and compassion. Great healing energy that eases stress, increases one's stamina and helps in adjusting to changes. Among the best all-round supportive healing stones to wear daily. Protective stone for astral travel. Inviting beauty and wholeness into one's life.
MAGNESITE
Opens up higher realms and states of consciousness, bringing visions and emotional balance. Assists in hearing your heart's desires. High ascension stone that awakens one to spiritual growth. Offers the gift of direct knowing by opening the third eye and crown chakras. Has the potential to create blissful changes in one's life.
MUSCOVITE
"Stone of possibility", instilling a sense of hope and positivity. Primarily used as a protective stone, breaking off energetic connections that aren't good for you. Considered to help you not to react when others try to push your buttons.
SMOKEY QUARTZ
A grounding and calming stone that elevates moods and dissipates negative emotions. "A Stone of Serenity", it is comforting and protective for one's aura. Smokey Quartz is thought to assist in creative endeavours and also in setting personal boundaries. Offers EMF protection. A good healing stone for improving general feeling of well-being.
Recently Viewed