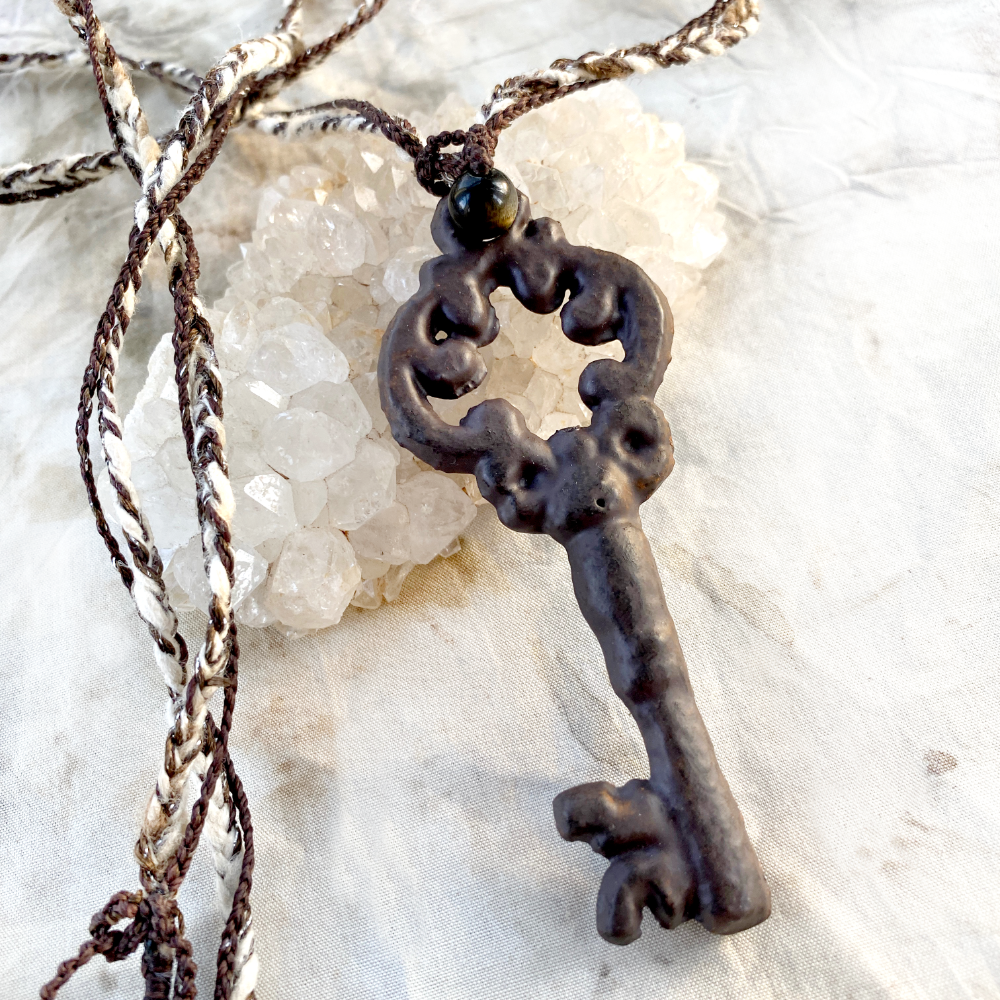 'Master Key' witch talisman with Hawk Eye crystal energy
DESCRIPTION

The necklace braid has two strands, braided with a combination of peace silk yarn ('peace silk' is a name of silk made by ethical process where no silk worms were harmed) and brown embroidery thread with silver highlights, and dark brown micro-macrame cord for added strength. The long braid ends are left open so you can tie the talisman to hang at any desired level. If you prefer to wear this talisman at its longest, you can also use the Hawk Eye beads through the knotted decorative loops at the ends of the braids to secure the necklace braids close. As the talisman would easily slip over your head at its longest length, you could keep the Hawk Eye beads permanently secured through the loops for easy wear.
The key is large: 8.5 cm (3.3") tall and 3.5 cm (1.4") at its widest. The necklace braids are long at 55 cm (21.5") each.

KEY SYMBOLISM
Representing access to hidden knowledge and success, opening a door to a brighter future. Indicates freedom of movement, whether in or out, but also of obtaining liberation from something. Skeleton keys specifically are about unlocking multiple locks, symbolising the keeper's ability to make their most heart-felt dreams come true in any area. Stands for spotting opportunities, possibilities and solutions. Of course, also a powerful a symbol of love, as in having access to someone's heart.

You'll receive this talisman necklace in one of Spirit Carrier's fabric draw-string pouches, great for the safe-keeping of the necklace. Gift-wrapped at no extra charge.

Read here how to take care of your crystal jewellery.
CRYSTAL PROPERTIES
HAWK EYE
Elevates one's perception to see things from a higher perspective, thus aiding in making skilled decisions. Brings clarity, opens up inner guidance and new possibilities. Helps in building courage to trust one's own inner wisdom and intuition. Assists in visualising goals, both spiritual and material and to follow through in bringing them into existence.
Recently Viewed