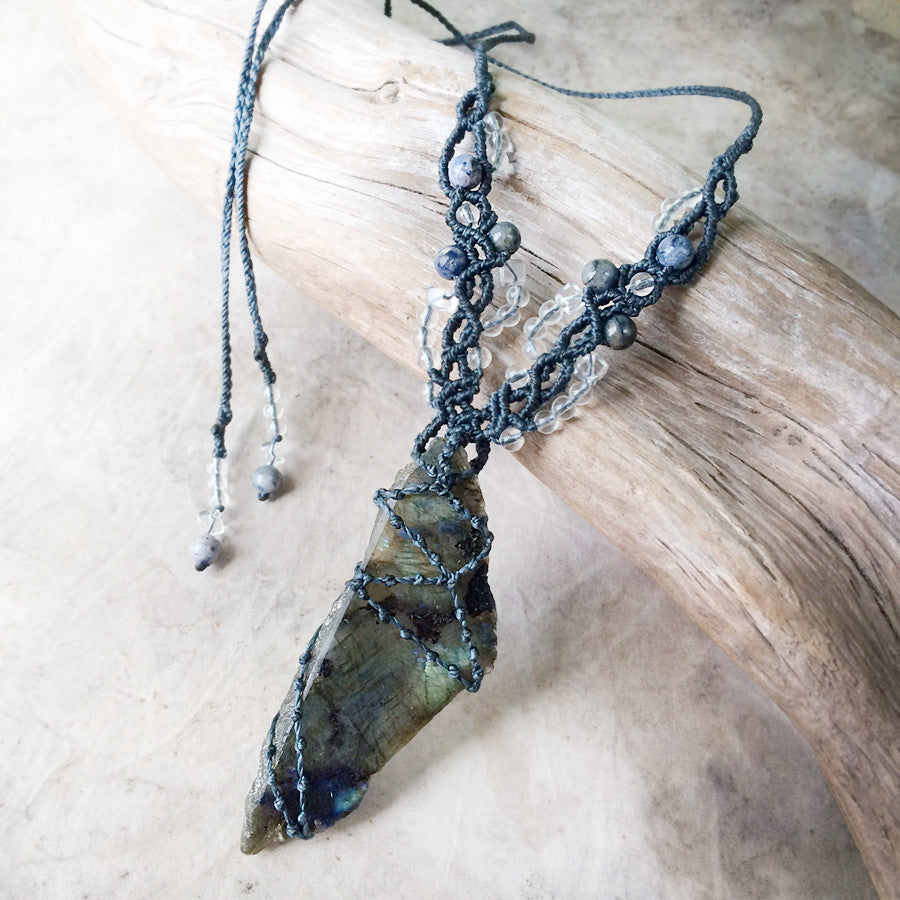 'Aurora Key' ~ Labradorite crystal amulet with Dumortierite & clear Quartz
DESCRIPTION
Crystal healing amulet with partly polished, triangular shaped shard of Labradorite that displays a flash of gold and blue when the light touches it from the right angle. The Labradorite is un-drilled, help in place by muted petrol blue micro-macrame cord that then becomes the intricately knotted necklace in a lace-like pattern. The highlighting crystals are Dumortierite and clear Quartz.
The length of the necklace is adjustable from very short down to just above solar plexus level. The Labradorite is approx. 8 cm (3") tall and approx. 2.5 cm (1") wide at its middle.
There are no metals in this necklace so would be particularly suitable for those with metal sensitivities, energy workers and those who simply prefer not to wear metal.
You'll receive this crystal healing necklace in one of my fabric draw-string pouches, great for the safe-keeping of the necklace. Gift-wrapped at no extra charge.
CRYSTAL PROPERTIES
LABRADORITE
One of the most powerful, versatile crystal tools for healing. Assists in spiritual transformation, helps the wearer align with their highest destiny and discover their inner worth. Increases and balances intuition, strengthens willpower. Often referred to as the 'Stone of Destiny' as it is believed to help you to find your true path in life.
DUMORTIERITE
Stone of support and inner harmony. Offers soothing vibrations that encourage patience with the natural order of the Universe. Aids one's mental capabilities in overcoming tough situations. Regulates the third eye chakra. Acts as a protective shield against fear. Stabilising for relationships, also said to attract a soulmate.
CLEAR QUARTZ
The universal master crystal that has a harmonising effect on all levels of being. Programmable by intention, so can be used for versatile purposes. Quartz can clear, enhance, amplify, transmute, balance, focus and transmit energy. Raises one's energetic vibration. Attunes its keeper to their higher self. Known as the "Stone of Power" and "Master Healer".
Recently Viewed