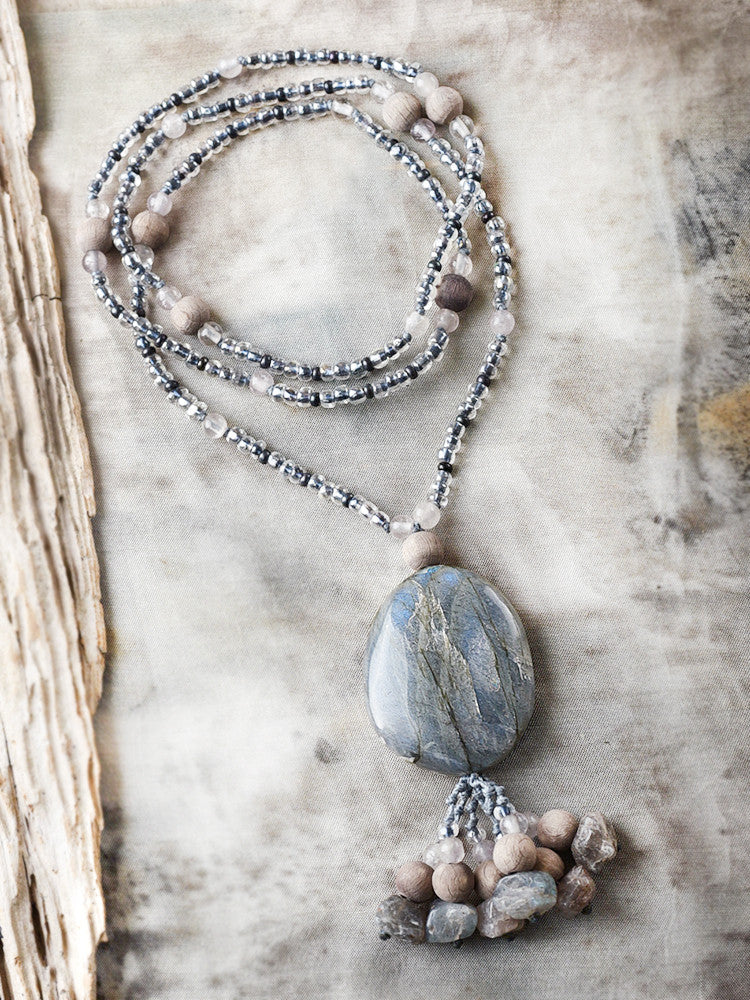 Labradorite crystal energy & aromatherapy necklace
DESCRIPTION
Crystal energy talisman with polished Labradorite oval, displaying a subtle blue light flash. This necklace has an added dimension of being able to be infused with essential oils of your choice - the necklace is beaded with translucent grey glass seed beads combined with Quartz crystal beads and rough beech wood beads with an aged look. The tassel that dangles from the main Labradorite pendant also includes six of the beech beads - you can infuse each of them with a drop of essential oil if you want to add healing fragrance to this talisman.
The length of the necklace is set length with an all-around length of 74 cm (29")  so it simply slips over your head without the need for a clasp. The Labradorite is just over 4 cm (1.6") tall and just over 3 cm (1.2") wide at its middle. The crystal tassel length is 3 cm (1.2"), it has six knotted strands and is wonderfully tactile to handle and play with as well, if you're used to such a a focus aid.
There are no metals in this necklace so would be particularly suitable for those with metal sensitivities, energy workers and those who simply prefer not to wear metal.
You'll receive this crystal healing necklace in one of my fabric draw-string pouches, great for the safe-keeping of the necklace. Gift-wrapped at no extra charge.
CRYSTAL PROPERTIES
LABRADORITE
One of the most powerful, versatile crystal tools for healing. Creates an auric shield and strengthens your innate energy and life force, preventing energy leakages. Enhances intuitive abilities and assists in spiritual transformation. Helps the wearer align with their highest destiny and discover their inner worth. Strengthens willpower and brings in new ideas. Often referred to as the 'Stone of Destiny', believed to help you to find your true path in life, and as 'Temple of the Stars', anchoring higher dimensional light into your being.
CLEAR QUARTZ
The universal master crystal that has a harmonising effect on all levels of being. Programmable by intention, so can be used for versatile purposes. Quartz can clear, enhance, amplify, transmute, balance, focus and transmit energy. Raises one's energetic vibration. Brings clarity and filters out distractions. A deep soul cleanser, attuning its keeper to their higher self. Each Quartz crystal is unique with its own character and teachings it offers, all are known as "Stones of Power" and "Master Healers".
Recently Viewed