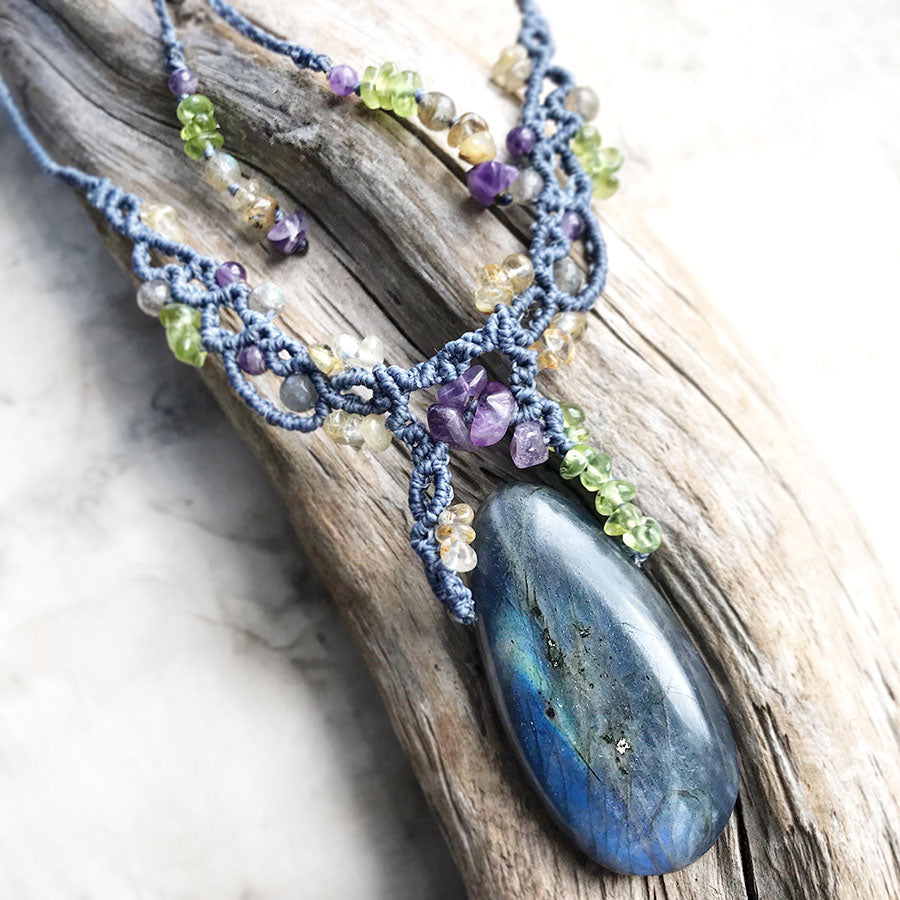 Labradorite crystal healing amulet
DESCRIPTION
Crystal healing amulet with glorious smooth Labradorite, displaying light flashes of mainly blue and gold with some green. The necklace is intricately knotted in lace-like pattern with muted blue micro-macrame cord. The energetic effects of this amulet are further enhanced by Peridot, Gold Rutile Quartz, Amethyst and further smaller Labradorite crystals (also displaying bright flashes of light). A healing amulet with beautiful energy of gentle strength.
The length of the necklace is adjustable from very short down to just above solar plexus level. The Labradorite is approx. 5 cm (2") tall and approx. 2.5 cm (1") at its widest.
There are no metals in this necklace so would be particularly suitable for those with metal sensitivities, energy workers and those who simply prefer not to wear metal.
You'll receive this crystal healing necklace in one of my fabric draw-string pouches, great for the safe-keeping of the necklace. Gift-wrapped at no extra charge.

Read here how to take care of your crystal jewellery.
CRYSTAL PROPERTIES
LABRADORITE
One of the most powerful, versatile crystal tools for healing. Creates an auric shield and strengthens your innate energy and life force, preventing energy leakages. Enhances intuitive abilities and assists in spiritual transformation. Helps the wearer align with their highest destiny and discover their inner worth. Strengthens willpower and brings in new ideas. Often referred to as the 'Stone of Destiny', believed to help you to find your true path in life, and as 'Temple of the Stars', anchoring higher dimensional light into your being.
Legend associated with Labradorite: According to an Inuit legend, the Northern Lights were once imprisoned in the rocks along the coast of Labrador. It is told that a wandering Inuit warrior found them and was able to free most of the lights with a mighty blow of his spear. Some of the lights still stayed within the stone, and thus we have today the beautiful mineral known as Labradorite.
PERIDOT
Upbeat and comforting, Peridot reduces stress and amplifies intuitive awareness. Soothes hurt feelings, supporting renewal and personal growth. Brings in-depth heart based awareness, extending from healing to understanding and offering protection against negative emotions. Known also as the stone of prosperity and happiness.
GOLD RUTILE QUARTZ
A master assistant in self-discovery, a companion in finding one's inner truth, purpose and destiny. Joyful and energising. Thought to offer protection against psychic attacks and helps in opening up to one's Divine strength. Assists in activating one's creativity and manifesting dreams into reality.
AMETHYST
Instils inner peace, promotes self-discovery and aids in relaxation. Associated with the crown chakra, known as a "stone of balance" and positive transformation. Thought to increase spiritual awareness and psychic abilities, initiating higher knowing and greater understanding. Helps in assimilating new ideas and manifesting thoughts into action. Symbolises a connection to the Divine. A well-known support stone for those wanting to break old patterns to create a new, harmonious life.
Recently Viewed