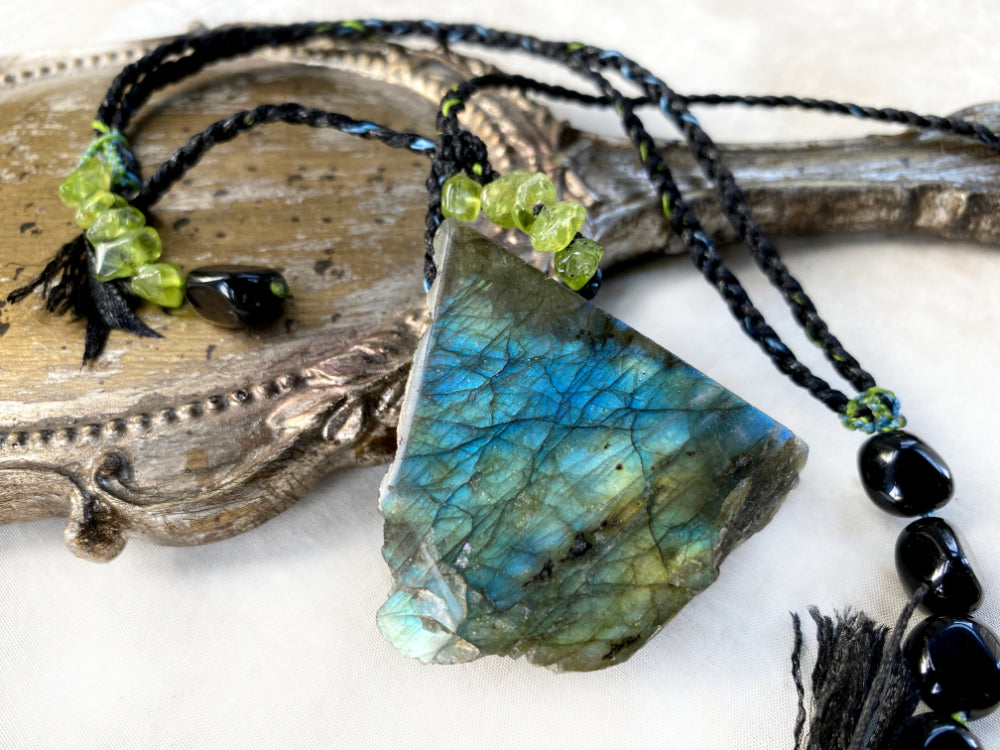 Labradorite crystal healing talisman with Peridot & Black Tourmaline
DESCRIPTION
Stunning raw Labradorite combined with the energies of Black Tourmaline and Peridot. The polished surface shows the characteristic light flash in tones of gold, blue and green, and even the stone's rough, unpolished underside shows some areas glowing! This roughy triangle shaped Labradorite attaches to hand-braided necklace which is a combination of black satin ribbon, black satin cord and thin micro-macrame cord in bright green and blue, echoing the colour rays in the Labradorite. The satin braid is intercepted with a row of smooth Black Tourmalines that settle close to the neck when worn. There is also a strand of Peridot crystals adorning one side of the necklace braid.

As you may know, the pattern and look of the colour flash on Labradorite surface may change over time, and especially in interaction with your personal energy and life path events. So when you receive this talisman, make sure to become fully acquainted with it's current pattern and colour distribution, so that when you observe it later, you can notice and marvel any changes that have happened while you've been supported by its wonderful energy.

Legend associated with Labradorite: According to an Inuit legend, the Northern Lights were once imprisoned in the rocks along the coast of Labrador. It is told that a wandering Inuit warrior found them and was able to free most of the lights with a mighty blow of his spear. Some of the lights still stayed within the stone, and thus we have today the beautiful mineral known as Labradorite.
The necklace is set length, allowing the Labradorite to hang down approx. 37 cm (14.5") measured from the back of the neck to the top edge of the Labradorite - i.e. the all-around length of the necklace braid is 74 cm (29"). This Labradorite is approx. 5 cm (2") tall and the same at its widest.
There are no metals in this necklace so would be particularly suitable for those with metal sensitivities, energy workers and those who simply prefer not to wear metal.
You'll receive this one-of-a-kind crystal healing necklace in one of Spirit Carrier's fabric draw-string pouches, great for the safe-keeping of the necklace. Gift-wrapped at no extra charge.

Read here how to take care of your crystal jewellery.
CRYSTAL PROPERTIES
LABRADORITE
One of the most powerful, versatile crystal tools for healing. Creates an auric shield and strengthens your innate energy and life force, preventing energy leakages. Enhances intuitive abilities and assists in spiritual transformation. Helps the wearer align with their highest destiny and discover their inner worth. Strengthens willpower and brings in new ideas. Often referred to as the 'Stone of Destiny', believed to help you to find your true path in life, and as 'Temple of the Stars', anchoring higher dimensional light into your being.

PERIDOT
Upbeat and comforting, Peridot reduces stress and amplifies intuitive awareness. Soothes hurt feelings, supporting renewal and personal growth. Brings in-depth heart based awareness, extending from healing to understanding and offering protection against negative emotions. Known also as the stone of prosperity and happiness.
BLACK TOURMALINE (aka Schorl)
One of the most well-known protective stones, shielding its user from negativity. A shamanic stone used for grounding during vision quests. Empowering for those who work in challenging environments. Purifies and transforms denser energies into lighter vibrations and is also detoxifying for the body. If you're sensitive to electromagnetic smog, you may get relief by wearing black Tourmaline.
Recently Viewed