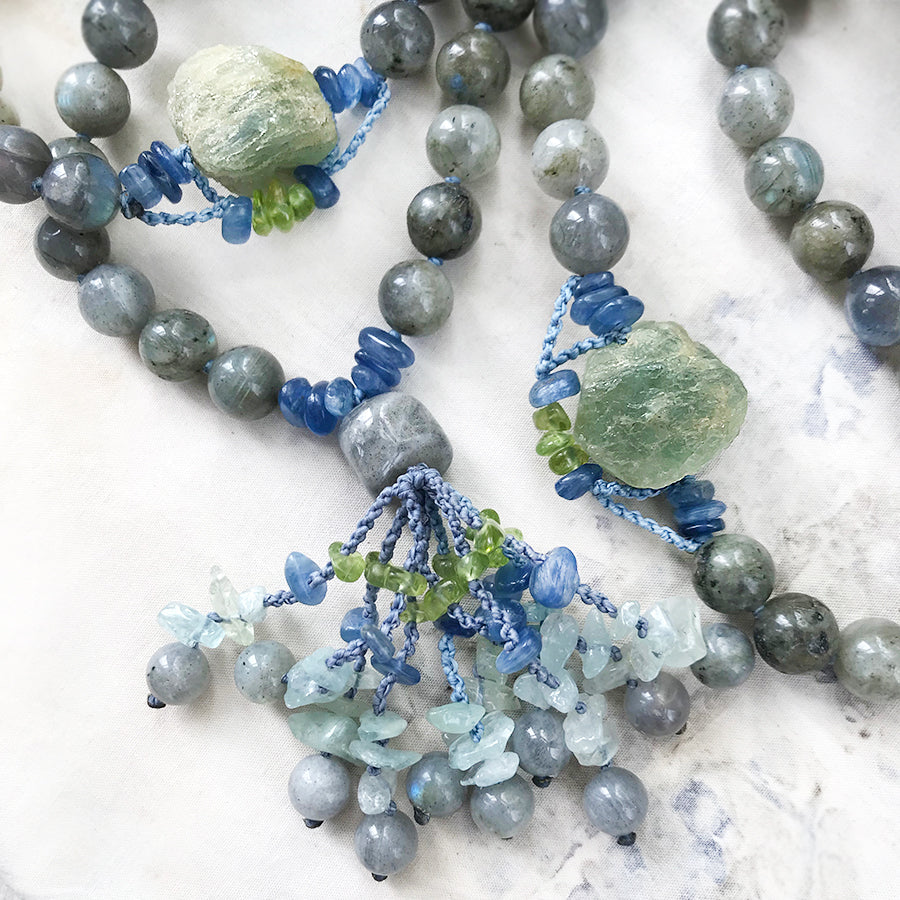 Labradorite meditation mala
DESCRIPTION
One of a kind, luxurious meditation mala with 108 counter beads of Labradorite. The three dividers are a combination of rough, chunky Aquamarine, accented with Peridot and blue Kyanite. The guru bead and 'tassel' consists of a smooth Labradorite pebble and a 'tassel' of six knotted crystal strands that include Aquamarine, Kyanite, Peridot and Labradorite. Each counter bead is knotted one by one for durability and ease of handling, using light blue micro-macrame cord. 
All around length of mala: 132 cm (52") 
Counter bead diameter: 1 cm (0.4") 
The width of the divider combination: approx. 4 cm (1.6") 
Length of guru bead & 'tassel': 7 cm (2.8")
This mala comes in one of my handmade soft brown leather pouches for safe-keeping. If you would rather have a fabric pouch, please let me know at the time of purchase. 
You'll receive this mala gift-wrapped at no extra charge.

Read more about Spirit Carrier mala beads
CRYSTAL PROPERTIES
LABRADORITE
One of the most powerful, versatile crystal tools for healing. Creates an auric shield and strengthens your innate energy and life force, preventing energy leakages. Enhances intuitive abilities and assists in spiritual transformation. Helps the wearer align with their highest destiny and discover their inner worth. Strengthens willpower and brings in new ideas. Often referred to as the 'Stone of Destiny', believed to help you to find your true path in life, and as 'Temple of the Stars', anchoring higher dimensional light into your being.
Legend associated with Labradorite: According to an Inuit legend, the Northern Lights were once imprisoned in the rocks along the coast of Labrador. It is told that a wandering Inuit warrior found them and was able to free most of the lights with a mighty blow of his spear. Some of the lights still stayed within the stone, and thus we have today the beautiful mineral known as Labradorite.
AQUAMARINE
Connected with the throat chakra, easing verbal self-expression. Helps you communicate your own truth and find your voice. Helps in looking at emotional situations from other perspectives, assists in opening up intuition and to calmly be in the flow of life. Aquamarine also aids in reaching deep meditative states. Resonates with the energy of the ocean. Stone of courage and protection.
BLUE KYANITE
'Stone of connection' that opens up energetic pathways where none existed. Enhances telepathic and psychic abilities, aligning chakras and subtle bodies. Calming and soothing, aids meditative work. Beneficial in negotiations, creating harmony between people through enhanced communication. Empowers you to stay true to your path. Helps in hearing one's intuitive guidance.
PERIDOT
Upbeat and comforting, Peridot reduces stress and amplifies intuitive awareness. Soothes hurt feelings, supporting renewal and personal growth. Brings in-depth heart based awareness, extending from healing to understanding and offering protection against negative emotions. Known also as the stone of prosperity and happiness.
Recently Viewed