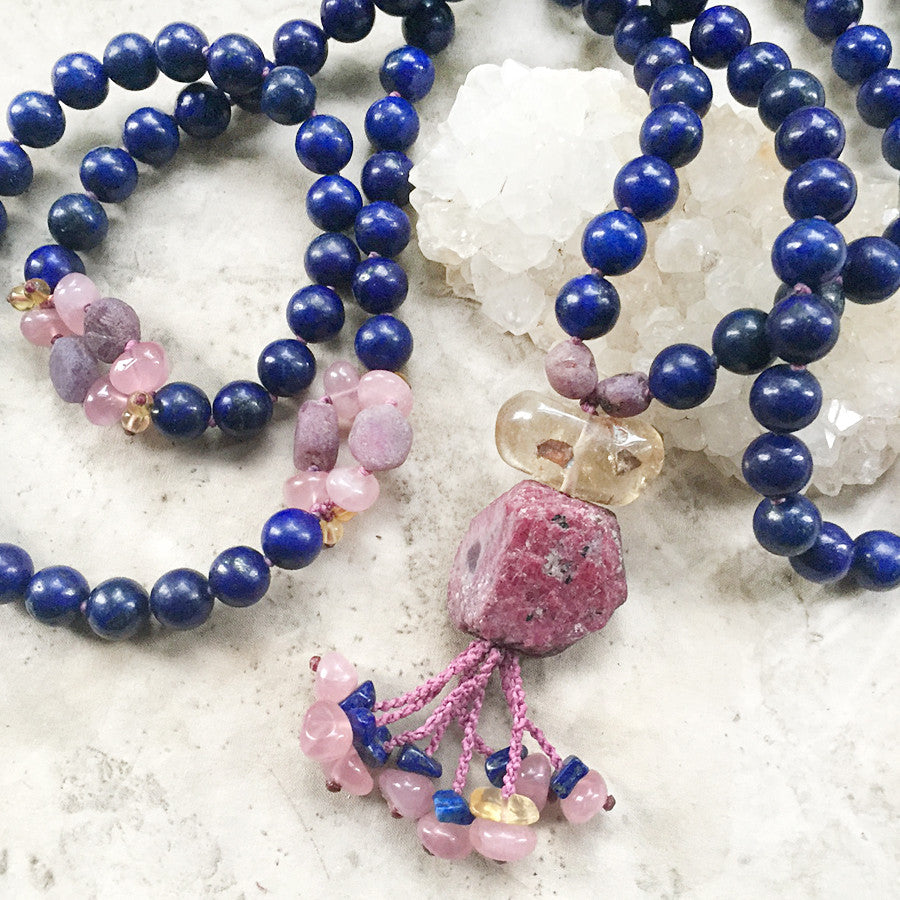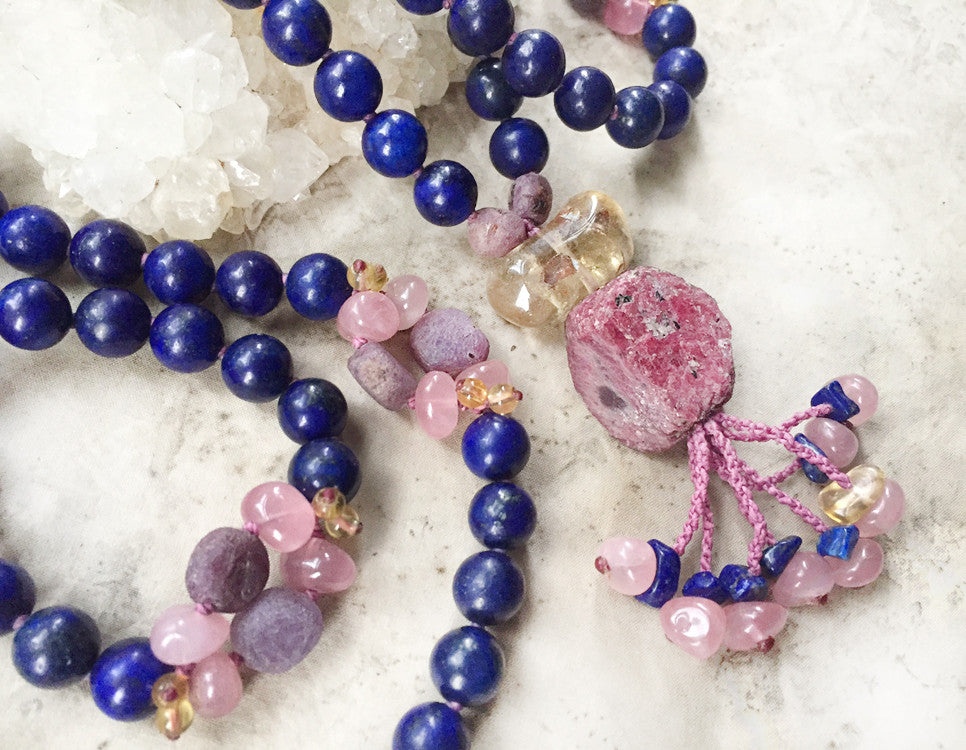 Lapis Lazuli mala with Ruby, Rose Quartz & Citrine
DESCRIPTION
One of a kind, contemporary 108 bead meditation mala with Lapis Lazuli counter beads. The three dividers are a combination of Ruby, Rose Quartz (the rare Madagascan variety, naturally dark pink). The guru bead and 'tassel' consist of Ruby, Citrine, Rose Quartz and Lapis Lazuli.
Each counter bead is meticulously knotted by hand - one by one, for durability and ease of handling - using muted pink micro-macrame cord.
All around length of mala: 122 cm (47")
Counter bead diameter: 1 cm (0.4") 
The width of the divider combination: approx. 3 cm (1.2") 
Length of guru bead combination: 7 cm (2.75")
This mala comes in one of my handmade soft brown leather pouches for safe-keeping (and gift-wrapped for no extra charge). If you would rather have a fabric pouch, please let me know at the time of purchase.
~~~~~~~~
I draw artistic inspiration for these contemporary yoga meditation beads from the ancient decorative Buddhist malas from Tibet that were often given as gifts to Chinese courts and called "Chinese court necklaces". I match the stones and crystals carefully to create an energetic combination in the mala that will benefit the keeper in an individual way. All of my malas are one-of-a-kind.

Whilst this mala is made with Tibetan Buddhist bead count (108 beads), all Spirit Carrier malas are dedicated to the Highest Good of All – its future keeper may bless the mala for their own purpose and use it for their own personal way of meditation.
Read more about Spirit Carrier mala beads
CRYSTAL PROPERTIES
LAPIS LAZULI
Creativity super charger stone. Ignites new ideas and encourages different creative ways of thinking. Stone of truthfulness, openness, inner power, intuition and manifestation. Thought to increase self-confidence as well as to promote spiritual healing, mental calmness and strength of will. Powerful tool for dream work. Historically a stone of royalty.
RUBY
Increases vitality and one's life-force energy. Promotes clear mind, motivation and concentration. Associated with love, passionate commitment and heart-based closeness, offering help in shedding past hurts. Encourages you to 'follow your bliss' and have courageous attitude. Supports closeness and commitment. Being a shielding crystal, guards against energetic attacks. (Ruby is one of the four 'precious' gemstones, the other three being Emerald, Sapphire & Diamond. Other gemstones are considered 'semi-precious'.)
ROSE QUARTZ
Powerful love stone, love that is all-encompassing and unconditional. Vibrates its loving energy to all chakras, offering gentle healing. Soothing and calming. Dissolves anger and resentment. Good for raising one's self-esteem and feelings of self-worth. Balances emotions and is said to support all types of healing.
CITRINE
Affects a powerful alignment with the higher self. Balances the emotions and helps in uplifting one's mood to be more sunny and cheerful. Brings clarity of thought, and attracts abundance through joy. Powerful transformer in healing work. Increases self-confidence and optimism, cleanses the surrounding energies and promotes creative thinking. Releases, dissipates and transforms denser energies on all levels, mental, emotional and physical. Works to release limitations and blockages particularly around the sacral / solar plexus area.
Recently Viewed