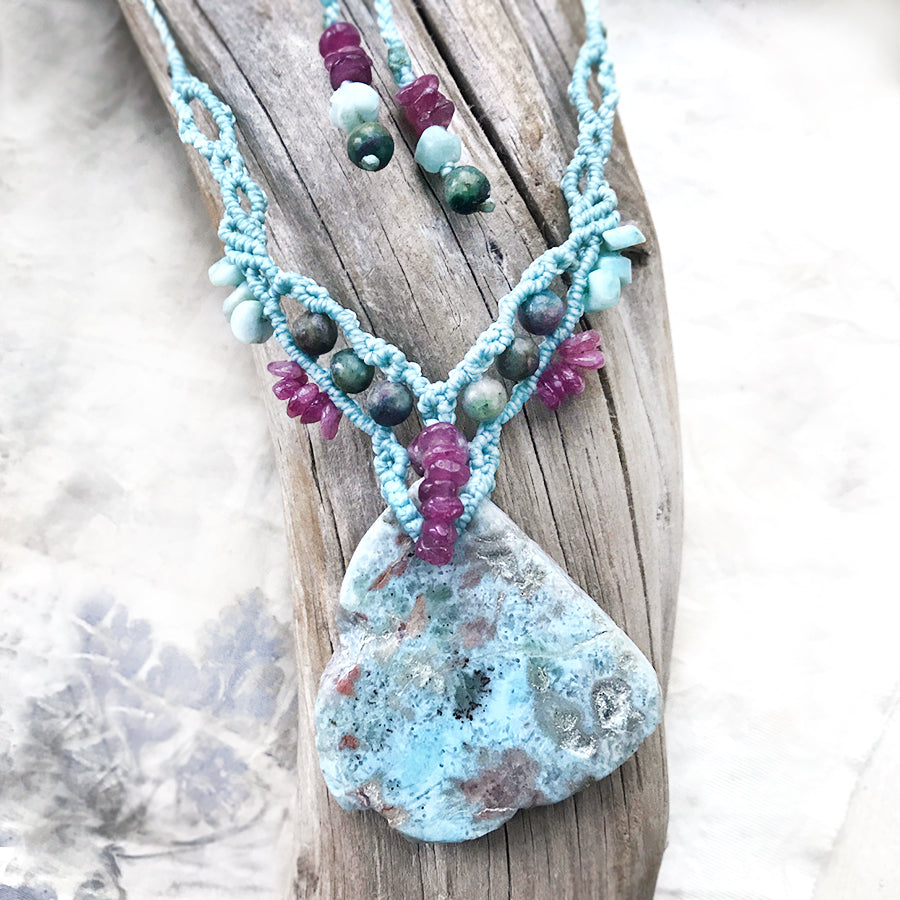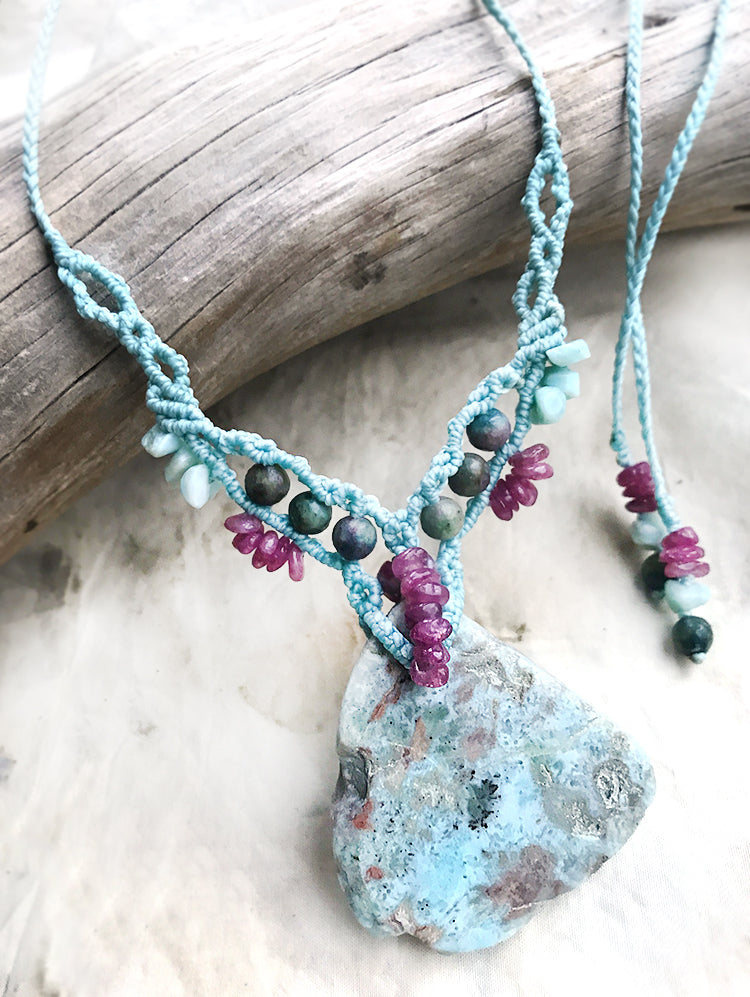 Larimar crystal healing amulet
DESCRIPTION
Stunning Larimar stone with smooth, undulating shape and natural patterning. The necklace is knotted with light blue micro-macrame cord, strong and durable but soft and comfortable to wear. The amulet is highlighted with Rubellite, Ruby in Apatite and further small Larimar crystals. The ends of the adjustable necklace braids are adorned with matching crystals.
The length of the necklace is adjustable from very short down to solar plexus level. The Larimar is just over 4.5 cm (1.8") tall and approx. 4.5 cm (1.8") at its widest measurement.
There are no metals in this necklace so would be particularly suitable for those with metal sensitivities / metal allergy, energy workers and those who simply prefer not to wear metal jewellery.
You'll receive this crystal healing necklace in one of my fabric draw-string pouches, great for the safe-keeping of the necklace. Gift-wrapped at no extra charge.

Read here how to take care of your crystal jewellery.
CRYSTAL PROPERTIES
LARIMAR
A relatively rare stone, only found in the Dominican Republic. In crystal lore it is associated with the ancient civilization on Lemuria, and also sometimes called a "Dolphin Stone". Larimar is soothing and uplifting, bringing tranquility into heart and mind. It is said to support self-expression, creativity and patience.
RUBELLITE (aka Pink Tourmaline)
Considered a rare, valuable crystal, Rubellite (pink Tourmaline) stimulates the heart chakra and life-force energy. A stone of quiet authority, instilling peaceful vibes in the midst of disputes. Harmonises one's feminine energies and has a nurturing energy. Helps in overcoming fears of lack and supports those who might not feel like belonging in this world to find joy of life.
RUBY IN APATITE
Ruby encourages you to 'follow your bliss' and have courageous attitude. It increases vitality and one's life-force energy. Promotes clear mind, motivation and concentration. Apatite enhances one's insight and imagination, and gives increased self-confidence. Apatite connects to high level of spiritual guidance and is helpful in letting go of anything that no longer serves your highest good.
Recently Viewed