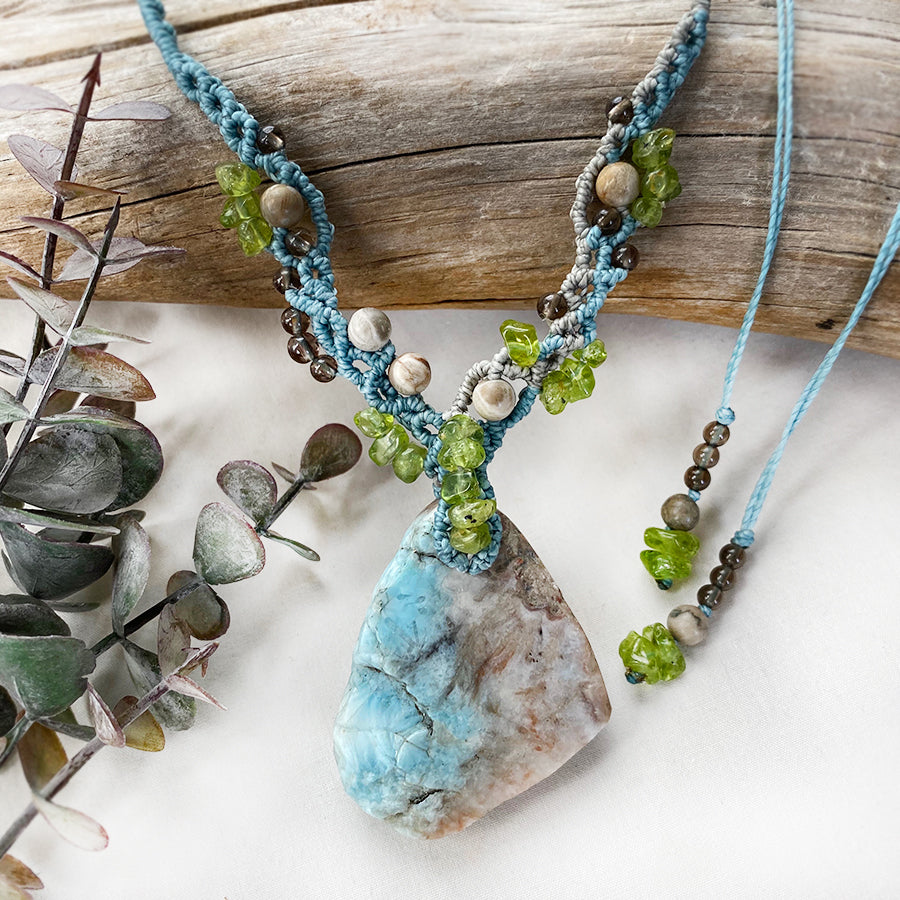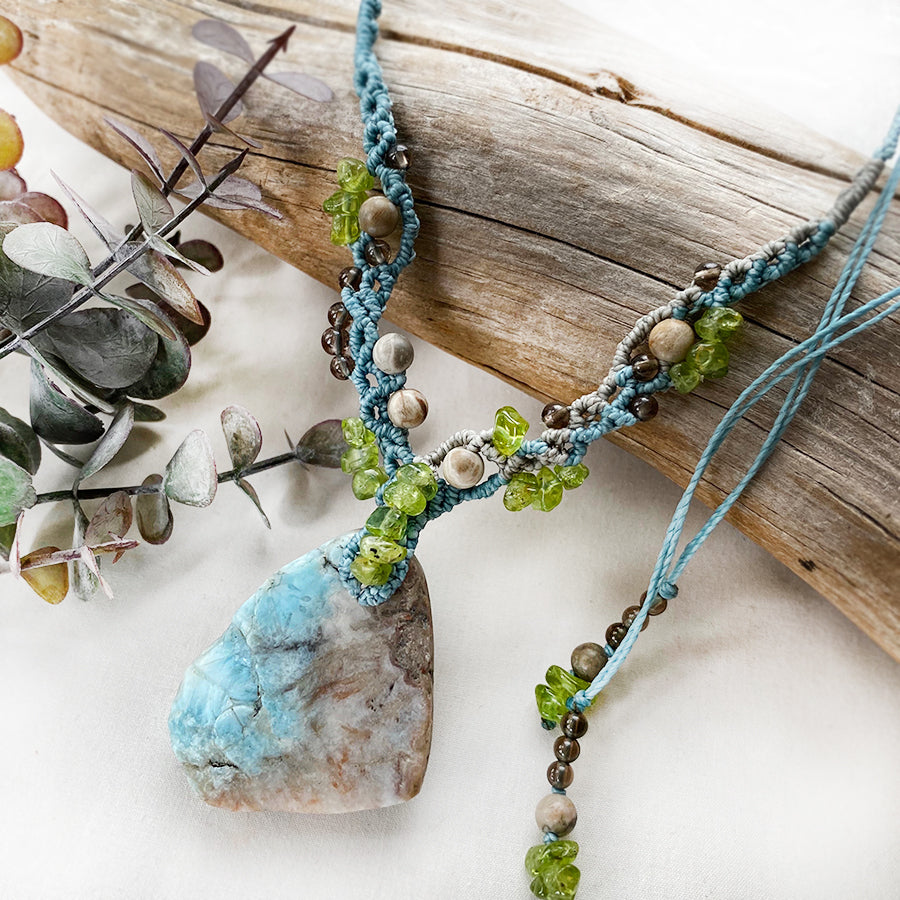 Larimar crystal healing amulet
DESCRIPTION
Lovely Larimar crystal amulet in fresh spring colours. The stone has an undulating shape, partly rough and textured surface on the blue side and smooth on the grey side. The necklace is knotted in a slightly asymmetrical pattern with a combination of sky blue and grey micro-macrame cords, strong and durable yet soft and comfortable to wear. The knotwork is highlighted with Peridot, Petoskey stone and small Smokey Quartz crystals.
The length of the necklace is adjustable from very short down to solar plexus level. The Larimar is just over 4.5 cm (1.8") tall and just over 3.5 cm (1.4") at its widest.
There are no metals in this necklace so would be particularly suitable for those with metal sensitivities / metal allergy, energy workers and those who simply prefer not to wear metal jewellery.
You'll receive this crystal healing necklace in one of my fabric draw-string pouches, great for the safe-keeping of the necklace. Gift-wrapped at no extra charge.

Read here how to take care of your crystal jewellery.
CRYSTAL PROPERTIES
LARIMAR
A relatively rare stone, only found in the Dominican Republic. In crystal lore it is associated with the ancient civilization on Lemuria, and also sometimes called a "Dolphin Stone". Larimar is soothing and uplifting, bringing tranquility into heart and mind. It is said to support self-expression, creativity and patience.
PERIDOT
Upbeat and comforting, Peridot reduces stress and amplifies intuitive awareness. Soothes hurt feelings, supporting renewal and personal growth. Brings in-depth heart based awareness, extending from healing to understanding and offering protection against negative emotions. Known also as the stone of prosperity and happiness.
PETOSKEY STONE
A supportive companion at times of transformation and major shifts in one's being. Encourages the integration of new positive changes into our life. Helps in developing one's intuitive senses and to feel the connection with subtle energies. Enhances imagination and creativity. Calls its keeper to recognise and appreciate their own unique individuality which makes life even richer.
SMOKEY QUARTZ
A grounding and calming stone that elevates moods and dissipates negative emotions. "A Stone of Serenity", it is comforting and protective for one's aura. Smokey Quartz is thought to assist in creative endeavours and also in setting personal boundaries. Offers protection against electromagnetic rays. A good healing stone for improving general feeling of well-being. Relieves anxiety and worry, wards off confusion. Shielding crystal to create a calm, safe environment.
Recently Viewed