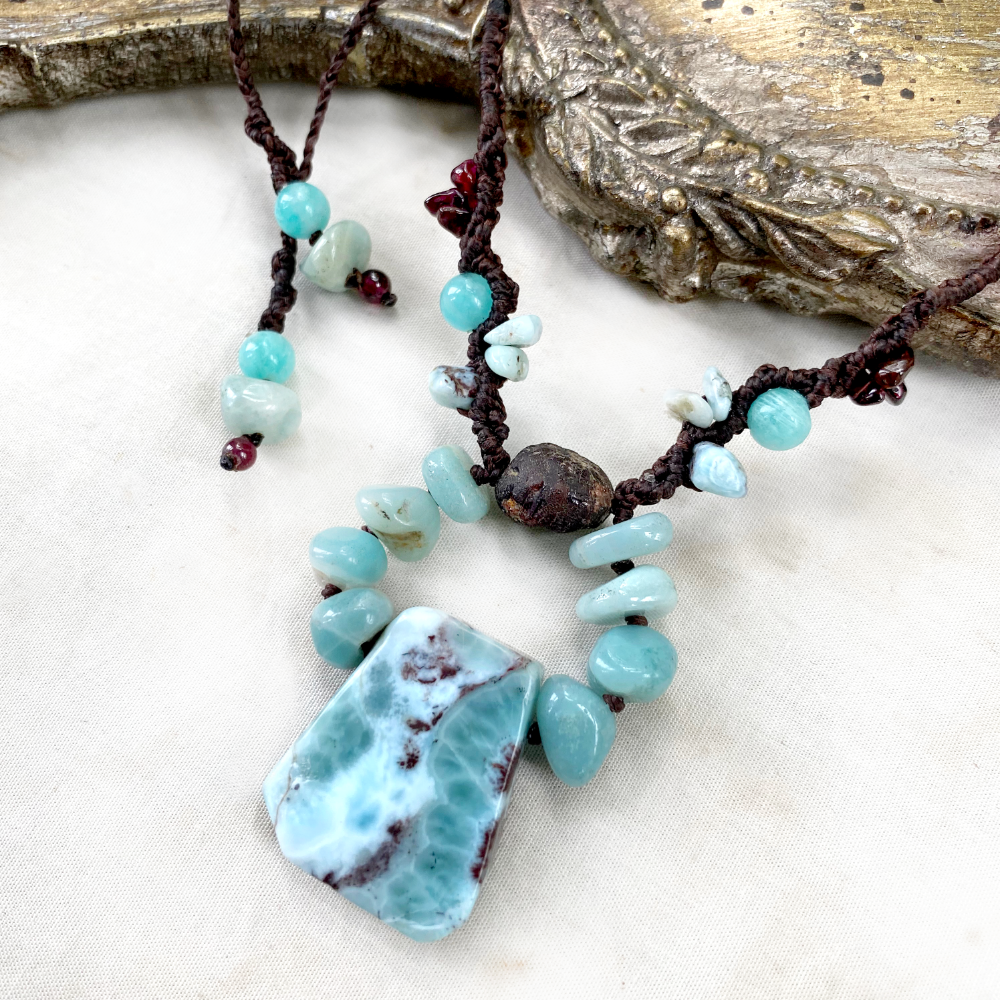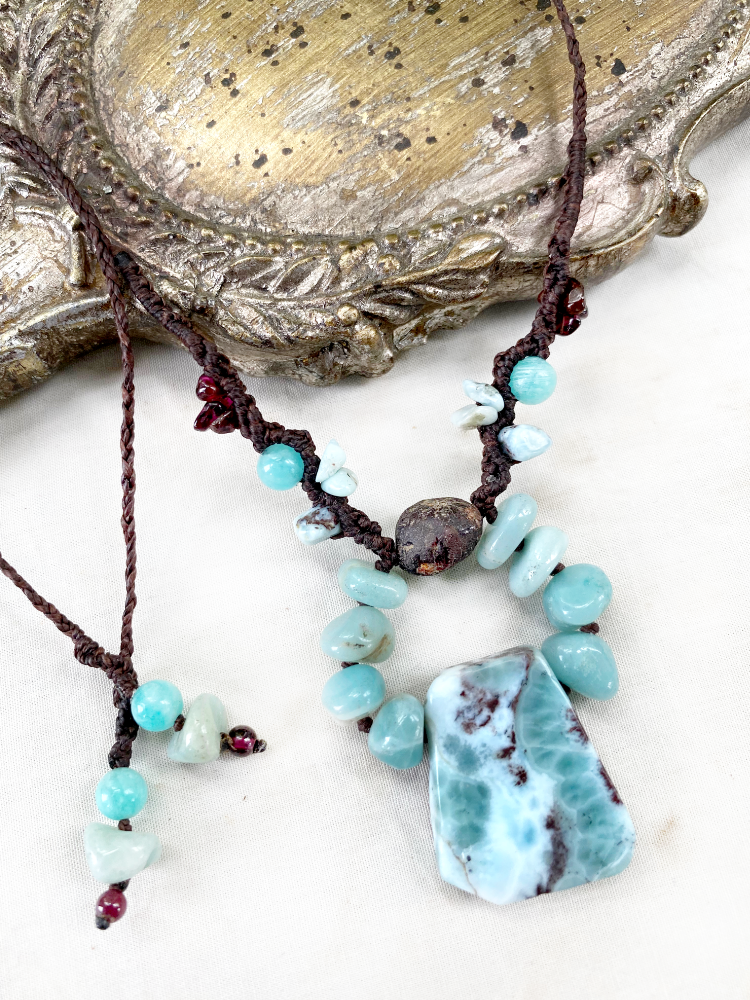 Larimar crystal healing amulet
DESCRIPTION
Crystal healing necklace with a beautiful slice of natural Larimar. Although the surface is mostly polished, the edges retain a rough organic feel. The energy is further accented with Almandine Garnet and Amazonite crystals. The necklace is knotted with dark brown micro-macrame cord, soft to wear yet strong and durable for every day use. The ends of the adjustable necklace braids a adorned with Amazonite crystals.
The length of the necklace is adjustable from very short down to solar plexus level. The Larimar is just over 2.5 cm (1") tall. Measured from the top edge of the raw Almandine Garnet to the base of the Larimar, the pendant length is approx. 4.5 cm (1.8").
There are no metals in this necklace so would be particularly suitable for those with metal sensitivities, energy workers and those who simply prefer not to wear metal.
You'll receive this crystal healing necklace in one of Spirit Carrier's fabric draw-string pouches, great for the safe-keeping of the necklace. Gift-wrapped at no extra charge.

Read here how to take care of your crystal jewellery.
CRYSTAL PROPERTIES
LARIMAR
A relatively rare stone, only found in the Dominican Republic. In crystal lore it is associated with the ancient civilization on Lemuria, and also sometimes called a "Dolphin Stone". Larimar is soothing and uplifting, bringing tranquility into heart and mind. It is said to support self-expression, creativity and patience.
ALMANDINE GARNET
Stimulates one's life force. Supports the root chakra while drawing earth energy into the body, helping you to feel secure and centred. Awakens the "inner fire" of creativity. Highly protective stone and a great companion to keep you energised. Excellent good fortune and 'success' stone in both social and career ventures, adding positive vibes both in your personal or business life. Stone of purification and cleansing. Symbolises passionate, devoted love.
AMAZONITE
A stone of self-respect, confidence and grace. Soothes the spirit and calms the soul. Alleviates feelings of loneliness. Assists in connecting with one's intuition, enhancing creativity and self-expression. Empowers to move beyond fear, easing particularly fears relating to other people - fear of judgement, fear of confrontation. Helps with living in alignment with your truth, supporting matters of communication. Good luck stone for competitions, business and financial affairs.
Recently Viewed