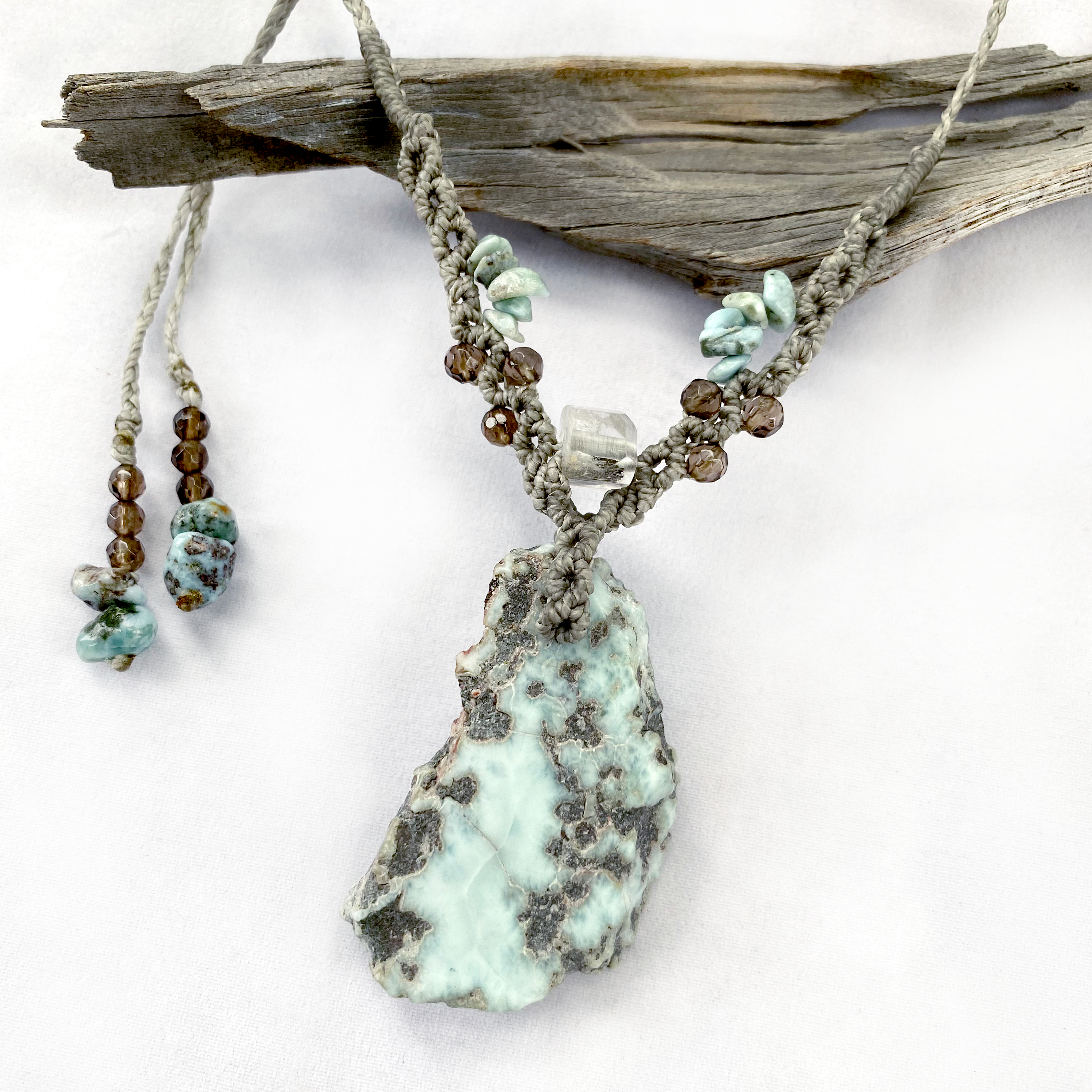 Larimar crystal healing amulet
DESCRIPTION
Stunning Larimar slice in subtle ethereal necklace braid. The stone has an undulating shape, smooth in tones of light blue and grey with a rugged, organic edge all around. The necklace is knotted with grey micro-macrame cord, strong and durable but soft and comfortable to wear, and highlighted with clear rough cut Topaz, Smokey Quartz and further small Larimar crystals.
The length of the necklace is adjustable from very short down to solar plexus level. The Larimar is approx. 5 cm (2") tall and approx. 3 cm (1.2") at its widest and 1 cm (0.4") thick.
There are no metals in this necklace so would be particularly suitable for those with metal sensitivities / metal allergy, energy workers and those who simply prefer not to wear metal jewellery.
You'll receive this crystal healing necklace in one of Spirit Carrier's fabric draw-string pouches, great for the safe-keeping of the necklace. Gift-wrapped at no extra charge.

Read here how to take care of your crystal jewellery.
CRYSTAL PROPERTIES
LARIMAR
A relatively rare stone, only found in the Dominican Republic. In crystal lore it is associated with the ancient civilization on Lemuria, and also sometimes called a "Dolphin Stone". Larimar is soothing and uplifting, bringing tranquility into heart and mind. It is said to support self-expression, creativity and patience.

TOPAZ
Stone of success and good fortune. Aligns and recharges body's meridians. Clear Topaz aids in spiritual development and in clarifying one's life purpose. With the strong magnification energy of Topaz, you may reach your heart's goals and desired manifestations faster. Increases energy and vitality. Increases cosmic awareness by activating the crown and the soul star chakras. In ancient legends, Topaz was said to make its wearer invisible if needed at times of emergency.

SMOKEY QUARTZ
A grounding and calming stone that elevates moods and dissipates negative emotions. "A Stone of Serenity", it is comforting and protective for one's aura. Smokey Quartz is thought to assist in creative endeavours and also in setting personal boundaries. Offers protection against electromagnetic rays. A good healing stone for improving general feeling of well-being. Relieves anxiety and worry, wards off confusion. Shielding crystal to create a calm, safe environment.
Recently Viewed