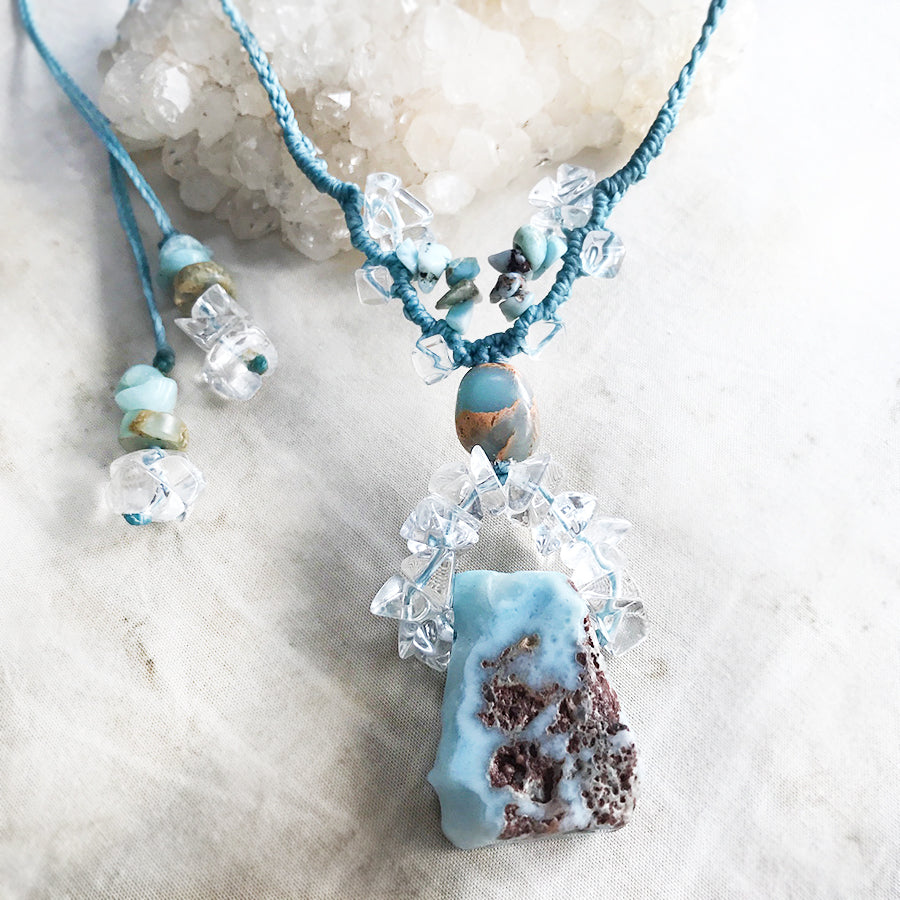 Larimar crystal healing amulet with Aqua Terra Jasper & clear Quartz
DESCRIPTION
Crystal healing necklace with a small but beautiful slice of natural Larimar. Although the surface is mostly polished, the edges retain a rough organic feel. The necklace is knotted with light blue micro-macrame cord, and highlighted with Aqua Terra Jasper and clear Quartz crystals. There's also a small floret of tiny clear Quartz crystals adorning one side of the necklace braid.
The length of the necklace is adjustable from very short down to solar plexus level. The Larimar is approx. 2.5 cm (1") tall. Measured from the top edge of the Aqua Terra Jasper to the base of the Larimar, the pendant length is just over 5 cm (2").
There are no metals in this necklace so would be particularly suitable for those with metal sensitivities, energy workers and those who simply prefer not to wear metal.
You'll receive this crystal healing necklace in one of my fabric draw-string pouches, great for the safe-keeping of the necklace. Gift-wrapped at no extra charge.

Read here how to take care of your crystal jewellery.
CRYSTAL PROPERTIES
LARIMAR
A relatively rare stone, only found in the Dominican Republic. In crystal lore it is associated with the ancient civilization on Lemuria, and also sometimes called a "Dolphin Stone". Larimar is soothing and uplifting, bringing tranquility into heart and mind. It is said to support self-expression, creativity and patience.
AQUA TERRA JASPER (aka VARISCITE)
Stone of inner peace and clarity. It has a loving and compassionate vibe. Helps with the alignment of one's 'Light' bodies and assists with emotional healing.
CLEAR QUARTZ
The universal master crystal that has a harmonising effect on all levels of being. Programmable by intention, so can be used for versatile purposes. Quartz can clear, enhance, amplify, transmute, balance, focus and transmit energy. Raises one's energetic vibration. Brings clarity and filters out distractions. A deep soul cleanser, attuning its keeper to their higher self. Each Quartz crystal is unique with its own character and teachings it offers, all are known as "Stones of Power" and "Master Healers".
Recently Viewed