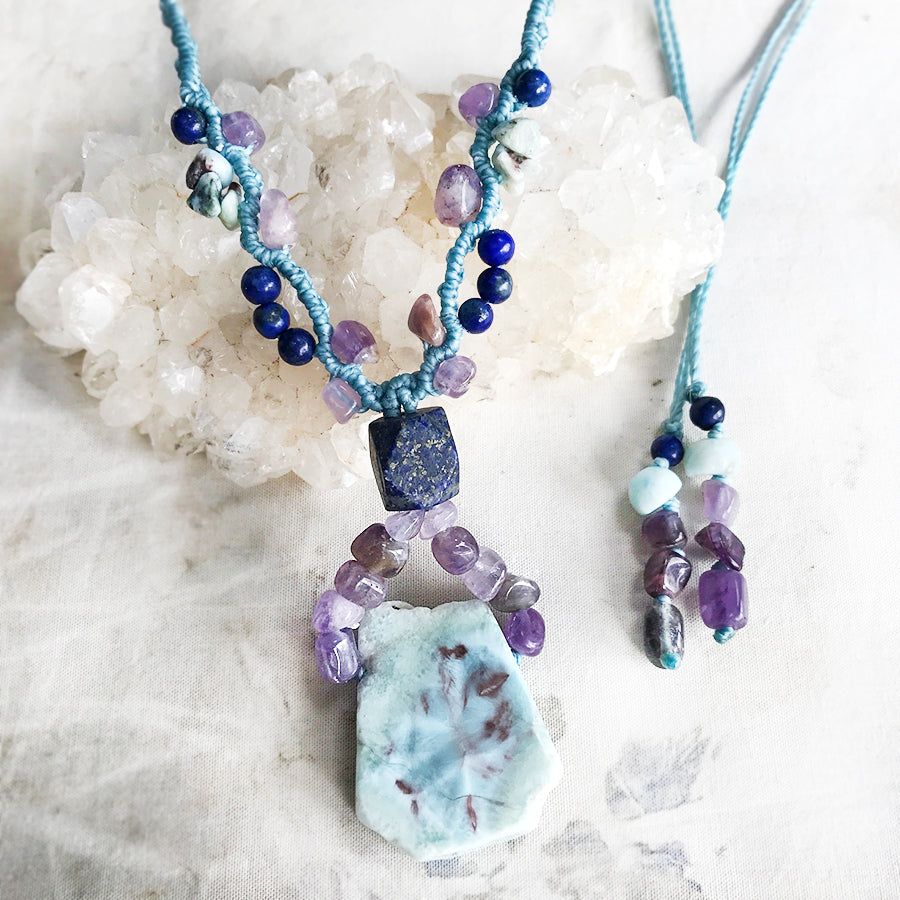 Larimar crystal healing amulet with Lapis Lazuli & Amethyst
DESCRIPTION
Crystal healing necklace with a small but beautiful slice of natural Larimar. Although the surface is mostly polished, the edges retain a rough organic feel. The necklace is knotted with light blue micro-macrame cord, and highlighted with Lapis Lazuli and Amethyst crystals. There's also a small floret of matching crystals adorning one side of the necklace braid.
The length of the necklace is adjustable from very short down to solar plexus level. The Larimar is approx. 2.5 cm (1") tall. Measured from the top edge of the Lapis Lazuli to the base of the Larimar, the pendant length is approx. 5 cm (2").
There are no metals in this necklace so would be particularly suitable for those with metal sensitivities, energy workers and those who simply prefer not to wear metal.
You'll receive this crystal healing necklace in one of my fabric draw-string pouches, great for the safe-keeping of the necklace. Gift-wrapped at no extra charge.

Read here how to take care of your crystal jewellery.
CRYSTAL PROPERTIES
LARIMAR
A relatively rare stone, only found in the Dominican Republic. In crystal lore it is associated with the ancient civilization on Lemuria, and also sometimes called a "Dolphin Stone". Larimar is soothing and uplifting, bringing tranquility into heart and mind. It is said to support self-expression, creativity and patience.
AMETHYST
Instils inner peace, promotes self-discovery and aids in relaxation. Associated with the crown chakra, known as a "stone of balance" and positive transformation. Thought to increase spiritual awareness and psychic abilities, initiating higher knowing and greater understanding. Helps in assimilating new ideas and manifesting thoughts into action. Symbolises a connection to the Divine. A well-known support stone for those wanting to break old patterns to create a new, harmonious life.
LAPIS LAZULI
Creativity super charger stone. Ignites new ideas and encourages different creative ways of thinking. Stone of truthfulness, openness, inner power, intuition and manifestation. Thought to increase self-confidence as well as to promote spiritual healing, mental calmness and strength of will. Powerful tool for dream work. Historically a stone of royalty.
Recently Viewed