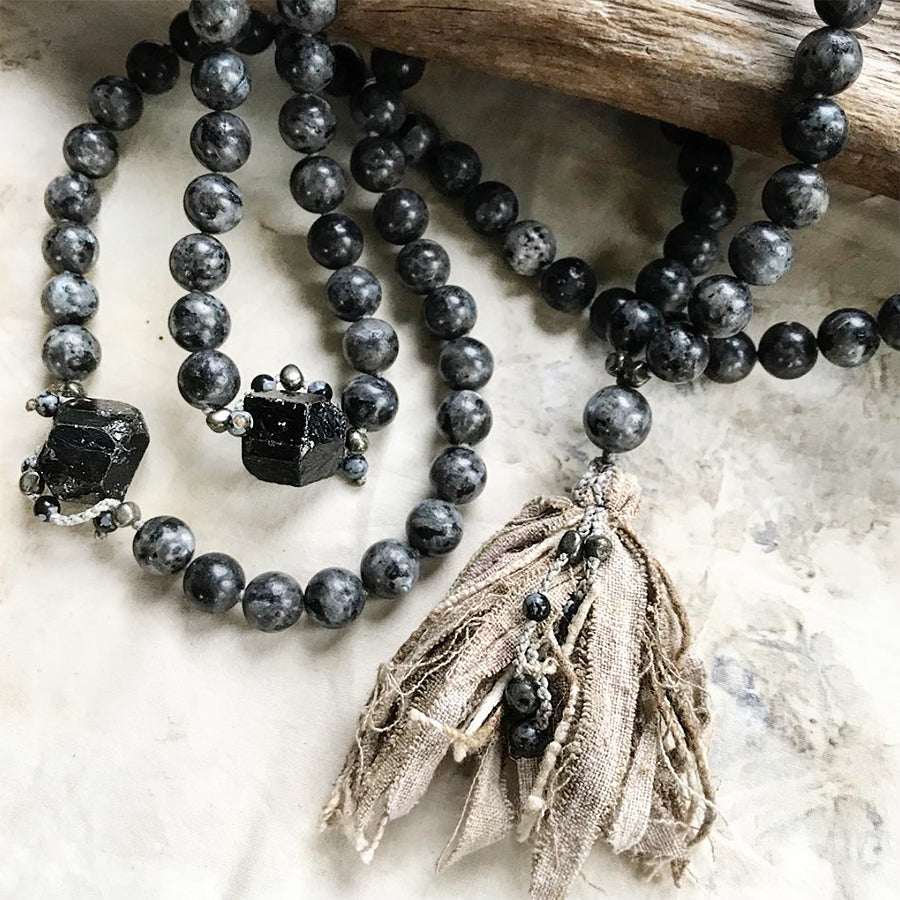 Larvikite mala with Black Tourmaline, Pyrite & Snowflake Obsidian
DESCRIPTION
One of a kind, contemporary 108 bead meditation mala with Larvikite counter beads. This is rather weighty mala with a quiet presence. The three dividers are Black Tourmaline, highlighted with Pyrite and Snowflake Obsidian. The guru bead consists of a rugged silk tassel made of peace silk and botanically eco-dyed raw silk, with knotted strands of small Pyrite, Snowflake Obsidian and Larvikite crystals in grey micro-macrame cord.
Each counter bead is knotted one by one for durability and ease of handling, using grey micro-macrame cord. 
All around length of mala: 126 cm (50")
Counter bead diameter: 1 cm (0.4")
The width of the divider combination: 2.5 cm (1")
Length of guru tassel combination: 8 cm (3")
Please note that Spirit Carrier malas come usually in three sizes, determined by the diameter of the main counter beads - either 8 mm, 10 mm or 12 mm. This mala is the medium size with 10 mm counter bead diameter.
This mala comes in one of my handmade soft black leather pouches for safe-keeping. If you would rather have a fabric pouch, please let me know at the time of purchase.

Read more about Spirit Carrier mala beads
CRYSTAL PROPERTIES
LARVIKITE (aka Black Labradorite, Norwegian Moonstone)
Repels negative energy and can make you more adaptable to life's situations. It also stimulates inner visions so it's very suited to meditation. Black Labradorite is also said to connect with nature spirits. On physical level, it is said to be good for renewing and maintaining vitality and youthfulness.
BLACK TOURMALINE
One of the most well-known protective stones, shielding its user from negativity. A shamanic stone used for grounding during vision quests. Empowering for those who work in challenging environments. Purifies and transforms denser energies into lighter vibrations and is also detoxifying for the body. If you're sensitive to electromagnetic smog, you may get relief by wearing black Tourmaline.
PYRITE
Taps into your innate abilities, bringing confidence and perseverance to aim for your goals. A shielding stone that helps you see the truth in the motives of others. Increases vitality and enhances your assertive qualities. Helpful in turning melancholy into feeling empowered and more light-hearted. Helps in letting go thoughts of misfortune and worry, thus making it an excellent stone for manifesting abundance. Symbolises the warmth and presence of sun, attracting also abundance of love, friendship and success.
SNOWFLAKE OBSIDIAN
Promotes a sense of calm and inner equilibrium, bringing balance to body, mind and spirit. A grounding, protective stone. Eases worries and when carried/worn helps one to stay balanced and centred throughout the day. Native American shamans often carried Snowflake Obsidian as a powerful talisman to avert evil and bring good fortune, also considering it to be the guardian of the Great Spirit.
Recently Viewed