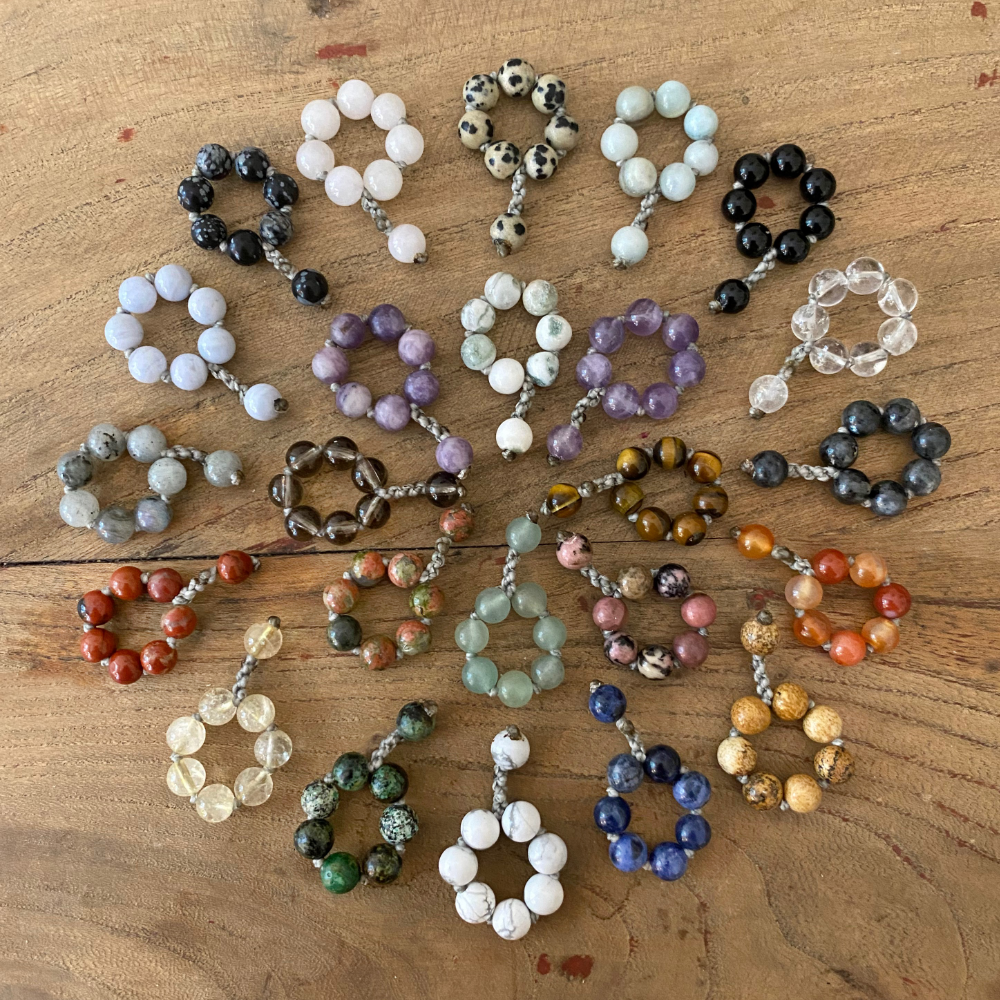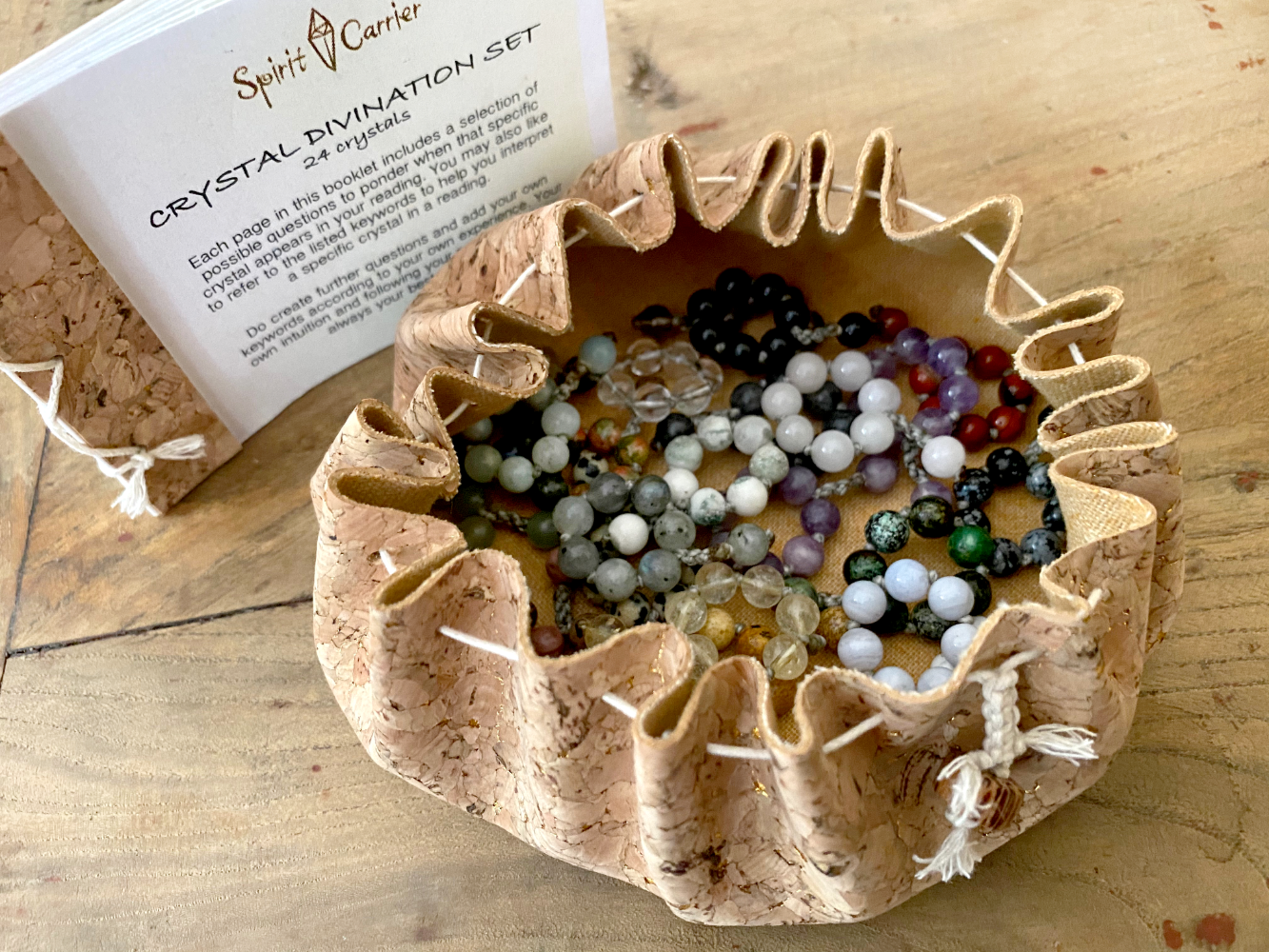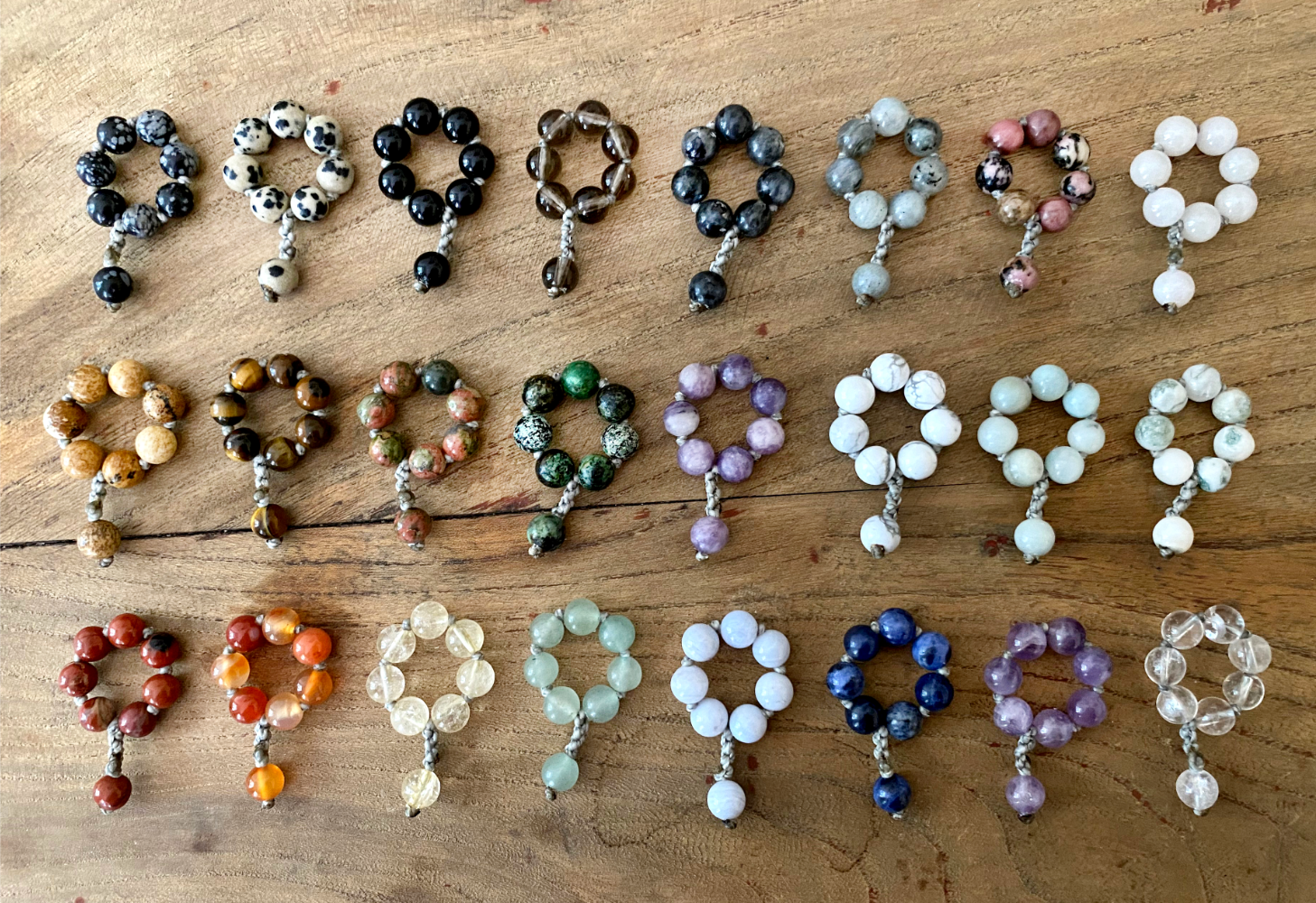 Crystal healing divination set of 24 crystals ~ lux edition
DESCRIPTION
This is a lux set of 24 crystal types suitable for crystal divination, crystal readings, crystal grids, crystal healing and meditative practices. Each of the 24 pieces has a total of eight crystal beads, knotted with grey micro-macrame cord - seven forming a circle and one in the 'tail'. The diameter of the beads varies slightly between crystal types but averages around 0.5 cm - 0.6 cm. The diameter of each crystal circle is approx. 2 cm (0.8"). You can use the 'tail' in each piece as a directional aid in healing lay-outs as well as an additional perspective in divination and readings.

The 24 crystal types included are, as viewed in the last photograph starting in the top row from left to right: Red Jasper, Carnelian, Citrine, Green Aventurine, Blue Lace Agate, Sodalite, Amethyst, Clear Quartz, Black Agate, Snowflake Obsidian, Larvikite, Picture Jasper, Tiger Eye, Smokey Quartz, Dalmatian Jasper, Howlite, Rose Quartz, Rhodonite, Lepidolite, Amazonite, Unakite, Tree Agate, Labradorite, African Turquoise Jasper.
This combination covers most energetic aspects that you might like to consider in a crystal reading or a crystal healing situation. If you require additional crystal types to supplement your kit, feel free to enquire as further pieces can be custom-made.

Also note that this set of 24 incorporates a 'Chakra' selection, in case you want to use the seven crystals of Red Jasper, Carnelian, Citrine, Green Aventurine, Blue Lace Agate, Sodalite & Amethyst specifically for chakra work. 

This set comes with a small information booklet listing keywords for each crystal type together with guidance questions that can be considered when doing a reading for either your own personal development purposes or for other people. Of course, your own intuition and energetic connection with each crystal type will be your main guide in working with this set. 

The ideal ways of cleansing these pieces before and after use would be either with sound vibration, such as crystal tuning fork (496Hz) or placing the pieces on an Obsidian scrying mirror or in the hollow or a crystal geode. Any of your chosen cleansing methods that doesn't involve water, would be ideal.

This is a versatile set that can be used in several different ways for either personal development work or with clients, whether in crystal healing capacity or for readings, divination or crystal grids. You may also like to develop your own ways of working with this set, such as training your extrasensory awareness to discern between different types of crystals, to feel the combined energies of the crystals etc.
In addition you'll receive Spirit Carrier's Flower of Life crystal grid base in case you want to utilise it for readings or crystal grids.
Gift-wrapped at no extra charge.


Recently Viewed