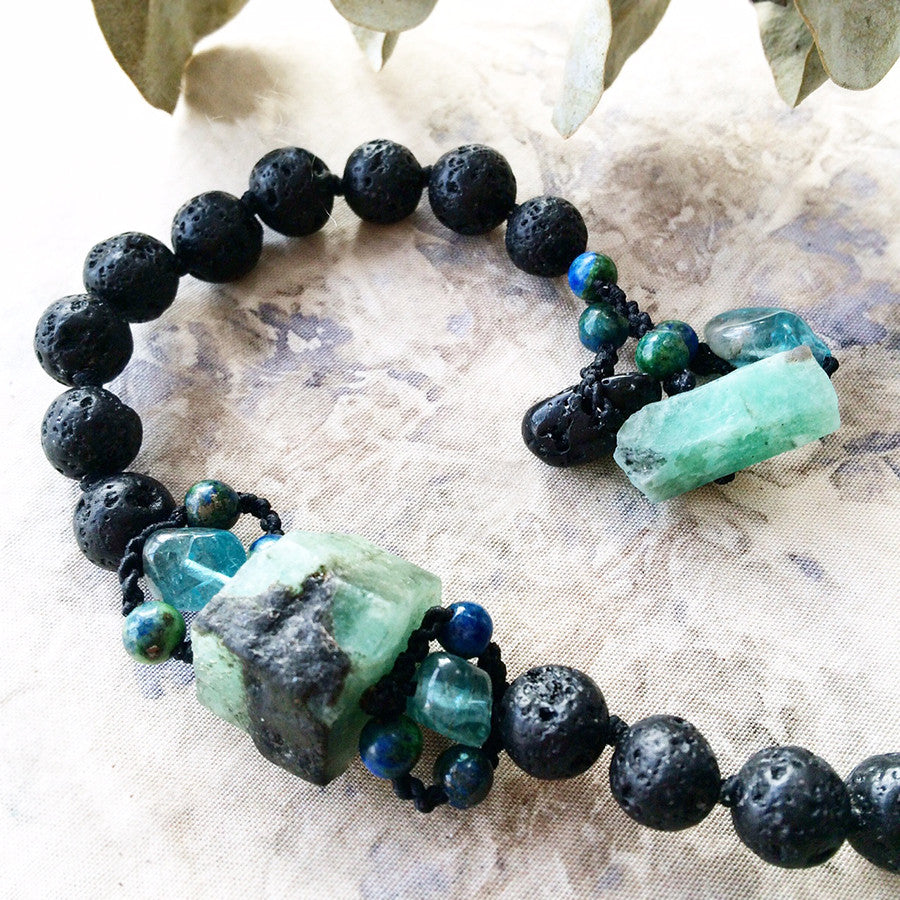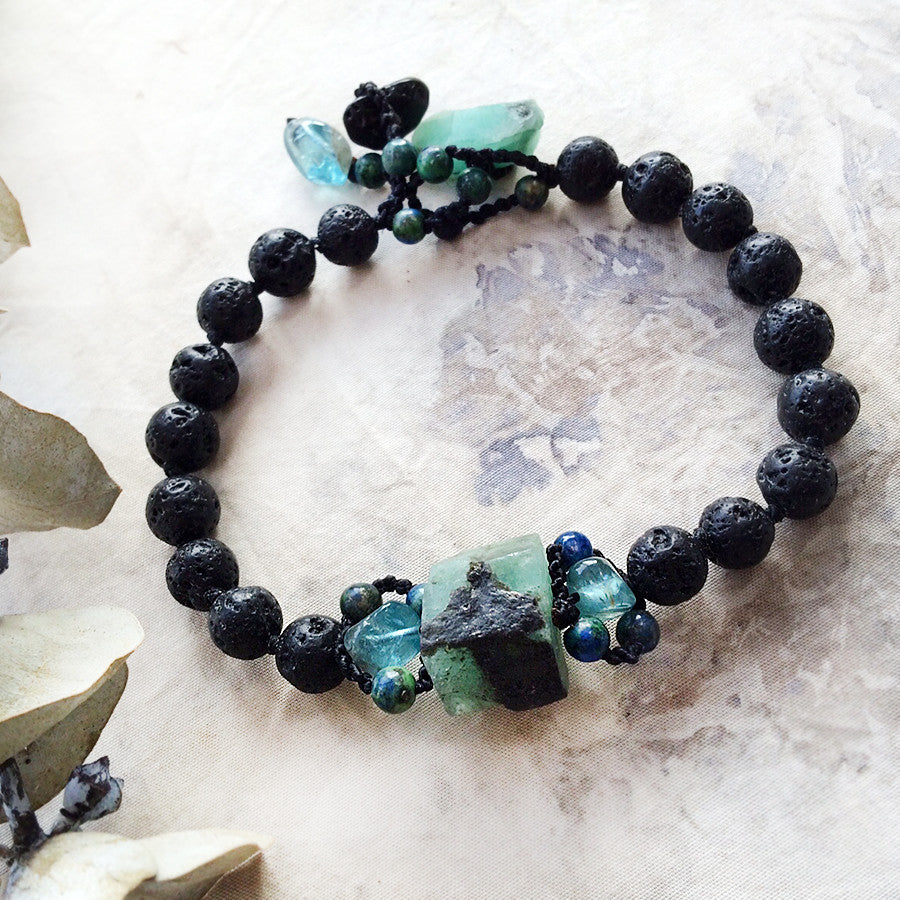 Lava Stone mala bracelet with Emerald, Apatite & Azurite Malachite
DESCRIPTION
Mala bracelet with 18 Lava Stone counter beads with a divider of Emerald, Apatite and Azurite Malachite. The toggle closure includes three strands, with Emerald, Apatite and Lava Stone (you can slip one, two or all of them through the knotted loop to fasten the bracelet). The counter beads are knotted individually for strength and flexibility, using black micro-macrame cord.
This is a handy meditation / mantra aid for times when you'd like something smaller than a full mala. You can still count up to 108 with these bracelet beads - or in multiples of 27 if you prefer. Simply count back and forth over the divider as many rounds as needed. Use the toggle crystals as the guru bead.
Whilst the total length of this bracelet, including the toggle, is 23 cm (9") it would make a good fit for up to a 8" wrist circumference to allow for movement while counting beads in meditation. Although if you prefer a more loose fit, this is fine for a smaller wrist too (loose fit but won't slip over your hand even if you wrist is 6.5"). The Lava Stones' diameter is 0.8 cm (0.3").
This mala comes in one of my handmade soft leather pouches for safe-keeping. If you would rather have a fabric pouch, please let me know at the time of purchase.

Gift-wrapped at no extra charge.
Read more about Spirit Carrier mala beads
CRYSTAL PROPERTIES
LAVA STONE
Stone of vitality, assertiveness and passion. Provides stability in times of change. Grounding and protective. Supports courage and decisiveness. Helps in finding one's 'life path'. Encourages personal development and growth.
EMERALD
Stone of love. Opening and nurturing to the heart chakra. Benefits heart-based intuition. Promotes joyous emotions, enhances emotional and spiritual balance. Restores confidence where needed. Brings visionary insight, especially relating to one's vocation. In crystal lore, Emerald is the sacred stone of the goddess Venus. It was the symbol of eternal life in ancient Egypt. (Emerald is one of the four 'precious' gemstones, the other three being Ruby, Sapphire & Diamond. Other gemstones are considered 'semi-precious'.)
APATITE
Enhances one's insight and imagination, and gives increased self-confidence. Blue Apatite connects to high level of spiritual guidance and is helpful in letting go of anything that no longer serves your highest good. Apatite crystal is also said to be a good aid in curbing one's appetite!
AZURITE MALACHITE
Azurite in this combination helps controlling the flow of its keeper's personal energy so there's the right amount for every situation. Releases stress and confusion. Enhances creativity and intuition, and develops psychic awareness. Opens pathways to new ideas and visions. Malachite in this combination brings abundance, helps in manifestation and when setting intentions. Draws emotions to the surface to be cleared, especially heart-related matters, and can be used for deep energy clearing, as well as for creating balance in the matters of the heart. Assists in reaching your core self without fear, and to create new beginnings.
Recently Viewed