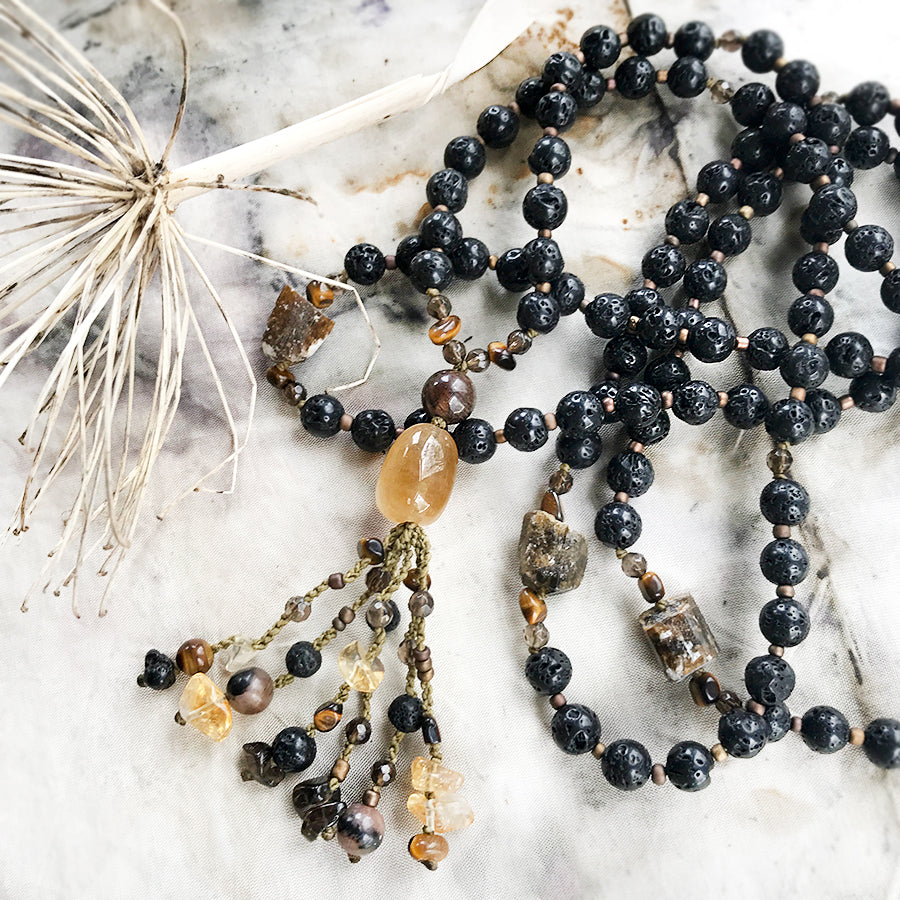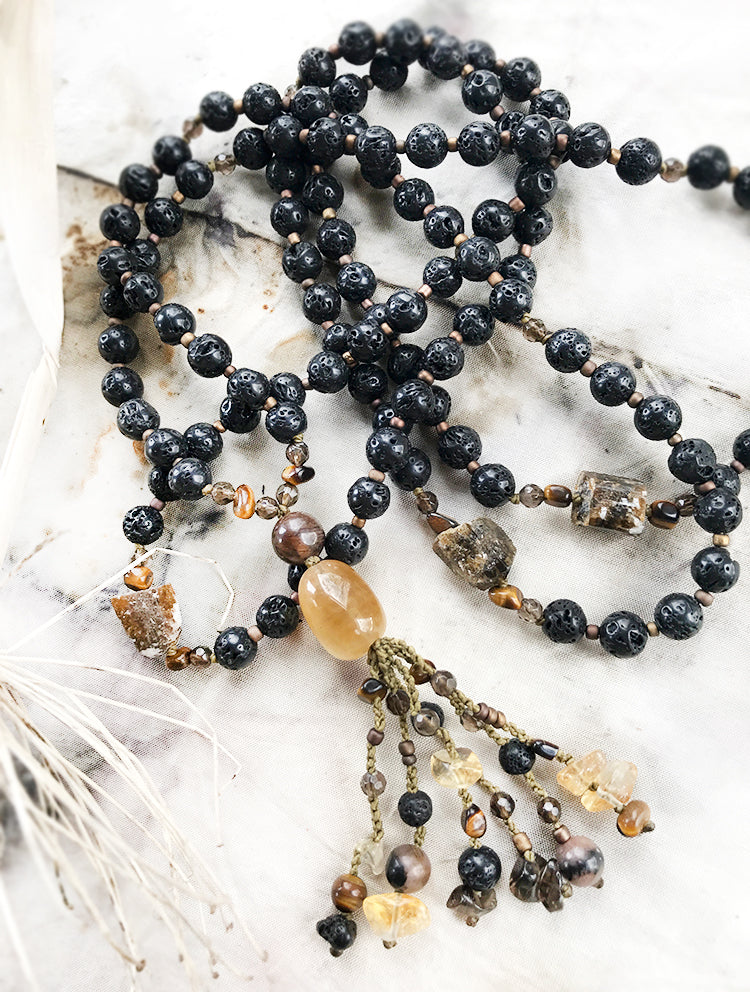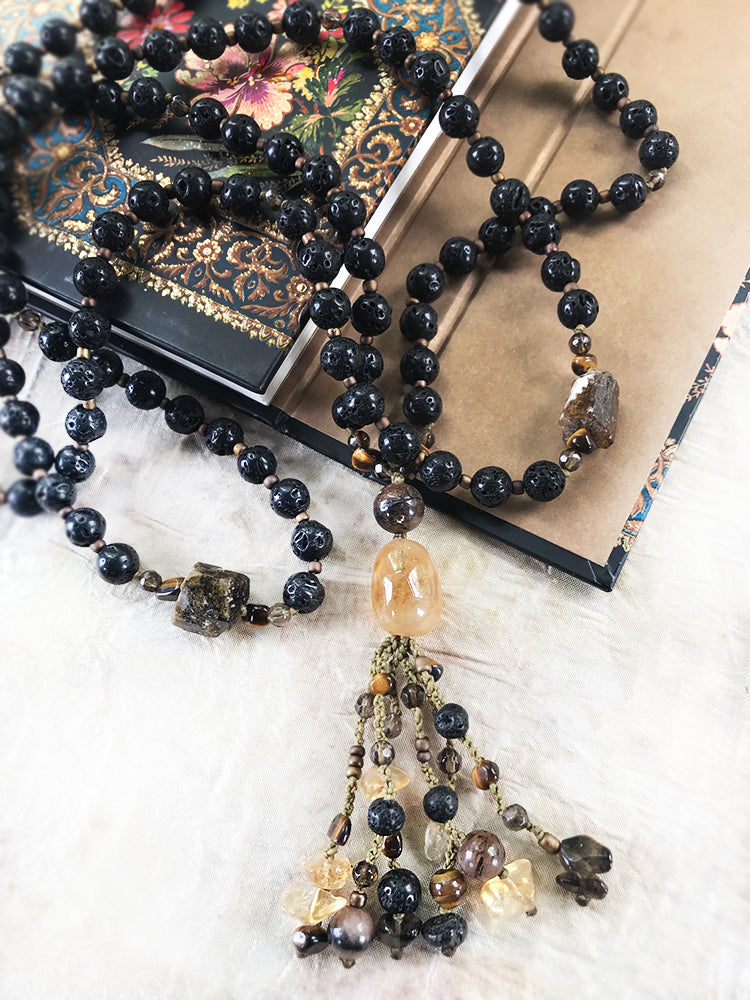 Lava Stone mala with Dravite, Citrine, Smokey Quartz, Chiastolite & Tiger Eye
DESCRIPTION
One of a kind, contemporary 108 bead meditation mala with Lava Stone beads. The three dividers are a combination of rough Dravite, faceted Smokey Quartz and Tiger Eye. The guru bead consists of Citrine and Chiastolite, with six strands of smaller crystals (Citrine, Tiger Eye, Lava Stone, Smokey Quartz).
The Lava Stone counter beads are spaced with small matte brown glass seed beads in asymmetrical organic shapes. The mala is knotted with moss green micro-macrame cord, including a small Smokey Quartz crystal at every nine bead intervals.
All around length of mala: 124 cm (48.8")
Counter bead diameter: 0.8 cm (0.3")
The width of the divider combination: approx. 3 cm (1.2")
Length of guru bead crystal combination: approx. 8.5 cm (3.3")
Please note that Spirit Carrier malas come usually in three sizes, determined by the diameter of the main counter beads - either 8 mm, 10 mm or 12 mm. This mala is the smallest size with 8 mm counter bead diameter (particularly suited for wearing as a necklace due to being lighter in weight and shorter in length than the larger meditation malas).
This unique mala comes in one of my handmade soft leather pouches for safe-keeping. If you would rather have a fabric pouch, please let me know at the time of purchase.

You'll receive this mala gift-wrapped at no extra charge.
Read more about Spirit Carrier mala beads
CRYSTAL PROPERTIES
LAVA STONE
Stone of vitality, assertiveness and passion. Provides stability in times of change. Grounding and protective. Supports courage and decisiveness. Helps in finding one's 'life path'. Encourages personal development and growth.
DRAVITE (aka Brown Tourmaline, Champagne Tourmaline, Dravide)
Soothing and reassuring, contributes to a peaceful atmosphere in its vicinity. Helps you feel at ease in a crowd. Deeply cleansing energetically. Empowering stone, inspires courage and increases stamina in situations where needed. Improves self-esteem, guiding you to accept yourself on all levels and to move on with life. Good stone in enhancing creativity.
CITRINE
Affects a powerful alignment with the higher self. Balances the emotions and helps in uplifting one's mood to be more sunny and cheerful. Brings clarity of thought, and attracts abundance and prosperity through joy. Powerful transformer in healing work. Increases self-confidence and optimism, cleanses the surrounding energies and promotes creative thinking. Releases, dissipates and transforms denser energies on all levels, mental, emotional and physical. Works to release limitations and blockages particularly around the sacral / solar plexus area.
CHIASTOLITE
Stone of balance and harmony. Its visible cross-pattern is thought to symbolise one's commitment to approach life with Awareness. Assists in adapting to change at transitional times. It is also thought to enhance practical creativity. Very protective, allows its wearer to hold their personal space more easily. For someone who has "many irons in the fire" all the time, this is a great crystal to have close for coping with it all!
SMOKEY QUARTZ
A grounding and calming stone that elevates moods and dissipates negative emotions. "A Stone of Serenity", it is comforting and protective for one's aura. Smokey Quartz is thought to assist in creative endeavours and also in setting personal boundaries. Offers protection against electromagnetic rays. A good healing stone for improving general feeling of well-being. Relieves anxiety and worry, wards off confusion. Shielding crystal to create a calm, safe environment.
TIGER EYE
A power stone for attracting prosperity. But it has also a highly spiritual energy and is helpful in understanding any life cycle that one is living through. It helps in seeing through illusions, in discerning the truth in any situation. A highly protective as well as grounding stone. Good for strengthening the solar plexus (3rd) chakra.
Recently Viewed