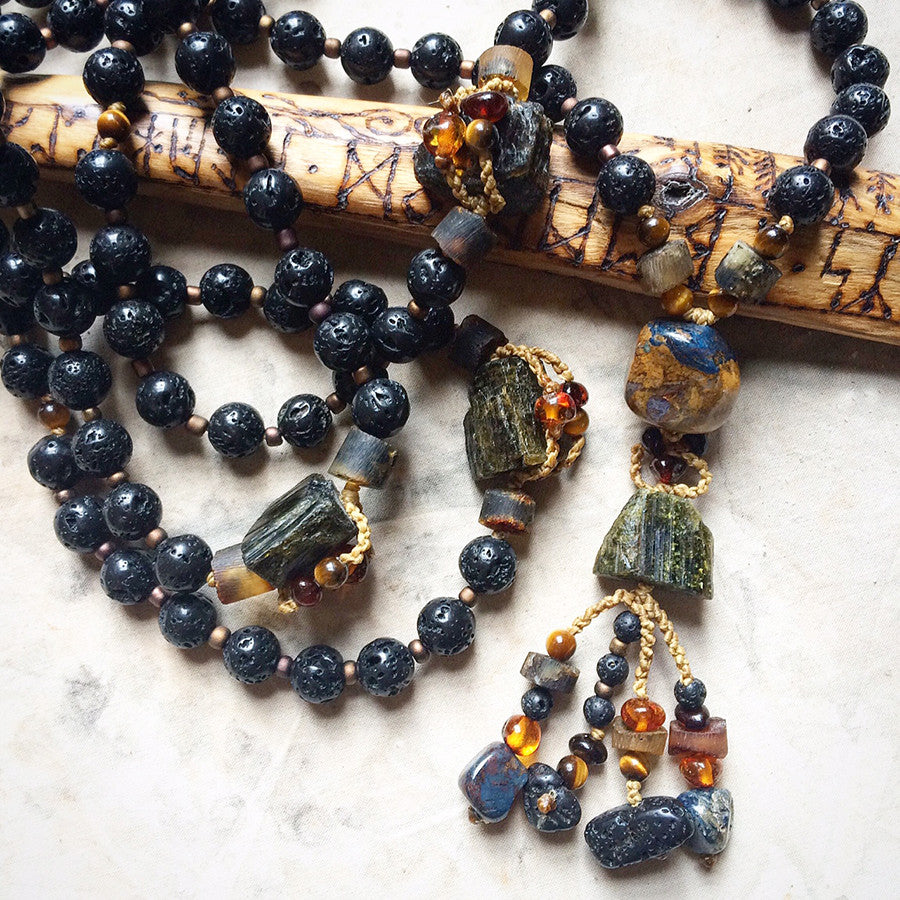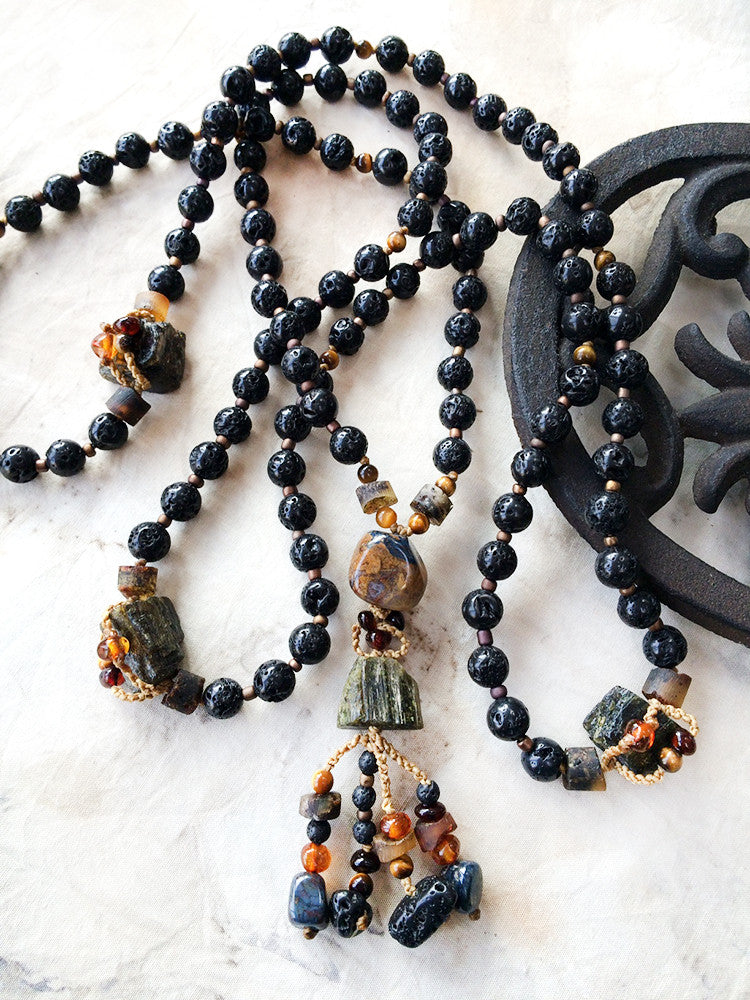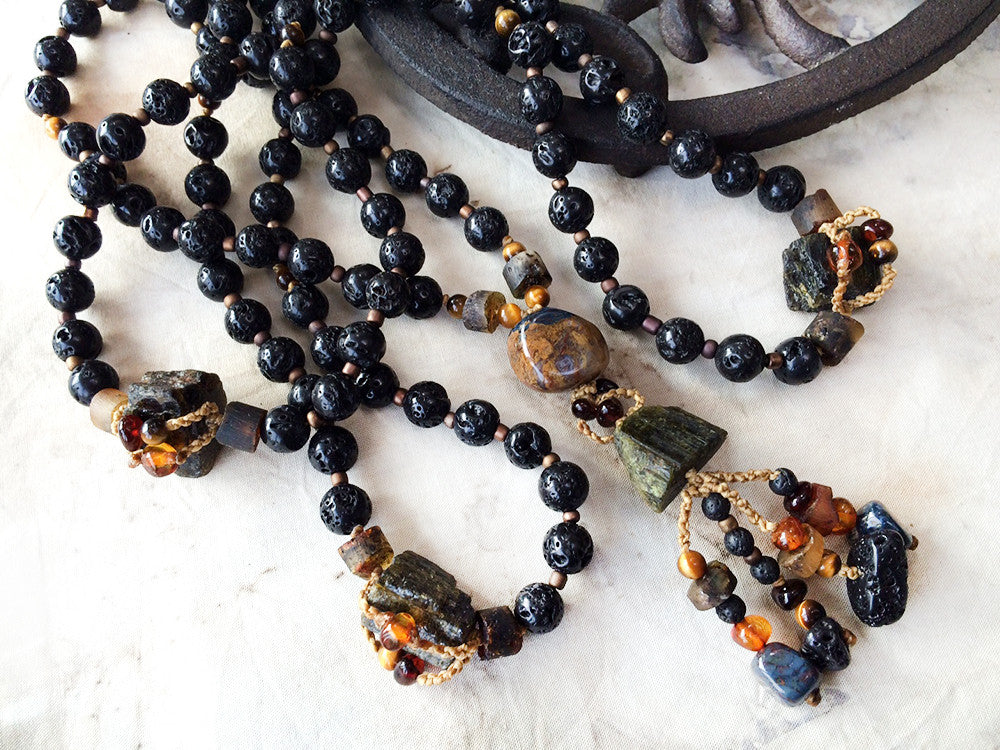 Lava Stone mala with Verdelite, Pietersite, Amber & Tiger Eye
DESCRIPTION
One of a kind, contemporary 108 bead meditation mala with Lava Stone beads. The three dividers are a combination of rough Verdelite, Amber and Tiger Eye. The guru bead consists of Pietersite and Verdelite, with four strands of smaller crystals (Amber, Tiger Eye, Lava Stone, Pietersite).
The Lava Stone counter beads are spaced with small matte brown glass seed beads in asymmetrical organic shapes. The mala is knotted with black micro-macrame cord, including a small Tiger Eye crystal at every nine bead intervals.
All around length of mala: 122 cm (48")
Counter bead diameter: 0.8 cm (0.3")
The width of the divider combination: approx. 3 cm (1.2")
Length of guru bead crystal combination: approx. 8 cm (3")
Please note that Spirit Carrier malas come usually in three sizes, determined by the diameter of the main counter beads - either 8 mm, 10 mm or 12 mm. This mala is the smallest size with 8 mm counter bead diameter (particularly suited for wearing as a necklace due to being lighter in weight and shorter in length than the larger meditation malas).
This unique mala comes in one of my handmade soft leather pouches for safe-keeping. If you would rather have a fabric pouch, please let me know at the time of purchase.

You'll receive this mala gift-wrapped at no extra charge.
Read more about Spirit Carrier mala beads
CRYSTAL PROPERTIES
LAVA STONE
Stone of vitality, assertiveness and passion. Provides stability in times of change. Grounding and protective. Supports courage and decisiveness. Helps in finding one's 'life path'. Encourages personal development and growth.
VERDELITE (aka Green Tourmaline)
Connects to the energy of compassion, opening up pathways to self-healing and letting go of old heart wounds. Helpful in implementing new projects with the aim of bringing your true desires to fruition. Balancing and rejuvenating, attracting luck and prosperity.
BALTIC AMBER
Amber is like sunshine solidified, offering a wonderful sense of health and wellbeing. Transmutes negative energies into positive, excellent for psychic protection. Cheers you up and helps you take action to make your ideas reality - ideal manifestation aid. Cleansing effect on the body, mind and spirit, promoting self-confidence and creative self-expression. Encourages spontaneity, patience and inner wisdom.
TIGER EYE
A power stone for attracting prosperity. But it has also a highly spiritual energy and is helpful in understanding any life cycle that one is living through. It helps in seeing through illusions, in discerning the truth in any situation. A highly protective as well as grounding stone. Good for strengthening the solar plexus (3rd) chakra.
PIETERSITE (aka Tempest Stone)
Fosters calm and joyous peacefulness. Enhances intuition and insight. Aids in the acceptance and tolerance of others and life. Dispels illusions and aids one seeing the beauty within. High vibration stone used by many energy healers.
Recently Viewed