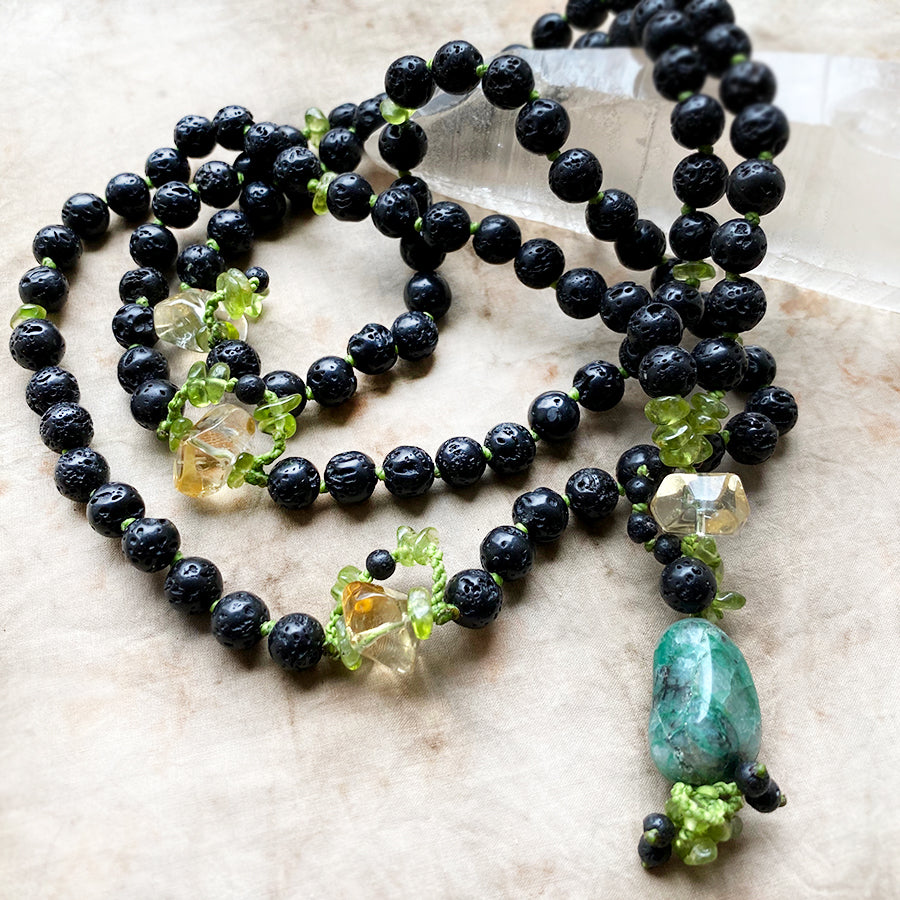 Lava Stone meditation mala
DESCRIPTION
One of a kind meditation mala with 108 Lava Stone counter beads. The three dividers are a combination of Citrine and Peridot. The guru bead consists of Citrine and Chrysocolla, with small crystals of Peridot and Lava Stone. Each counter bead is knotted one by one for durability and ease of handling, using bright green micro-macrame cord. 
All around length of mala: 102 cm (40")
Counter bead diameter: 0.8 cm (0.3") 
The width of the divider combination: approx. 1.5 cm (0.6") 
Length of guru bead crystal combination: approx. 5 cm (2")
This unique mala comes in one of Spirit Carrier's handmade fabric drawstring pouches for safe-keeping. If you would rather have a leather pouch, please let me know at the time of purchase.

You'll receive this mala gift-wrapped at no extra charge.

Read more about Spirit Carrier mala beads
CRYSTAL PROPERTIES
LAVA STONE
Stone of vitality, assertiveness and passion. Provides stability in times of change. Grounding and protective. Supports courage and decisiveness. Helps in finding one's 'life path'. Encourages personal development and growth.
CITRINE
Affects a powerful alignment with the higher self. Balances the emotions and helps in uplifting one's mood to be more sunny and cheerful. Brings clarity of thought, and attracts abundance and prosperity through joy. Powerful transformer in healing work. Increases self-confidence and optimism, cleanses the surrounding energies and promotes creative thinking. Releases, dissipates and transforms denser energies on all levels, mental, emotional and physical. Works to release limitations and blockages particularly around the sacral / solar plexus area.
PERIDOT
Upbeat and comforting, Peridot reduces stress and amplifies intuitive awareness. Soothes hurt feelings, supporting renewal and personal growth. Brings in-depth heart based awareness, extending from healing to understanding and offering protection against negative emotions. Known also as the stone of prosperity and happiness.
CHRYSOCOLLA
Stone of the Wise Woman, of feminine empowerment. Associated with tranquility and intuition. Brings out one's inner strength, releasing old hurts such as feelings of guilt. Heals heartaches and promotes confidence, sensitivity and motivation. Helps those in position of guiding or teaching others, to communicate their knowledge and experience lovingly to others. Excellent stone for emotional balance and creative endeavours.
Recently Viewed