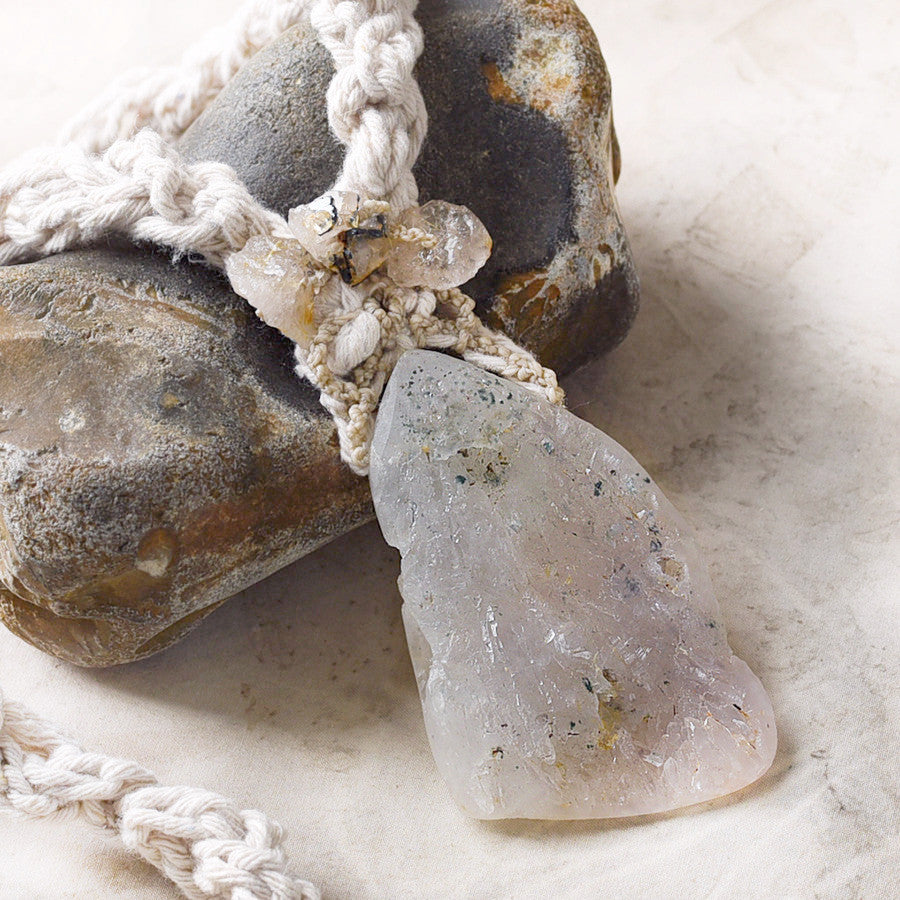 Lavender Amethyst crystal healing talisman in chunky cotton chain
DESCRIPTION
Unusual, subtle slice of Lavender Amethyst, nearly white with just a hint of the palest lilac, you almost have to search for it. This crystal's surface is covered in elestial markings and a few splashes of green Chlorite as well as being a natural holey stone - 'hagstone' with three small holes through (according to legend, the most powerful hagstones have three holes!)

The necklace chain is fully plied by hand with soft and thick unbleached cotton yarn, purposefully uneven in texture to create a natural, organic feel. The Lavender Amethyst attaches to the chain with three rough cut Gold Rutile Quartz crystals that connect harmoniously with the high vibrational Lavender Amethyst.

The chunky chain is just under 2 cm (0.8") wide, so perfect for those who love a larger style, an eye-catching statement necklace even though in natural subtle colour tone. This would also per perfect for someone who loves the lagenlook style in clothing. The chain is set length, long at 74 cm (29") all around. The relatively large Lavender Amethyst is 7 cm (2.75") tall and 4.5" (1.8") at its widest. The slice is quite thin so it doesn't feel particularly heavy.

There are no metals in this necklace so would be particularly suitable for those with metal sensitivities / metal allergy, energy workers and those who simply prefer not to wear metal.
You'll receive this crystal healing necklace in one of my handmade fabric draw-string pouches - great for the safe-keeping of the necklace. Gift-wrapped at no extra charge.
Read here about how to take care of your natural crystal jewellery.
CRYSTAL PROPERTIES
ELESTIAL LAVENDER AMETHYST
High frequency stone, with deep energetic purifying aspects. Particularly useful when wanting to find a new approach or to transform an aspect of life. Inspires great accomplishments, offering rejuvenation and renewal. Elestial crystals carry deep spiritual healing energy. They have a majestic vibe to them. They link multiple dimensions, timelines and levels of consciousness, integrating increasingly higher vibrations of light into its keeper's energetics. When an elestial comes to your life, you're ready to fully delve into the depths and the heights of your own inner wisdom, which accelerates your spiritual progress. Attuned to the angelic domain, elestials make great crystal companions that will no doubt journey with you for long-term.
GOLD RUTILE QUARTZ
A master assistant in self-discovery, a companion in finding one's inner truth, purpose and destiny. Joyful and energising. Thought to offer protection against psychic attacks and helps in opening up to one's Divine strength. Assists in activating one's creativity and manifesting dreams into reality.
Recently Viewed