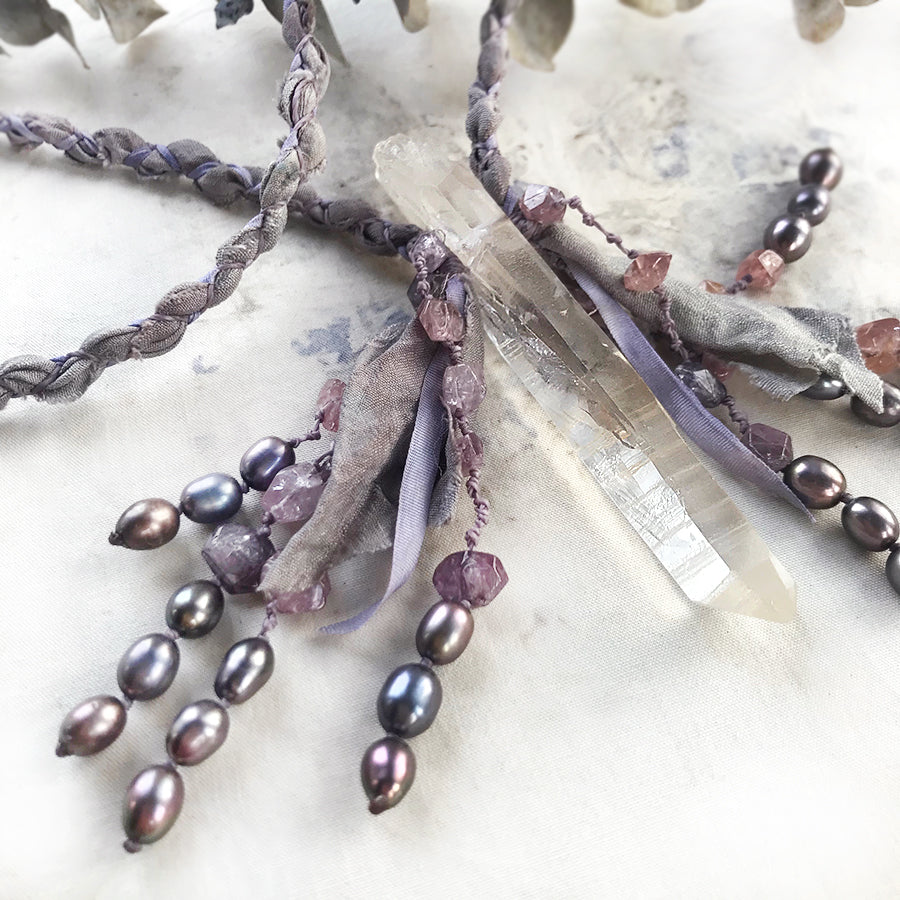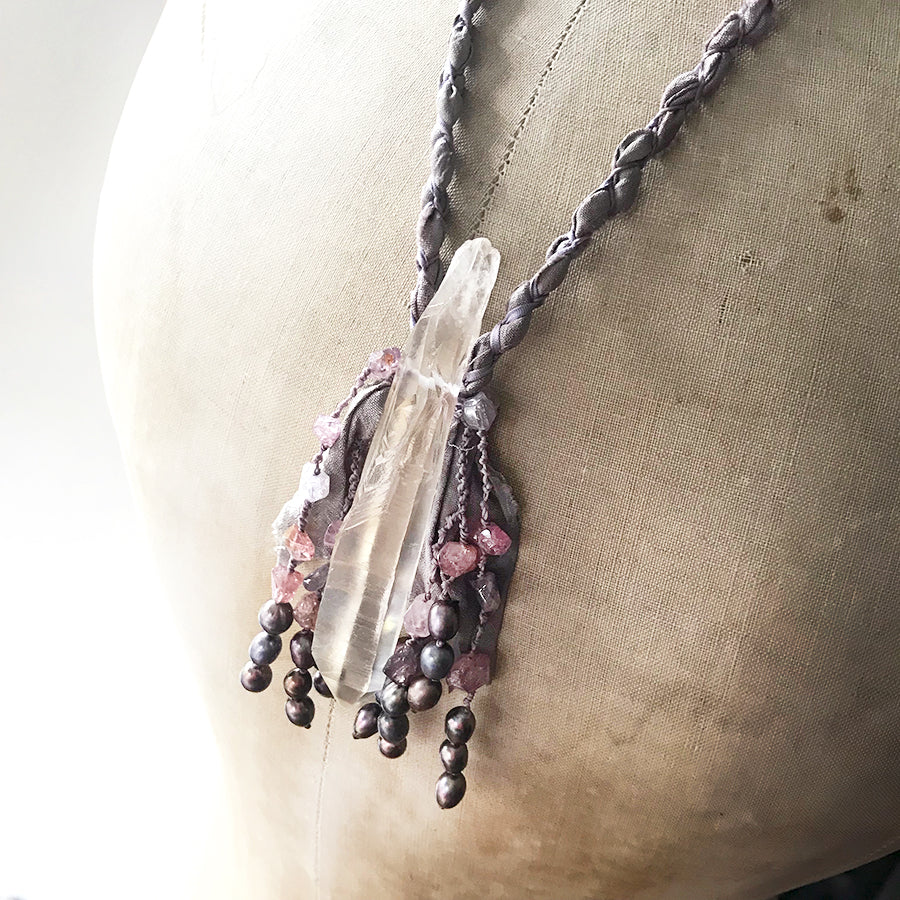 Lemurian crystal healing talisman
DESCRIPTION
Beautiful, very long Lemurian Quartz point, showing the characteristic ridges along one of its sides as well as a faint, rare golden hue. The soft and comfortable necklace braid is a combination of muted purple recycled sari silk, lilac silk embroidery ribbon and purple micro-macrame cord. The talisman is highlighted with shimmering Biwa Pearls and raw Spinel crystals varying in tone from purple to subtle pink. These companion strands extend down on both sides of the Lemurian Quartz, like 'guardians of their Queen'. 
The necklace braid is set length, allowing the Lemurian Quartz to hang down 34 cm (13.4") measured from the back of the neck to the top edge of Lemurian - i.e. the all-around length of the necklace braid is approx. 68 cm (26.8"). The Lemurian crystal is 9 cm (3.5") tall and approx. 1.5 cm (0.6") at its widest.
There are no metals in this necklace so would be particularly suitable for those with metal sensitivities, energy workers and those who simply prefer not to wear metal.
You'll receive this one-of-a-kind crystal healing necklace in one of my fabric draw-string pouches, great for the safe-keeping of the necklace. Gift-wrapped at no extra charge.

Read here how to take care of your crystal jewellery.
CRYSTAL PROPERTIES
LEMURIAN QUARTZ
Helps in retrieving ancient knowledge and wisdom to create spiritual healing in one's life. Activates its keeper's intuitive energy. Assists in resolving complex issues, often bringing "instant knowing". A wise teacher crystal with feminine energy, for those committed to their spiritual path.
SPINEL
Stone of calmness and renewal. Offers encouragement and endurance in difficult situations. Lowers anxiety and stress. Stimulating and strengthening, inspires new ways of thinking. Protective in the issues of the heart and is sometimes called "the Fairy Godmother stone".
BIWA PEARL
Symbolises purity, clarity and spiritual transformation. Assists in discovering the wisdom and purpose in one's experiences.
Recently Viewed