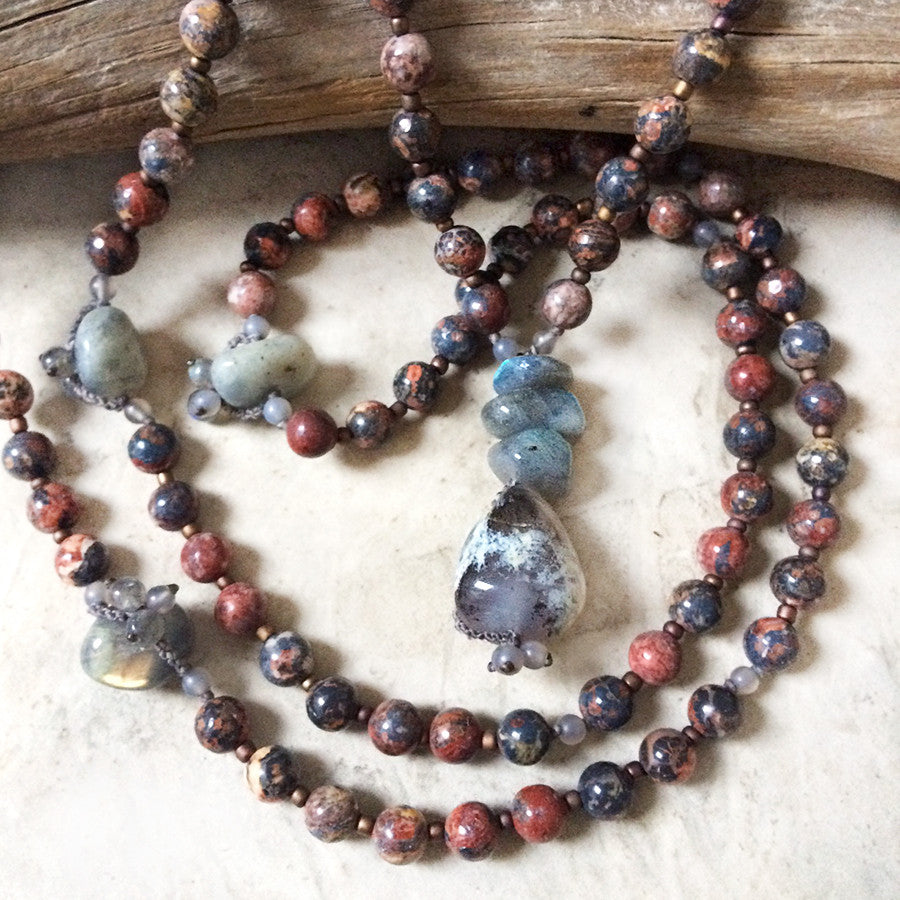 Leopardskin Jasper mala with Labradorite, Merlinite & Agate
DESCRIPTION
One of a kind, contemporary 108 bead meditation mala with Leopardskin Jasper beads. The three dividers are a combination of Labradorite and small Agate crystals. The guru bead consists of a cairn of Labradorite and Merlinite.
The Leopardskin counter beads are spaced with small matte brown glass seed beads in asymmetrical organic shapes. The mala is knotted with warm grey micro-macrame cord, including a small Agate crystal at every nine bead intervals.
All around length of mala: 120 cm (47")
Counter bead diameter: 0.8 cm (0.3")
The width of the divider combination: approx. 2.5 cm (1")
Length of guru bead crystal combination: approx. 6 cm (2.4")
Please note that Spirit Carrier malas come usually in three sizes, determined by the diameter of the main counter beads - either 8 mm, 10 mm or 12 mm. This mala is the smallest size with 8 mm counter bead diameter (particularly suited for wearing as a necklace due to being lighter in weight and shorter in length than the larger meditation malas).
This unique mala comes in one of my handmade soft leather pouches for safe-keeping. If you would rather have a fabric pouch, please let me know at the time of purchase.

You'll receive this mala gift-wrapped at no extra charge.
Read more about Spirit Carrier mala beads
CRYSTAL PROPERTIES
LEOPARDSKIN JASPER
Powerful protection stone, associated with strength and vitality. Facilitates self-healing and is very supportive and nurturing. Attracts harmonious vibrations to one's life. Brings tranquility and a feeling of wholeness.
LABRADORITE
One of the most powerful, versatile crystal tools for healing. Creates an auric shield and strengthens your innate energy and life force, preventing energy leakages. Enhances intuitive abilities and assists in spiritual transformation. Helps the wearer align with their highest destiny and discover their inner worth. Strengthens willpower and brings in new ideas. Often referred to as the 'Stone of Destiny', believed to help you to find your true path in life, and as 'Temple of the Stars', anchoring higher dimensional light into your being.
MERLINITE
Stone of spiritual development, assisting in accessing multiple realms including akashic records. Softens one's emotional guards in aid of making deeper connections with out fellow humans. Helps with integrating one's shadow self as well as attracting spiritual guides.
AGATE
The oldest good luck amulet. In ancient times Persian magicians were, according to legend, diverting storms with the powers of Agate. Considered a protective stone (especially for travel), said to shield its keeper against dangers. Increases inner stability, enhances personal courage and fosters self-confidence. Grounding and soothing. Balancing stone for one's energy system to experience oneness instead of duality.
Recently Viewed