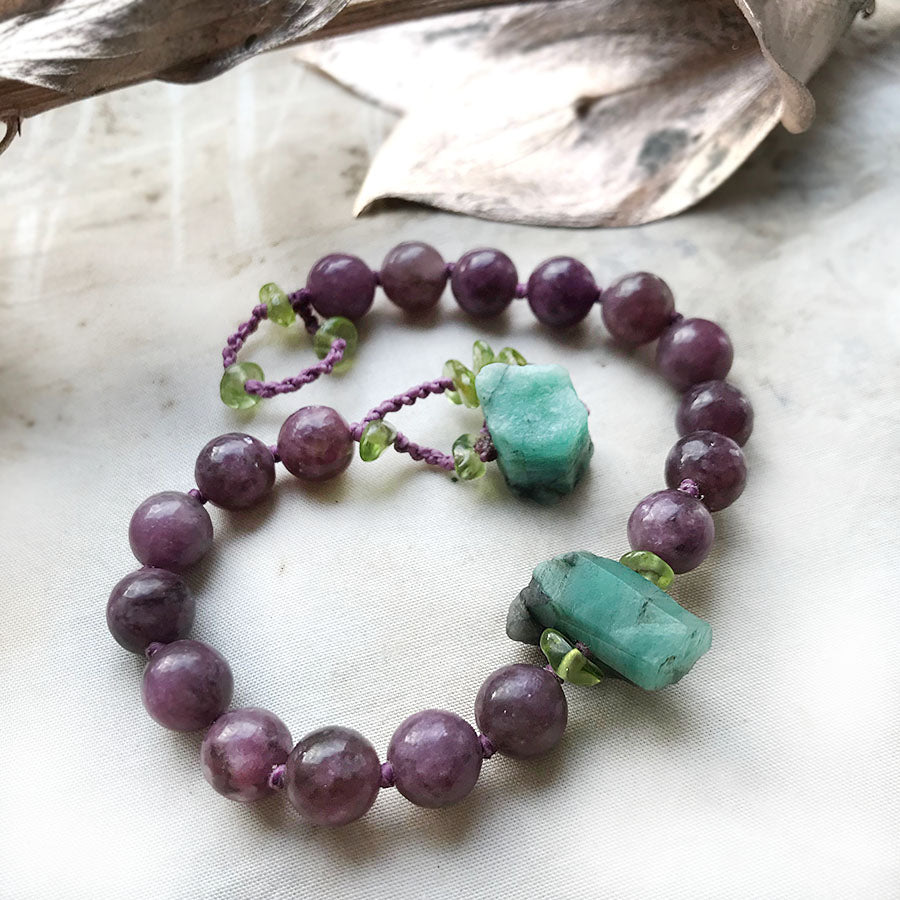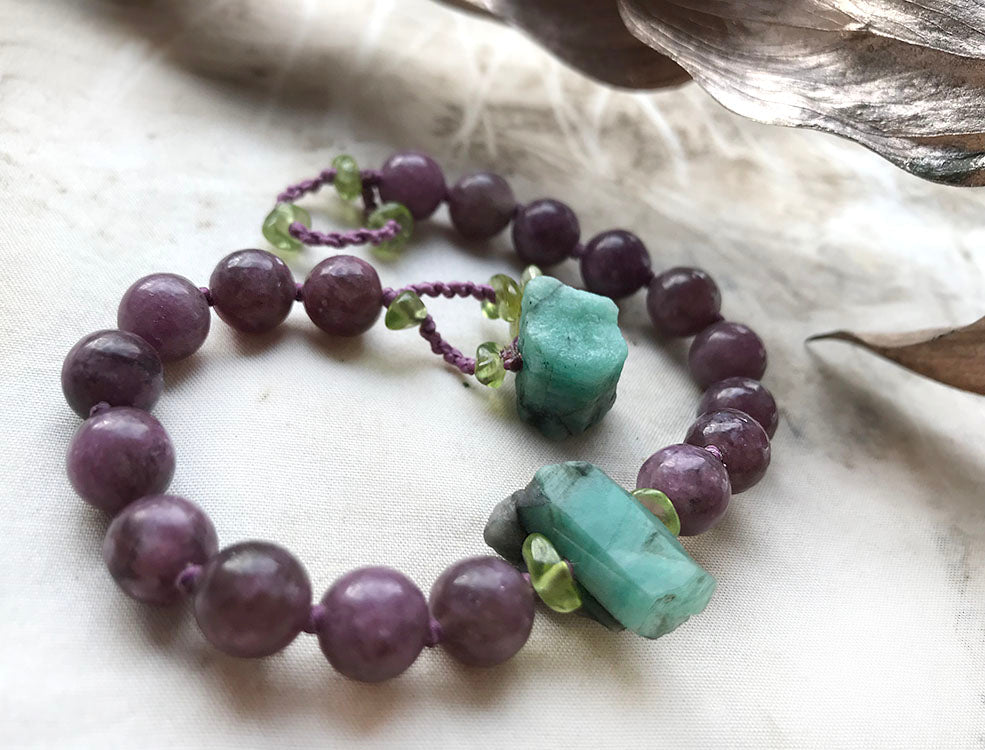 Lepidolite mala bracelet ~ for wrist size up to 7.5"
DESCRIPTION
Crystal mala bracelet with 18 Lepidolite counter beads with a divider of a rough Emerald, and highlighted with small Peridot crystals. One of the toggle stones is Emerald and the other a floret of small Peridots - you can slip one or both through the knotted loop to fasten the bracelet. The counter beads are knotted individually for strength and flexibility, using muted pink micro-macrame cord.
This is a handy meditation / mantra aid for times when you'd like something smaller than a full mala. You can still count up to 108 with these bracelet beads - or in multiples of 27 if you prefer. Simply count back and forth over the divider as many rounds as needed. Use the toggle crystals as the guru bead.
The counter bead diameter in this mala bracelet is 0.8 cm (0.3") and the rough central Emerald is just under 2 cm (0.8") tall. Whilst the total length of this bracelet, including the toggle, is 21 cm (8.4") it would make a good fit for up to 7.5" wrist circumference. However, if you prefer a looser style bracelet, this can happily be worn on a 6.5" wrist as well.
This mala comes in one of my handmade soft leather pouches for safe-keeping. If you would rather have a fabric pouch, please let me know at the time of purchase.

Gift-wrapped at no extra charge.

Read more about Spirit Carrier mala beads
CRYSTAL PROPERTIES
LEPIDOLITE
An open, inviting stone, offering its gentle love readily when you just hold it in your hand. Useful in reducing depression and stress, it can assist in moving calmly through life transitions. In crystal healing practice, Lepidolite has been used to ease emotional traumas, panic attacks and addictions. Lepidolite is said to help you to nurture yourself and be optimistic, and to clear out ties to the past, assisting you in moving freely forward in joy and happiness.
EMERALD
Stone of Love. Opening and nurturing to the heart chakra. Benefits heart-based intuition. Promotes joyous emotions, enhances emotional and spiritual balance. Restores confidence where needed. Brings visionary insight, especially relating to one's vocation. In crystal lore, Emerald is the sacred stone of the goddess Venus. It was the symbol of eternal life in ancient Egypt. Also known as a great aid for manifesting prosperity. (Emerald is one of the four 'precious' gemstones, the other three being Ruby, Sapphire & Diamond. Other gemstones are considered 'semi-precious'.)
PERIDOT
Upbeat and comforting, Peridot reduces stress and amplifies intuitive awareness. Soothes hurt feelings, supporting renewal and personal growth. Brings in-depth heart based awareness, extending from healing to understanding and offering protection against negative emotions. Known also as the stone of prosperity and happiness.
Recently Viewed