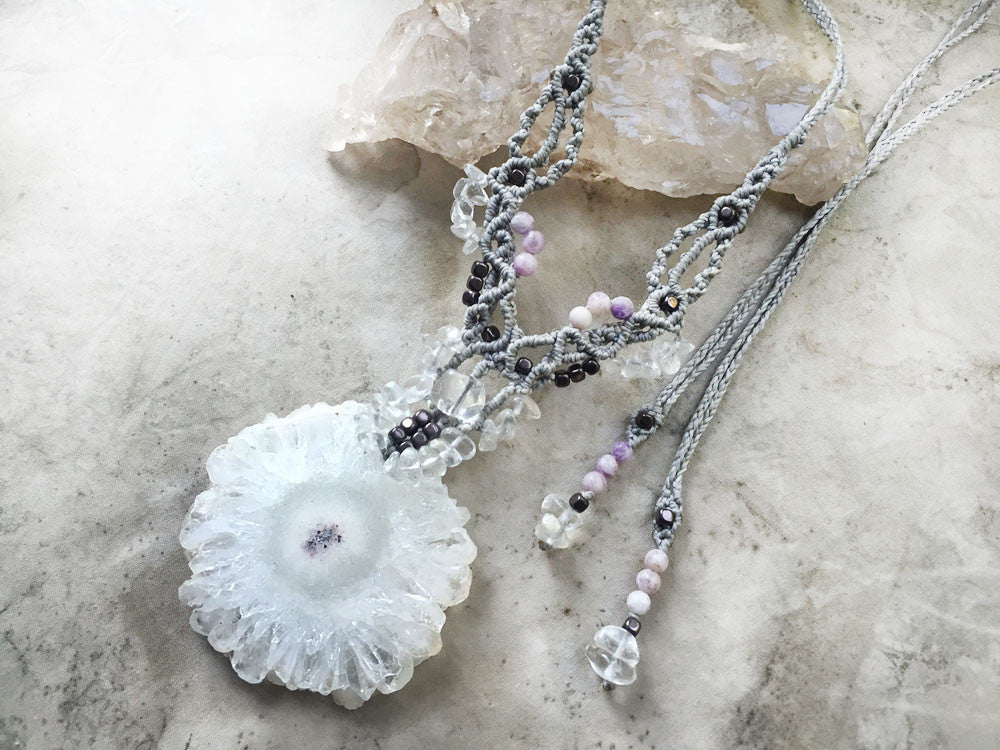 'Life Force Guardian' ~ Solar Quartz crystal healing amulet with Hematite & Lepidolite
DESCRIPTION
Stunning, natural "crystal mandala" - a circular slice of stalactitic Quartz, also known by name Solar Quartz. This one is mainly white, with pale grey circular shape in its core. This crystal healing necklace also benefits from the vibes of Lepidolite and Hematite. The necklace is intricately knotted and braided with light grey micro-macrame cord, strong and durable but soft and comfortable to wear.
The length of the necklace is adjustable from very short down to solar plexus level. The Solar Quartz diameter is approx. 5 cm (2").
There are no metals in this necklace so would be particularly suitable for those with metal sensitivities / metal allergy, energy workers and those who simply prefer not to wear metal jewellery.
You'll receive this crystal healing necklace in one of my fabric draw-string pouches, great for the safe-keeping of the necklace. Gift-wrapped at no extra charge.
CRYSTAL PROPERTIES
SOLAR QUARTZ (aka Stalactite Quartz)
Associated with crown chakra, stalactitic Quartz is uplifting, bringing emotional strength and harmonious alignment with one's inner core. Creates a feeling of patience with life's flow, a sense that All Is Well in this Now moment. Great energy enhancer. Helpful in accessing and healing issues in those past lives that are relevant to your life at the moment. Powerful healing stone igniting one's sense of higher knowing.
HEMATITE
Creates a strong sense of self and enhances the creative flow. Relieves stress. Revitalises, enhancing personal magnetism and optimism. Helps in releasing self-imposed limitations to find your own unique gifts. A stone of balance and equilibrium. Grounds when feeling scattered, increases alertness and vigilance.
LEPIDOLITE
An open, inviting stone, offering its gentle love readily when you just hold it in your hand. Useful in reducing depression and stress, it can assist in moving calmly through life transitions. In crystal healing practice, Lepidolite has been used to ease emotional traumas, panic attacks and addictions. Lepidolite is said to help you to nurture yourself and be optimistic, and to clear out ties to the past, assisting you in moving freely forward in joy and happiness.
CLEAR QUARTZ
The universal master crystal that has a harmonising effect on all levels of being. Programmable by intention, so can be used for versatile purposes. Quartz can clear, enhance, amplify, transmute, balance, focus and transmit energy. Raises one's energetic vibration. Attunes its keeper to their higher self. Known as the "Stone of Power" and "Master Healer".
Recently Viewed