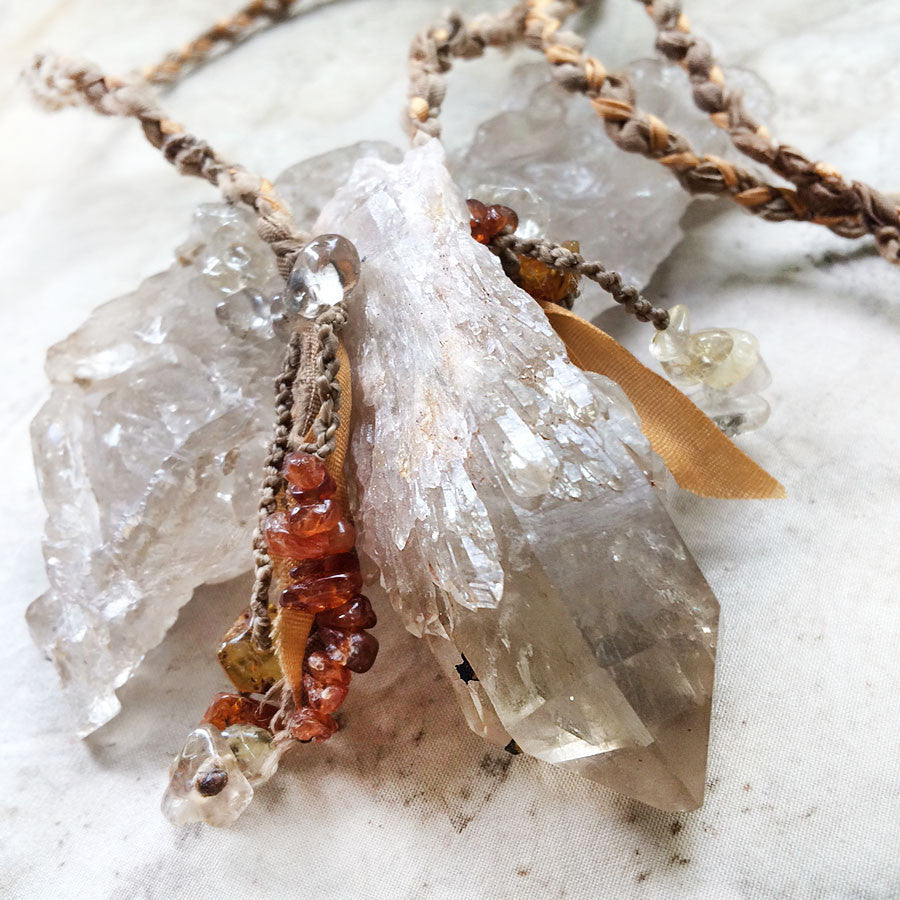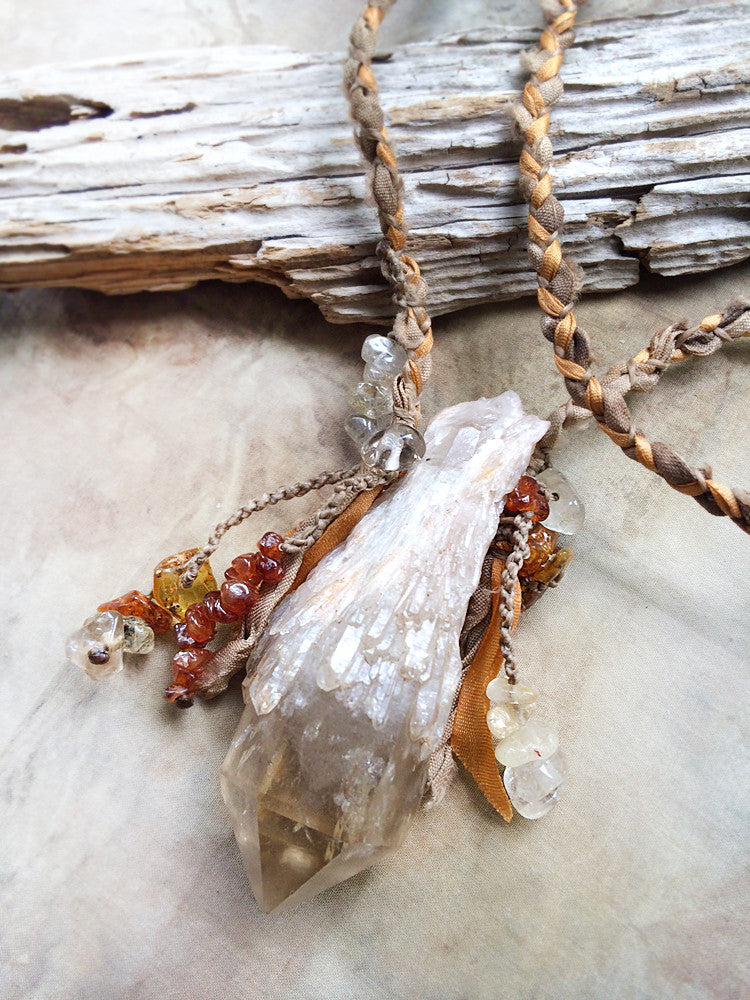 Lightbrary Citrine amulet with Amber, Gold Rutile Quartz & Spessartine Garnet
DESCRIPTION
Wonderful, natural and un-heated lightbrary Citrine from Congo, in soft honey hue. The necklace braid is botanically eco-dyed recycled sari silk, dark peach tone embroidery silk ribbon and brown micro-macrame cord. The highlighting crystals are Amber, Spessartine Garnet and Gold Rutile Quartz.
The necklace braid is set length at 70 cm (27.5") all around. The Citrine is approx. 6.5 cm (2.5") tall and 2 cm (0.8") at its widest.
You'll receive this crystal healing necklace in one of my handmade fabric draw-string pouches - great for the safe-keeping of the necklace. Gift-wrapped at no extra charge.
CRYSTAL PROPERTIES
CITRINE
Affects a powerful alignment with the higher self. Balances the emotions and helps in uplifting one's mood to be more sunny and cheerful. Brings clarity of thought, and attracts abundance through joy. Powerful transformer in healing work. Increases self-confidence and optimism, cleanses the surrounding energies and promotes creative thinking. Releases, dissipates and transforms denser energies on all levels, mental, emotional and physical. Works to release limitations and blockages particularly around the sacral / solar plexus area. 
GOLD RUTILE QUARTZ
A master assistant in self-discovery, a companion in finding one's inner truth, purpose and destiny. Joyful and energising. Thought to offer protection against psychic attacks and help in healing karmic issues. Gold Rutile Quartz is thought to be helpful in manifesting one's dreams into reality.
BALTIC AMBER
Amber is like liquid sunshine, it transmutes negative energies into positive, cheers you up and helps you take action to make your ideas reality. Cleansing effect on the body, mind and spirit, promoting self-confidence and creative self-expression. Encourages spontaneity, patience and inner wisdom.
SPESSARTINE GARNET
Elevates mood and allows experiences of 'emotional sunshine' into one's life, thus making life more fulfilling. Helps in overcoming the fear of new experiences, encouraging you to live more spontaneously. Balances and vitalises the sacral chakra, supporting creative pursuits and intuition.
Recently Viewed