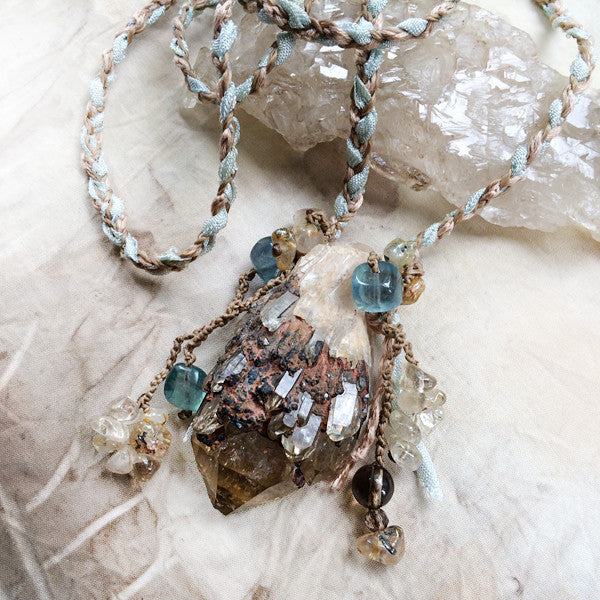 Lightbrary Citrine amulet with Blue Fluorite, Gold Rutile Quartz & Smokey Quartz
DESCRIPTION
Raw, un-heated Citrine with beautiful dark honey hue. Braided with a combination of embroidery cotton, micro-macrame cord and pale blue viscose blend. The amulet is highlighted with Blue Fluorite, Gold Rutile Quartz and Smokey Quartz crystals adorning the sides of the Citrine. This natural Citrine is also an 'Empathic Warrior' crystal, meaning it has endured some knocks and bruises along its journey. Please do appreciate those too, as part of this special crystal spirit's character.
The necklace braid is set length, allowing the Citrine to hang down 37 cm (14.5") measured from the back of the neck to the top edge of the Citrine - i.e. the all-around length of the necklace braid is 74 cm (29").
The Citrine is approx. 5.5 cm (2.2") tall and just under 3 cm (1.2") at its widest.
You'll receive this crystal healing necklace in one of my handmade fabric draw-string pouches - great for the safe-keeping of the necklace. Gift-wrapped at no extra charge.
CRYSTAL PROPERTIES
CITRINE
Gives a powerful alignment with the higher self. Balances the emotions and makes the mood sunny and cheerful. Brings clarity of thought, and attracts abundance through joy. Powerful transformer in healing work. Increases self-confidence and optimism, cleanses the surrounding energies and promotes creative thinking. Releases, dissipates and transforms denser energies on all levels, mental, emotional and physical. Works to release limitations and blockages particularly around the sacral / solar plexus area.
FLUORITE
Excellent for cleansing one's aura, also detaching unwanted energy cords. Grounds excessive energy, beneficial for all levels of healing. Helpful in achieving spiritual wholeness. Protective, stabilising and harmonising stone. Facilitates personal growth. Awareness expanding. Anchors intuitive insights into the physical plane. 
GOLD RUTILE QUARTZ
A master assistant in self-discovery, a companion in finding one's inner truth, purpose and destiny. Joyful and energising. Thought to offer protection against psychic attacks and help in healing karmic issues. Gold Rutile Quartz is thought to be helpful in manifesting one's dreams into reality.
SMOKEY QUARTZ
A grounding and calming stone that elevates moods and dissipates negative emotions. "A Stone of Serenity", it is comforting and protective for one's aura. Smokey Quartz is thought to assist in creative endeavours and also in setting personal boundaries. Offers EMF protection. A good healing stone for improving general feeling of well-being.
Recently Viewed