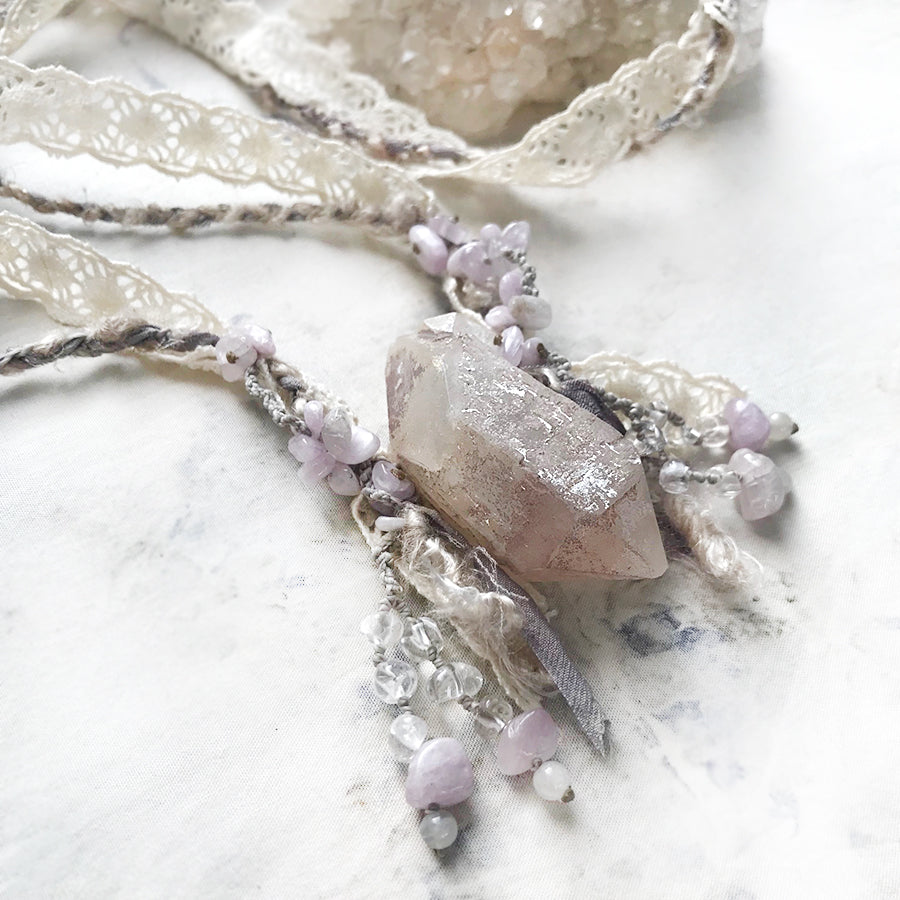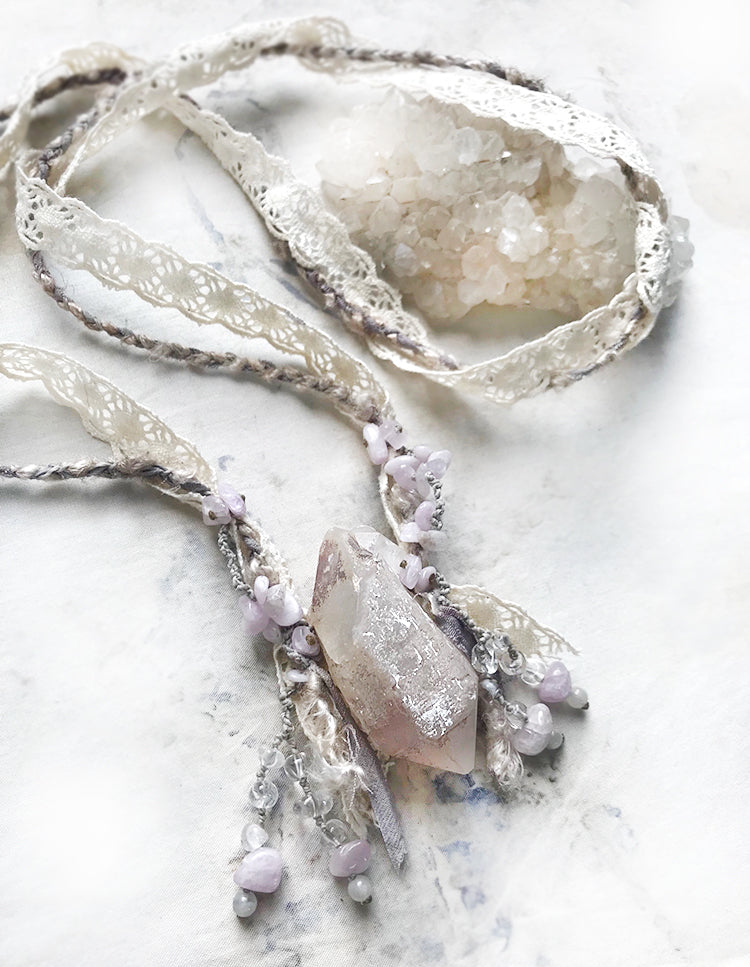 Lithium Quartz crystal healing talisman
DESCRIPTION
Crystal healing stone talisman with natural, double-terminated Lithium Quartz point, highlighted with lavender tone Kunzite, Moonstone and clear Quartz crystals. The necklace is braided with recycled sari silk in muted greyish purple tones, lusciously soft, botanically eco-dyed banana silk and grey micro-macrame cord, combined with cream tone cotton lace. The necklace braid is pleasantly soft and quite chunky, to support the Lithium Quartz point.
The necklace braid is set length, with an all-around measurement of approx. 72 cm (28"). Thus the stone hangs approx. 36 cm (14") down from behind the neck. The Lithium Quartz is just over 5 cm (2") tall and approx. 2.5 cm (2") at its widest.
There are no metals in this necklace so would be particularly suitable for those with metal sensitivities, energy workers and those who simply prefer not to wear metal.
You'll receive this crystal healing necklace in one of my fabric draw-string pouches, great for the safe-keeping of the necklace. Gift-wrapped at no extra charge.
Read here how to take care of your crystal jewellery.
CRYSTAL PROPERTIES
LITHIUM QUARTZ
Powerful healing stone when feeling down or emotionally shaken. Eases stress and brings emotional peace. Calming and balancing, gentle support for releasing anger and grief. Uplifting, soothing and stabilising. Helps in eliminating feelings of anxiety, worry and fear. Opens up the pathway to one's higher heart centre and activates the third eye, raising spiritual awareness. A great 'first aid' crystal when the world throws you out of balance.
KUNZITE
Stone of emotion, connecting heart and mind for optimum healing. Beneficial for those who find it hard to adjust to life on the earth plane. Helps in overcoming heartache and loss. Soothing in discordant situations and protective against harm. Good for those who wish to open up to life more to receive its gifts and opportunities. Assists in connecting with others and to embrace unconditional love.
MOONSTONE
Useful for feeling balanced or when changing aspects in one's life. Symbolises 'new beginnings'. Brings calmness through awareness. Provides the energy to sustain you through stages of growth. A highly intuitive stone allowing self expression and creativity to flow. Provides protection while travelling. A bringer of good fortune. Stone of feminine wisdom, inner growth and strength. Calming and soothing stone, enhancing intuition and inspiration. White moonstone is stimulating for psychic perception, vision and dream work.
CLEAR QUARTZ
The universal master crystal that has a harmonising effect on all levels of being. Programmable by intention, so can be used for versatile purposes. Quartz can clear, enhance, amplify, transmute, balance, focus and transmit energy. Raises one's energetic vibration. Brings clarity and filters out distractions. A deep soul cleanser, attuning its keeper to their higher self. Each Quartz crystal is unique with its own character and teachings it offers, all are known as "Stones of Power" and "Master Healers".
Recently Viewed